Saved the best for last with styling tips for your home.
This is the stuff I dream about. We're at the end of a project, the furniture placement is tweaked and the art is mostly hung. We then pull out our very best styling tips to add the final layer. We love to "shop" from our client's existing decor, styling their items with a fresh set of eyes. Ready, set, go!
Before styling begins, we encourage clients to carefully edit their collections.
Because restraint is your best friend, you will end up with a better outcome if you edit. Only your best and favorite items remain therefore acheiving a home that "sparks joy" (as per this woman). You can still have a layered look but you've edited out the things that don't matter.
Don't be afraid to mix high and low.
That flea market find that you love will look great next to your grandma's Lalique vase. Yes it will, I promise. If you are only mixing the most cherished items, you will have vignettes that work no matter their value.
Maintain a library of design books to reference styling tips.
You never stop learning and there are endless books to supply design inspiration. My stash of books give me endless references for styling tips, color ideas and general interior design. The beautiful photographs inspire me and especially when I need a jump start for a new design project. In addition, you can use sticky notes and write notes like "coffee table ideas" or "gallery wall" to find these styling tips later.
Bookcases are mostly for books, in addition to some well-chosen accessories.
This client above has a wonderful collection of books so it was easy to make his bookshelf all about the books. We added accessories to give some breathing room but avoided endless shelves of tchotchkes. Bookshelf accessorizing should end up feeling like a stylish library.
Laying books sideways gives a different perspective and breaks up the monotony of standing books.
Grouping books by their colors is also interesting. Some folks cover books in paper for a cohesive look and I also like turning books backwards for a more neutral scheme. Read here for more bookshelf styling tips.
Amass collections together for greater styling impact.
This blue and white Chinese porcelain looks collected and purposeful, as opposed to scattered around the house. A collection means just what it says and they belong together in one vignette. If you collect frogs, bring them together. Or if you collect snipped hair of past boyfriends please get some help, but only after you frame them under glass:) Design beats therapy for the win!
And if your collections include precious items, don't be afraid to display them.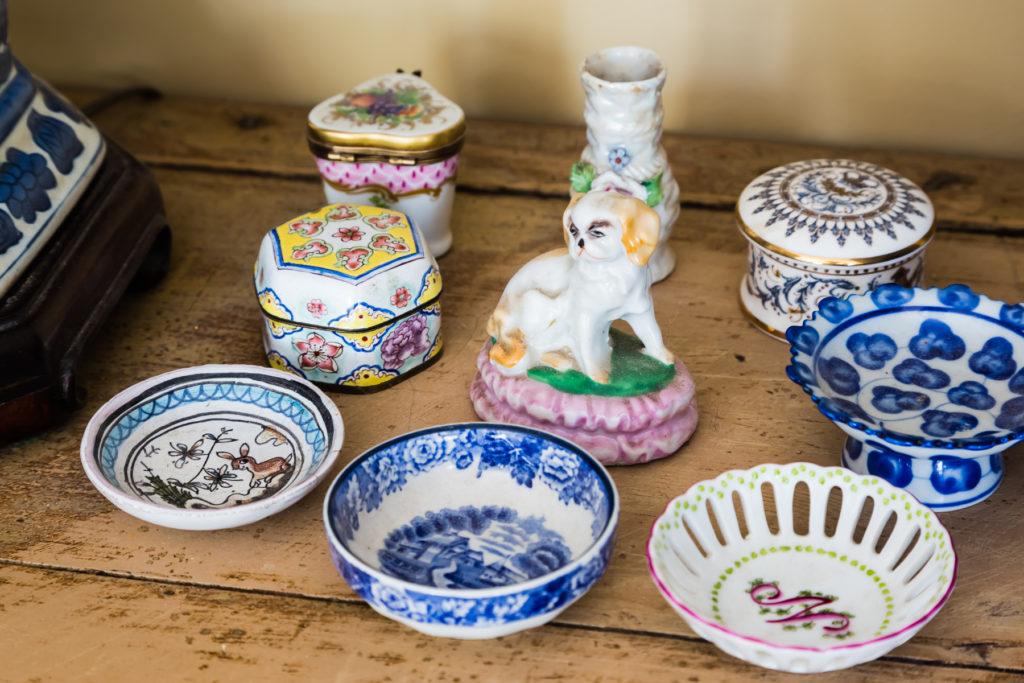 Bring them out from hiding and enjoy them. Yes, something might break but it's better than a whole collection gathering dust in a dark corner of your closet. If you are truly concerned then you might consider a glass cabinet where you can still enjoy your collection but little hands can't touch.
And aren't collections the ultimate conversation starters?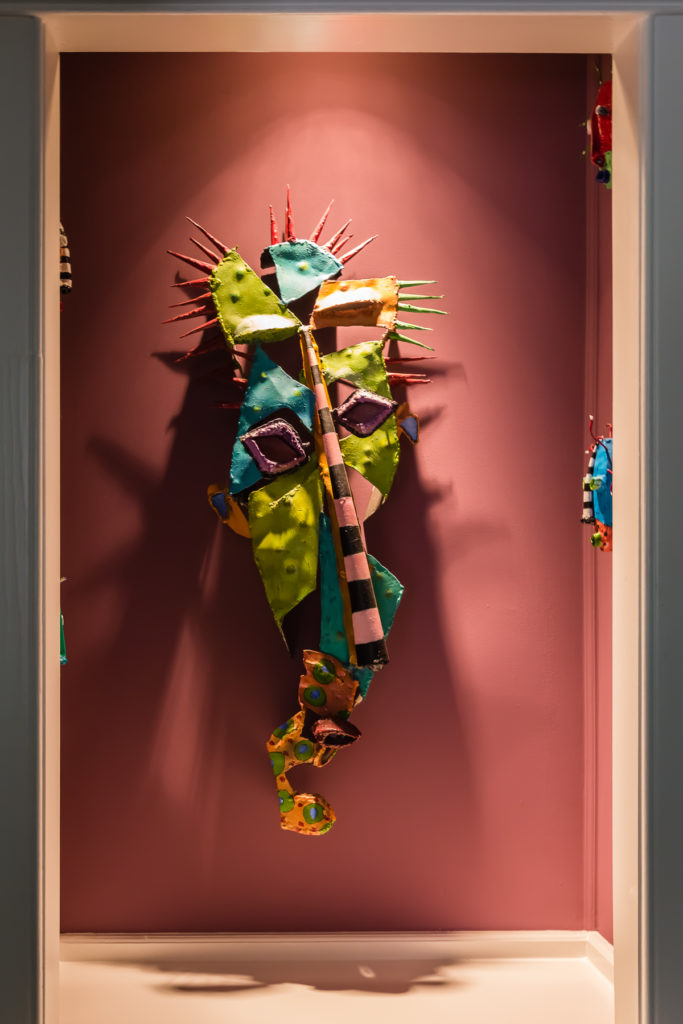 If you have an interesting collection or a quirky, fun art piece, it sparks conversation. Who is the artist? Where did you find it? What drew you to the piece? Give these special pieces a place of honor like our client did inside this niche.
And the dining table is an opportunity for conversation and surprise.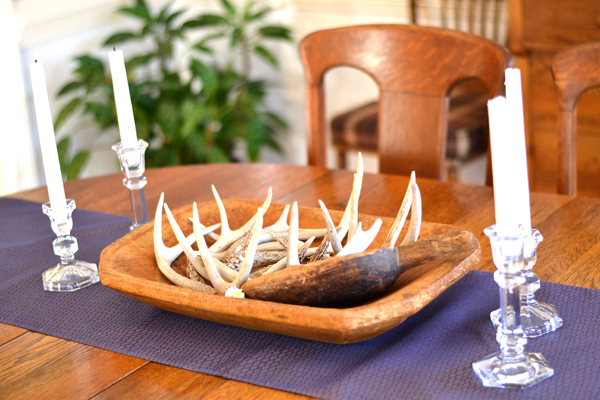 Why not antlers in the middle of a formal dining table? The crystal candlesticks honor the lady of the house while the antlers are a nod to her husband's style. Instead of the usual flowers or centerpiece, why not make the dining table spark surprise and conversation.
Bring on the bling styling tips.
If you have a blingy collection, please pull it out of obscurity. Take our client, for example, who had his mother's costume jewelry. Since we hang onto sentimental things, isn't it great to find new and innovative ways to display them? Why not little birds pecking at some jewels? Another conversation starter indeed!
Pair up and create some symmetry in your styling.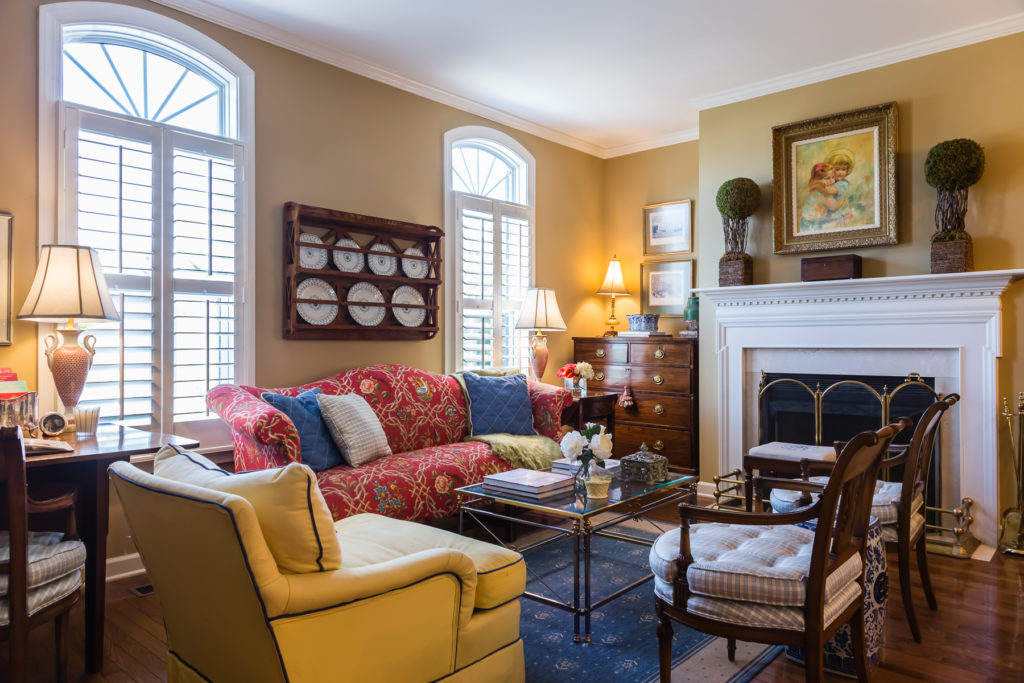 I spy a pair of lamps, a pair of chairs, and a pair of topiaries? Do you see the other pairs in our client's living room above? Especially in this traditional setting, repetition of symmetry really works to define the homeowner's style.
Grouping things by color is another tool in your arsenal.
Collections work well when amassed by theme and color is an effective means to do that. This mid century pottery collection sings in turquoise and white when grouped together.
Express your global style with travel souvenirs for a boho, collected look.
Add a little spice to your decor with souvenirs from your travels. I remember when Mr. F&F returned from a work trip to China with a suitcase filled with dozens of teeny-tiny souvenirs. Almost everyone we know got a piece of Cloisonne for Christmas that year.
That's when we began to collect intentionally on our travels with one significant piece that reminds us of a special place. And global finds can be found at estate sales and auctions without setting foot outside your city. A boho look is colorful, collected and eclectic.
Chinoiserie accents are a specific way to express your globalism.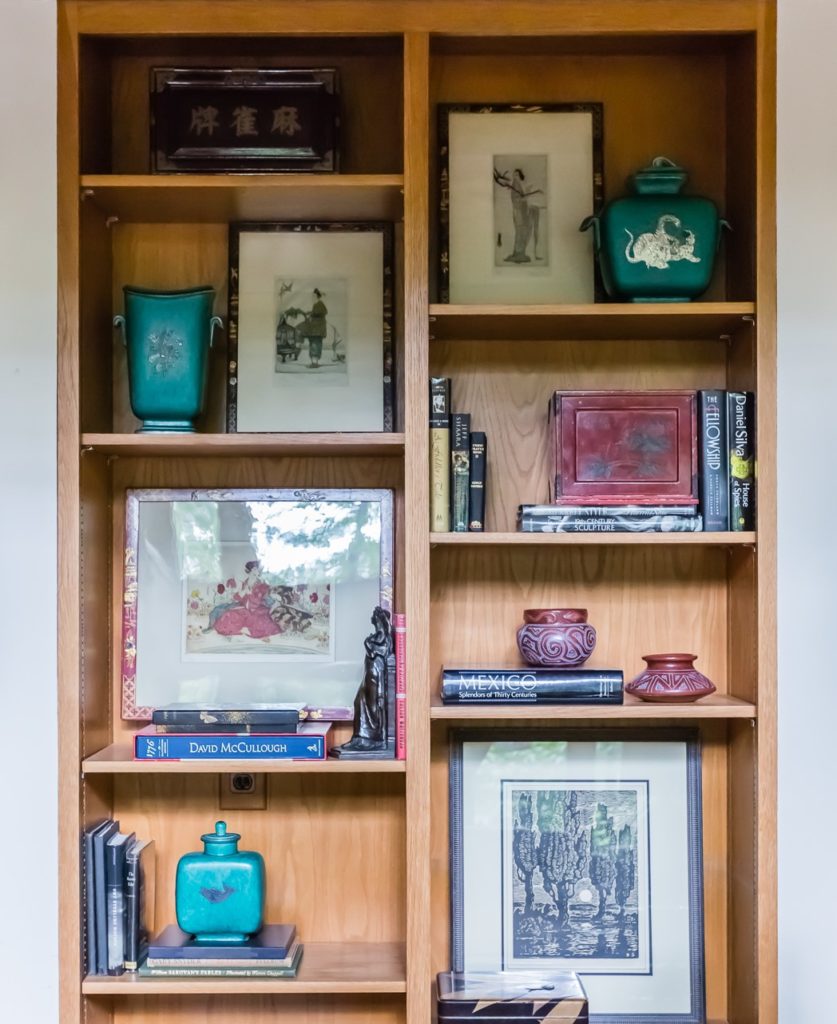 This client, who worked in the auction business, had built an amazing Asian art collection over the years. We repeated the Chinoiserie theme in the fabrics we chose and placed pieces of his Asian furniture into a one grouping.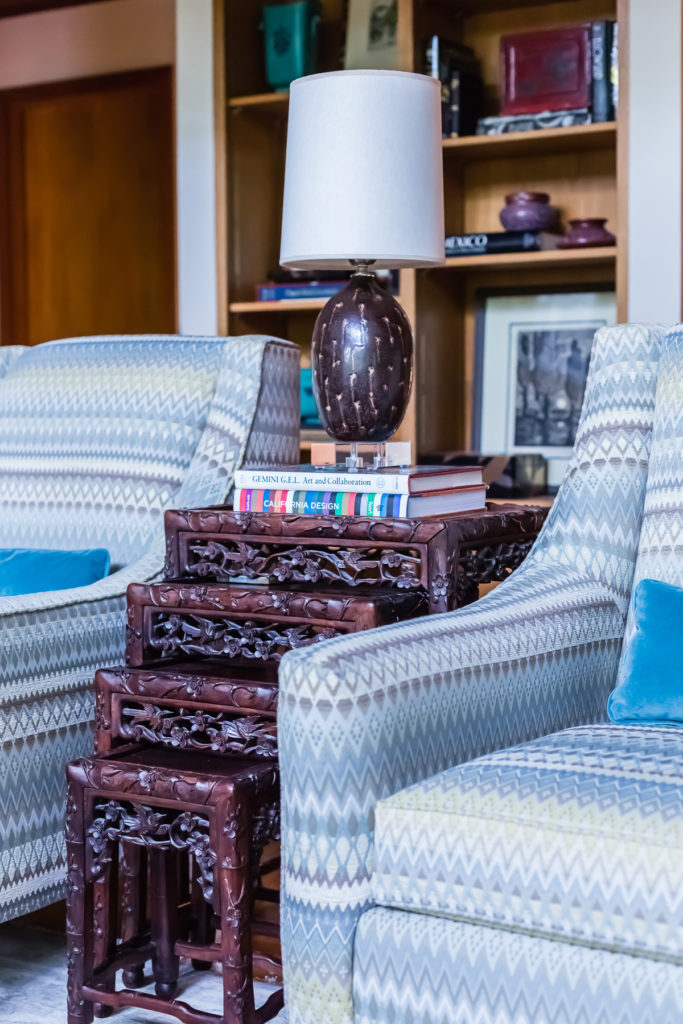 Display and light candles everywhere.
One large pillar candle makes a statement on this coffee table while several smaller ones grouped around a room looks ethereal. Multiple tapers set the stage for romantic dining and a sublty scented citrus candle can banish cooking smells in a kitchen. And on and on…you can't have enough candles in my book.
Same goes for houseplants.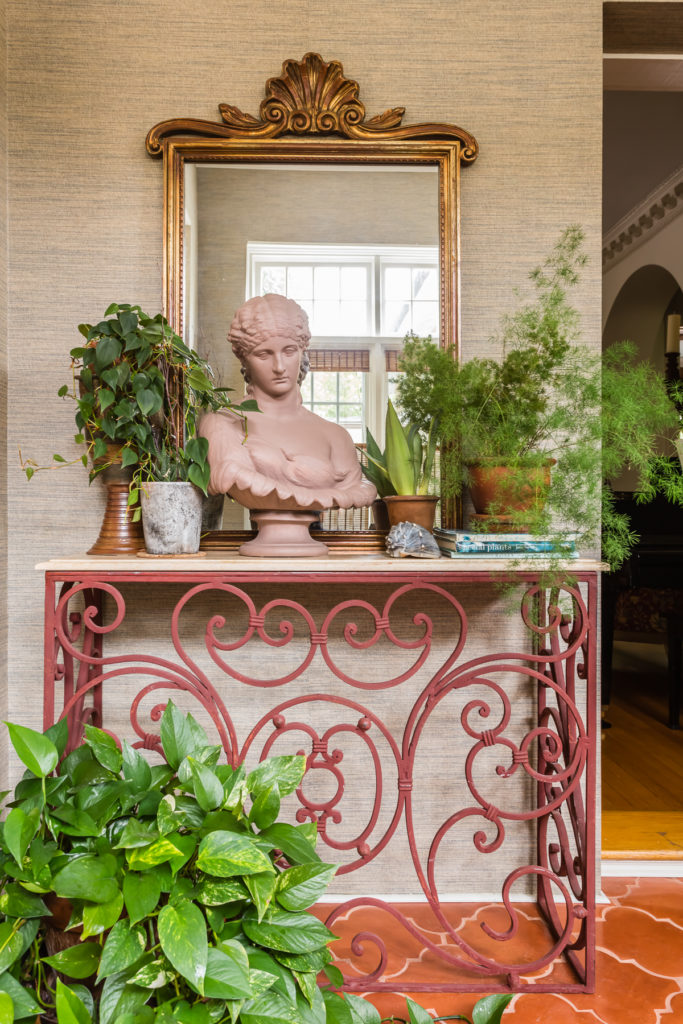 Not only do they clean the air in our homes, but plants add a beauty all their own. I generally kill plants but these have been alive for awhile now. Find the varieties that appeal to you, ask how much care they need and sprinkle them throughout your home. Maybe even a fake one or two…can you spot the fake one in the photo?;)
How about another real "fake" element in your home?
In the summer, it's nice to fill the fireplace with something such as a grouping of candles, a large fern or stacks of books. I found these porcelain birch logs and loved the simple, modern nod to an actual fire. It makes the fireplace seem cozy in the off season while not heating things up.
And while you're staring at that fireplace, consider a mirror over the mantel.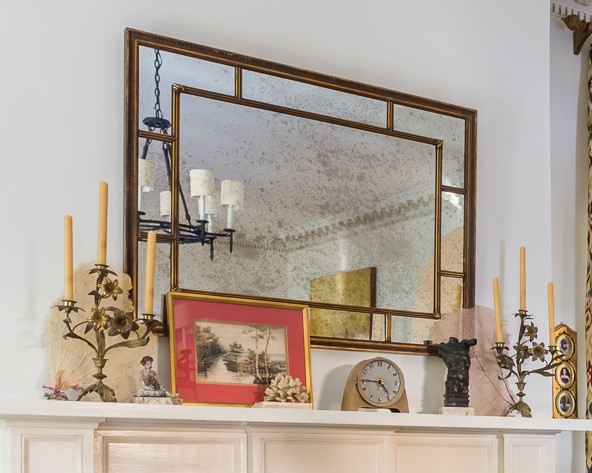 I love the light-bouncing quality of a mirror most anywhere but especially over a mantel. If you have art or other collectibles they look so wonderful reflected in the mirror. Ideally the mirror is hung no more than 7″ above the mantel in order to reflect your collection but not quite "kissing" the mantel.
How about creating a "stationery station" near that cozy fireplace?
Back in the day when I used to write more notes, I had a proper writing set-up with everything out in the open. Notecards stacked up, a stash of pens and stamps nearby left no excuses. I love this little set up above in a corner of our client's living room where she can pay bills and write notes a la Edith Wharton.
And on your desk, how about vintage pieces and a tray to corral all your tools?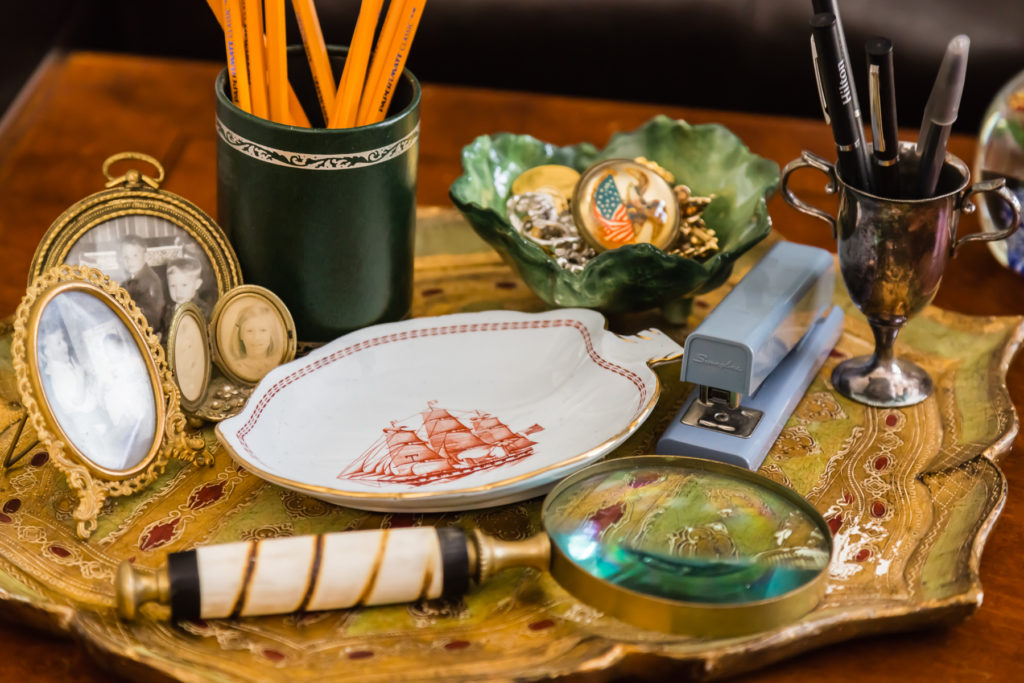 Isn't it far more interesting to use an old trophy for your pens and a porcelain dish to hold all your desky bits? I adore this vignette with a tray pulling together treasured and useful desk items for our client.
Trays can also be used to organize not only desks but a vanity or coffee table or maybe a coffee station in the kitchen. We all have them set aside for serving but why not put some to use everyday.
Edit your family photo displays and update them once in awhile.
I know that there are at least 12 layers of my kids in 8×10 frames. Every year when school photos came out, I just plopped the most recent on top. It's like a time capsule inside those frames, not to mention that they are about to burst open.
Anyway, same goes for other photos you have around the house. It's nice to display more recent ones and not just the baby photos. A hallway grouping showing the evolution of your family is good, but table top photos should honor the recent.
Plop some photos in a bowl for another way to display and change them out frequently.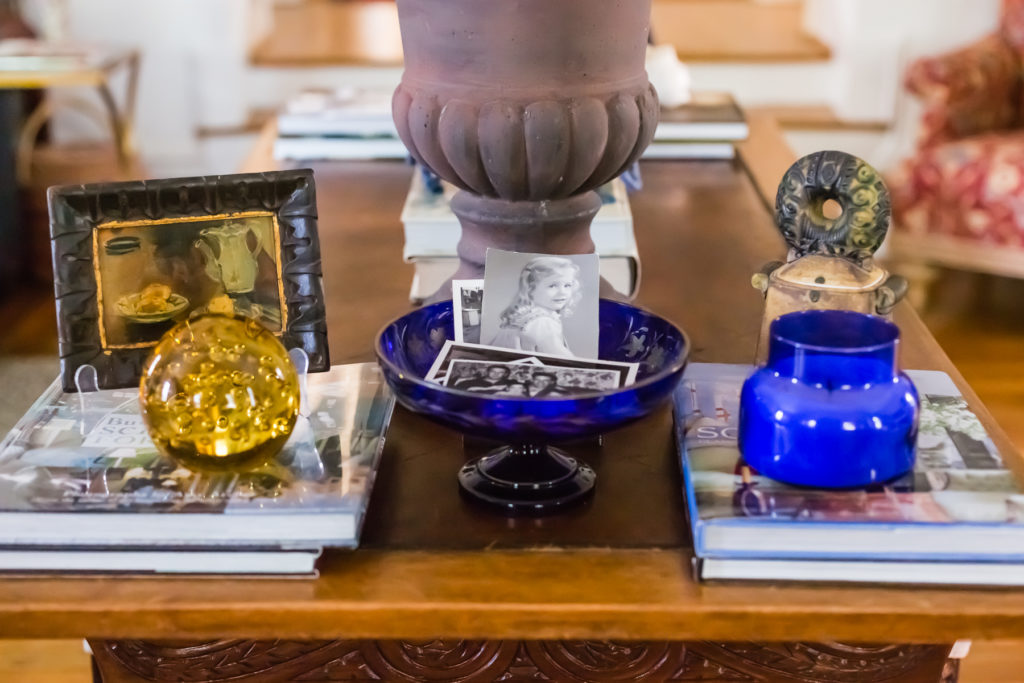 My kids laugh when they look at the vintage black and white photos from Mr. F&F's and my childhood. I have all these loose photos from our parents and rather than starting another album, I keep them in a box and swap them out. There are some classic Mafioso shots of Mr. F&F and his brother, complete with trench coats and matching fedoras. Having loose photos encourages "looking" more than any photo album ever would.
Baskets are another storage idea for photos or any number of things.
Baskets kept this bathroom from looking like a hot mess. We opted to go with a very small sink for this very small bathroom but where to put all of life's stuff? The pretty baskets help store make-up and other bath necessities within reach. Think throws and magazines in the living room or extra towels in a guest bedroom. Baskets are the ultimate form and function:)
And, in general, styling tips for your overlooked bathroom is a very good idea.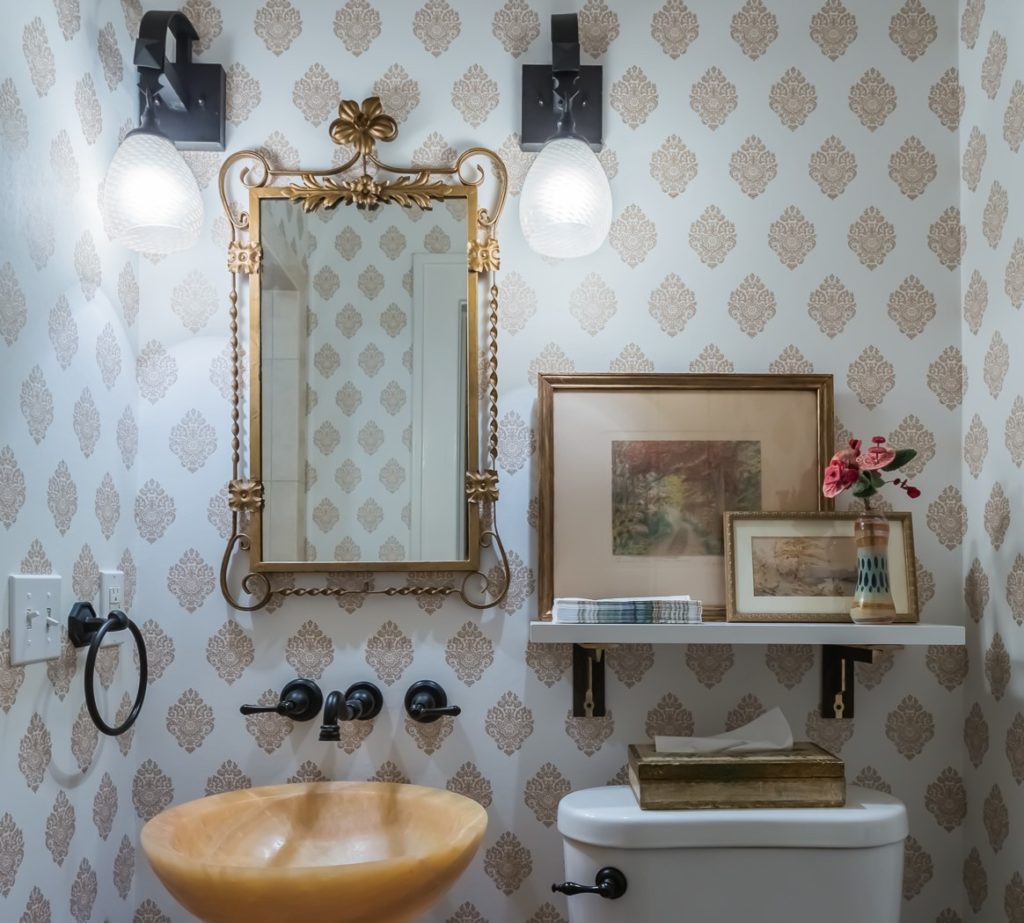 Styling might include art or pretty wallpaper but also think about what your guests need such as hand towels, kleenex or extra toilet paper. Dispense everything in pretty containers and make sure your guests can find them. Nothing worse than sitting in a strange bathroom, looking for another roll of toilet paper. We've all been there.
And speaking of pretty containers, why limit it to the bathroom?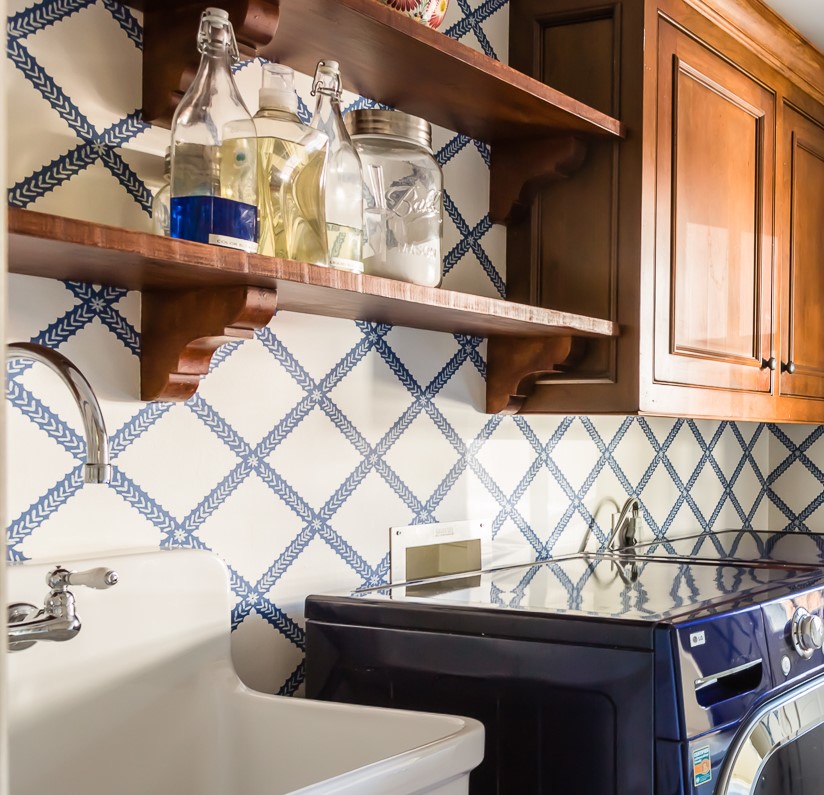 I LOVE to decant all my mudroom basics for a more cohesive look. And, with the advent of refills in squishy bags, this makes sense to decant into pretty glass containers. And then there's the pantry where I have a love affair with the common Ball jar…over a hundred years old and still going strong. There's some things you just can't improve.
Now that the house is styled and organized, you need to ready the bar.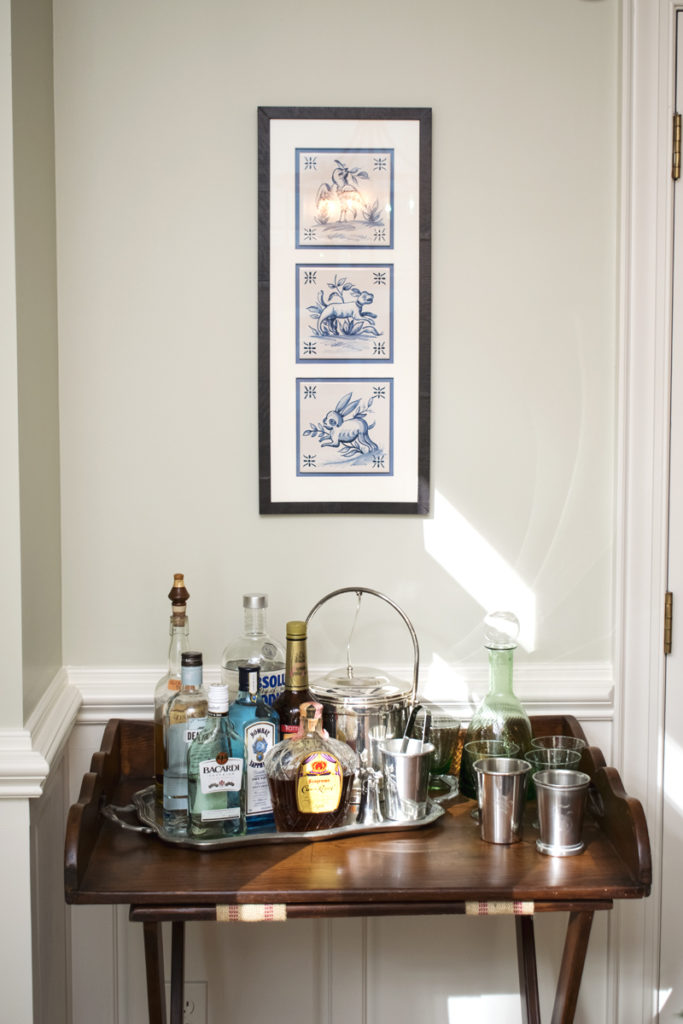 You've finally got the house styled and looking good and you're almost ready for guests. Stock the bar and they will come. Along with attractive glassware, I like a good mix of alcohol, mixers and simple syrups in pretty jars. Here's a great primer for a well-stocked bar.
Final styling tip: style your home with fresh flowers.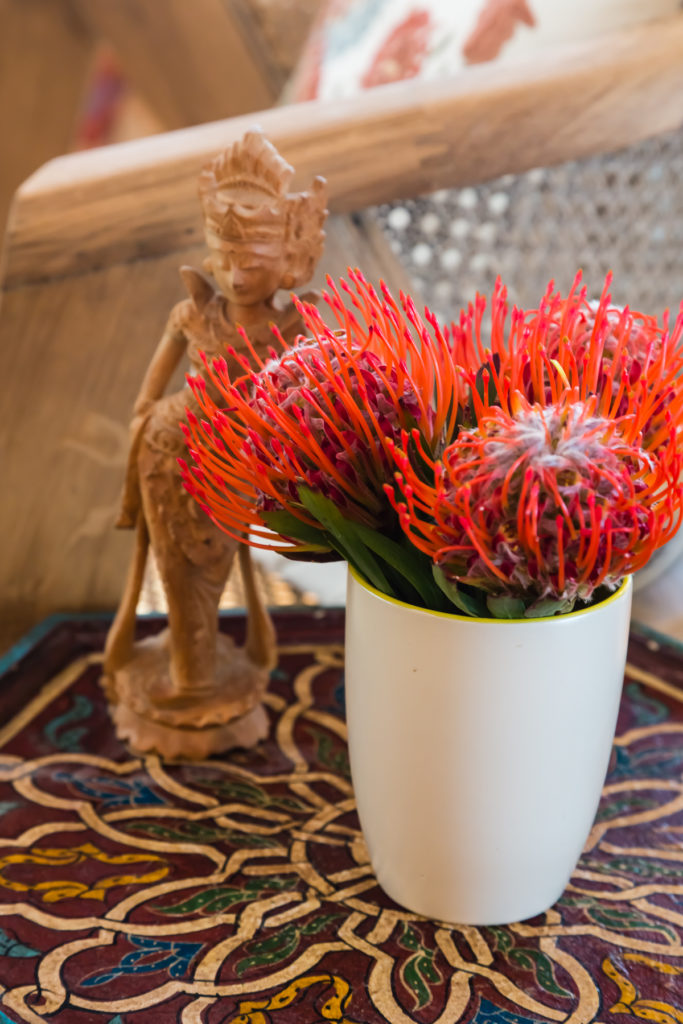 I especially love a longer lasting flower like the protea above. And you can't beat the underrated carnation for price and color. Arrange shortly cut carnations into a dome-like arrangement for a beautiful and cheap addition to your home.
Well, I am exhausted after this 7-part best design tips series, finishing with the longest blog I've ever written. If you've made it this far, I thank you! I tried to share all my best tips and I think I got most of them but I would love to hear from you. Read here, and here, and here, and here, and here, and finally here for the full recap of all the best design tip series. Tell me your favorite styling tips that you use in your home.