I have been in a perpetual state of picking the right white paint for the last two years, it seems.
Now, it really hasn't been two WHOLE years and, to be fair, it was three paints for three different locations. And, let me also preface this whole discussion with…there is no right white paint. There are several. What worked in my locations may not work in yours. It is a process and I just want to share my process and let you in on a secret. Picking the right white paint for your home (or work) can be difficult even for those of us who profess to know what we are doing.
Picking the right white paint, part one.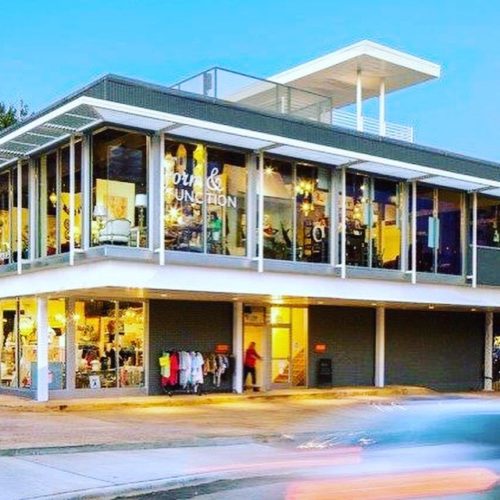 First, I renovated a building that would become my office and storefront. It has A LOT of glass which translates to A LOT of light flooding in from all directions, allowing for many paint options.
I selected taupey accents for the office rug, stair railings, ceiling and baseboard. I met this white and he played well with everyone.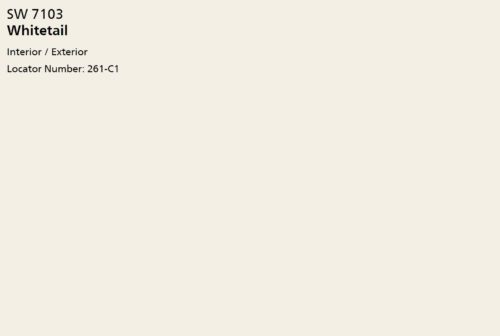 Kind of beige looking, right? Well, look at it in the full light in one of our front window vignettes.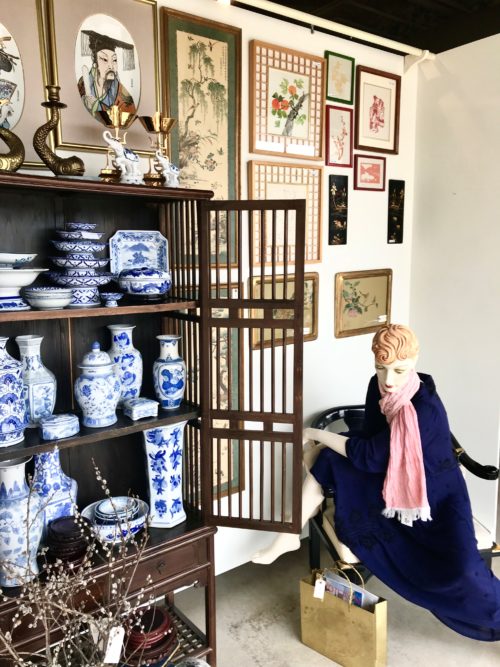 And here, on the flip side of this movable wall, in a darker part of the store. It has the right warmth under both conditions and is a great backdrop for all the vintage art we sell.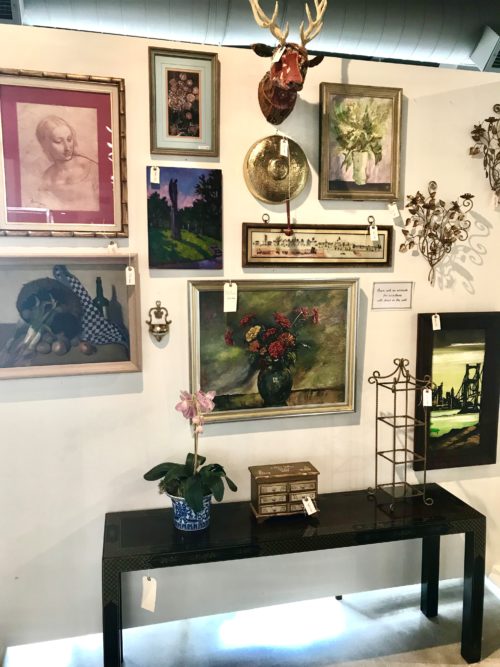 There are both SO different from the swatch, right?
That is why I cannot stress enough to pick up small sample cans from the paint store.
For mere dollars, you could save hundreds. Begin by painting LARGE swaths (not a teeny tiny swipe that doesn't tell you ANYTHING) on various walls in the room(s) you are painting. This will allow you to see it in various situations, depending on the light each wall gets throughout the day. Or, if you can't stomach marking up the walls, paint samples on poster board. You can move the board around the room(s) to see different lighting during the day and evening. Did I do this at my office? No. I just got lucky and liked White Tail immediately. It was love at first sight, kind of like my first boyfriend, except I still like the paint.
Picking the right white paint, part two (or Misery, the live version of the movie, according to Mr. F&F).
After surviving the store renovation, I decided that my entire house needed painting. And it needed to be white. There were samples on walls everywhere, four colors in total, including White Tail of which I had recently become enamored, as you know. Even though it looked perfect in the store with all the other elements, it looked horrible in my home. Different lighting and a totally different vibe is a lesson in why your friend's living room paint might suck in your home. Greek Villa (SW 7551) was a strong contender and there was another can I just recently found called "custom mix." I don't even remember what that was all about. And the winner is? We chose (that's the "Royal We") Dover White (SW 6385).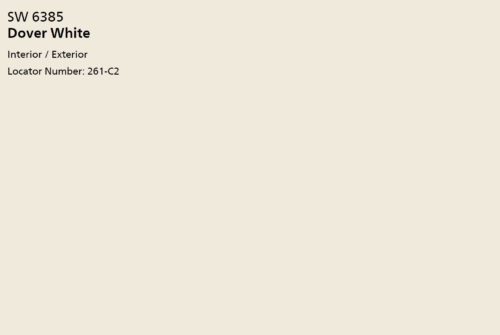 I had lived with faux painted walls with a decidedly yellowish, smoky cast for many years. It was my ode to Spanish living for my Spanish Casa. The before photo…
Same view, but with different furniture configuration and white paint. Dover White has the right feel with a subtle nod to the yellow that I still love. As you can see, I have a whole lot going on with colorful art, fabric and pattern. The warm, white walls provide relief and I have never looked back…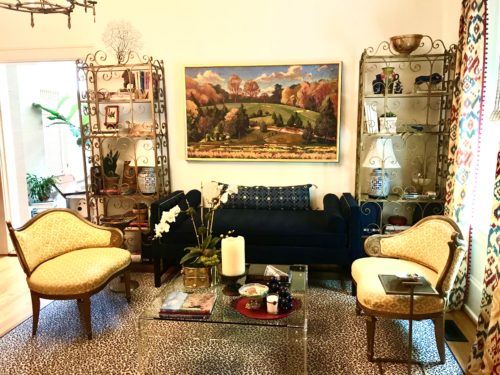 Here's a peek into my family room with the same paint color, Dover White. Different lighting and wallpaper in my eating nook break up all the white paint. Again, texture, art, painted furniture and, well, lots going on is how I roll…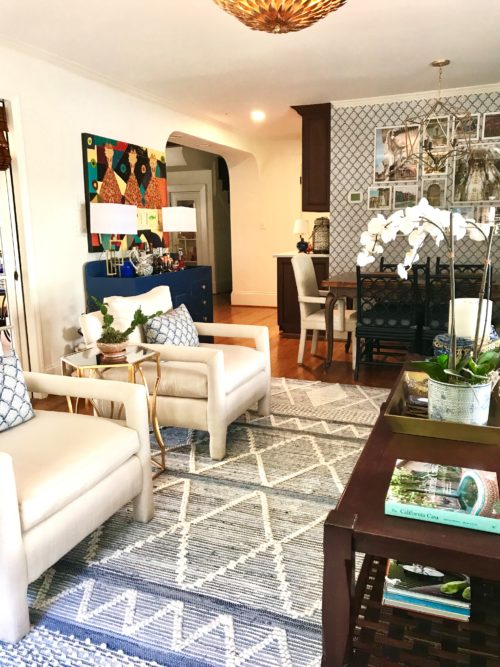 So, after a year of painting and cosmetic upfits, it was time for picking the right white paint, part 3. The outside edition.
Top one is Dover White, making a repeat performance from its success inside. Alabaster (SW 7008) is in the center. And the winner is…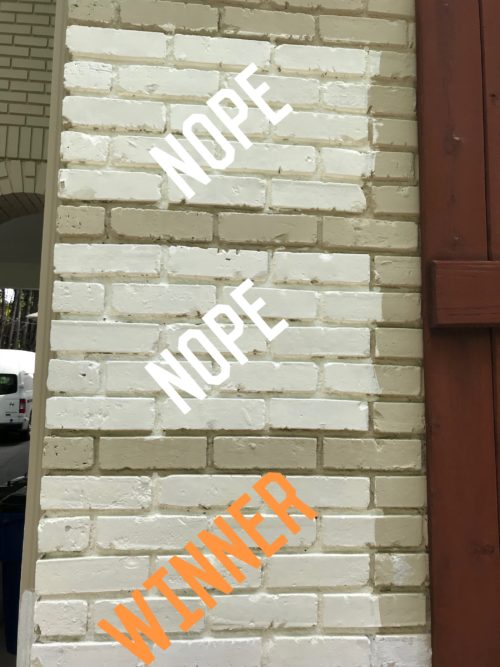 …Creamy (SW 7012).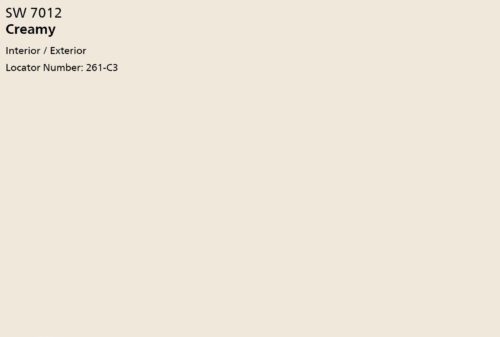 Looks kind of fleshy but in the outside light it achieves the California Casa look I am going for. Think creamy stucco (which I have on the back of my house) paired with black iron and russet-tone woods. I don't have the big reveal as our painter is basically Eldin, Murphy Brown's painter, reincarnated. He has been here for two months (sanding and scraping and bitching and moaning over our 95 year old house) and I don't see an end in sight. He sings out loud while he works and most importantly, he is OUTSIDE, therefore not intrusive. I'm hoping for a Christmas reveal.
What do you like most about white paint and what is your favorite white paint color? For more ideas and proof that white walls are classic, read here.