A bathroom renovation taps into your creative side and, with a series of steps, it can actually be fun.
Bathroom renovations seem daunting with all the elements involved – layout, fixtures, vanity, countertop, tiles, lighting, frameless glass door, vent fan. It all sounds exhausting…pardon the pun. Hiring a professional contractor, with a lot of bathroom makeovers under his or her belt, makes the process easier. Along with an interior designer to help sift through all the choices, the bathroom renovation process doesn't need to be stressful. So let's break it down into some doable steps.
1/ What do you like?
Collect "pins" on Pinterest, tear pages from magazines and, my current addiction, screen shot your fav photos from Instagram. You might notice a theme or recurring images from all these inspiration photos. Zero in on that. Is it the tile color or the same fixtures that draw you in? Is is the layout (a wet room, perhaps?) or the way the bath is lit? Pull all these ideas together….
2/ Make a mood board for your bathroom renovation.
How do you do that? There are many options, including the graphic design app Canva. They have several mood board templates and it is fairly user friendly after an initial learning curve. If you are already a Microsoft Office Suite user, good ole Powerpoint has been my go-to for many years. And my friend and colleague, Anne DeCocco, gives you all the insider tips on how to make a mood board using Powerpoint. This helps you SEE everything to consider how they work together (you still need real samples, in hand, from the supply houses to make final decisions).
3/ How to get from A to Z, or how to narrow your choices.
You might end up with 50 or 100 photos from all your pins and screen shots. Try to focus on the things that strike you the most or that capture the style you desire. Don't be afraid to make the initial mood board a jumble of photos and words. Once they land on the same page, it is easier to pick the favorites and eliminate the rest. Think of it as a treasure hunt for your ultimate bath.
This kid/guest bathroom below needed to be fun with bold tile and modern fixtures. So we began by making two boards: one exclusively for plumbing fixtures and one for tile selections. These are easily submitted to the respective supply houses so they can pull things before our arrival and, perhaps, find other things that resonate with our "theme." After the in-house visits we pull the ideas together on one mood board to present to our clients. Because of this upfront research we provide a more seamless selection process.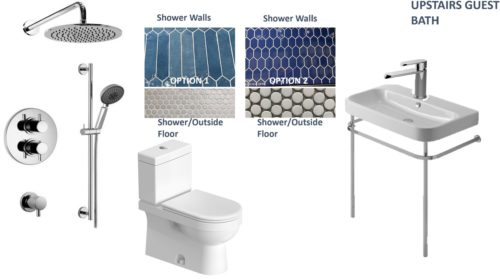 4/ Using another app (Picstitch or the like) to make a photo collage of like items helps to see them side by side.
I find this particularly useful to see how different tiles look together and how the fixtures fall into this mix. But, again, seeing the real thing at the supply house is absolutely necessary. For this guest bathroom, we started in one direction for the mood board, selecting a brass console and chevron tile. Other options for the client presentation emerged once we visited the supply houses….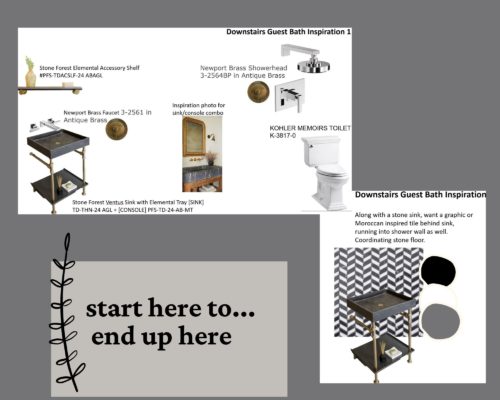 5/ A master bath renovation has the most moving parts but worth the effort for the added value to your home.
Kitchens and baths sell houses, so the renovation thinking goes. And the master bath nets high returns for resale if you're careful to not over-improve. Understanding the comps in your neighborhood and the current value and size of your home all help determine how and where to spend your renovation dollars. A steam shower and sauna probably aren't necessary for starter homes (and maybe not at all depending on your needs). For this high-end master bathroom with a Spanish Modern theme, there were many mood board renditions to make sure we got it right.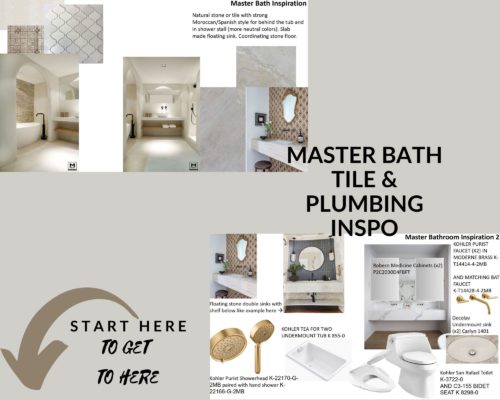 Beginning a renovation with a licensed contractor, your job as a homeowner is to have your selections chosen weeks, and sometimes months, ahead. This allows the sub-contractors to complete their work in a timely fashion. And these days, with long lead times for certain items, it is all the more important. Start your dreaming and scheming before you hire the professionals and impress them with your quick decision-making:) Here's another bathroom round-up at the end of a renovation with some good tips to remember. Study up and you might even find the process enjoyable!