Your walls are the backdrop for everything else in the room, so what you choose really matters.
Whether you opt for neutral or go for a bold statement, what to do with your walls reflects your style. It sets the scene for the whole room and everything needs to play nicely together. There are many options plus it's fun to explore some unexpected material choices and locations.
Paint provides the cheapest, easiest way to change.
With a gallon or two of paint, you can drastically change a room. For this client above, we chose a bold, chartreuse paint for his powder room. Limiting this bold choice to a small room makes it less risky. I also recommend a two-foot square sample before fully committing or try paint samples on poster board. Finally, you can always repaint, right?
What about lacquer or high gloss?
Gah! Lacquer walls slay me everytime! This is a bold choice for sure and not for the faint of heart. But what a statement they make. And think of red or other bold colors as a "neutral" backdrop to the fabric and art choices. Plain color but bold sheen. I sooo want to do this to my office bookshelves but a certain Mr. F&F would probably freak out. Here's a great primer on how to lacquer.
Wallpaper makes a comeback in a big, beautiful way.
Whether it's a statement wall or something more sedate, wallpaper arrived back on the scene. It provides a great opportunity to draw attention to one wall or to an architectural feature like a fireplace or niche. Grasscloth adds texture, in addition to warmth, like the metallic beauty in our client's master bedroom below.
Think about wallpaper in unexpected places.
Don't you love the idea of wallpaper on the back of bookshelves or a china cabinet, and even in a closet? Imagine the happy feeling to walk into that space. When doing a small area like a closet, the cost can be minimal. Wallpaper prices are varied and I prefer some of the less expensive ones. Check out this reasonably priced paper which looks very similar to a luxury brand I've used.
And don't forget the fifth wall…the ceiling!
Be bold with your ceilings by adding paint or wallpaper up there. Flat ceiling white is safe but glossy white or wallpaper makes it pop. Treating the walls and ceiling the same makes a bedroom feel so cozy. This article has great tips on different ideas for ceiling paint.
For wallpaper newbies, try the removable kind.
The removable or repositionable wallpaper is a revelation. First of all, it installs so easily and, if you goof up, you can move it around. The patterns have expanded and, while not as many choices, for a kid's room or a kitchen these are a great option.
Now that the walls are painted or papered, save room for art!
Always save room for art. Even in the tiniest corner of a bedroom, like above, save room for your special memories. Original art is great but so is a collection of your photos.
Take down all of your art as a starting point.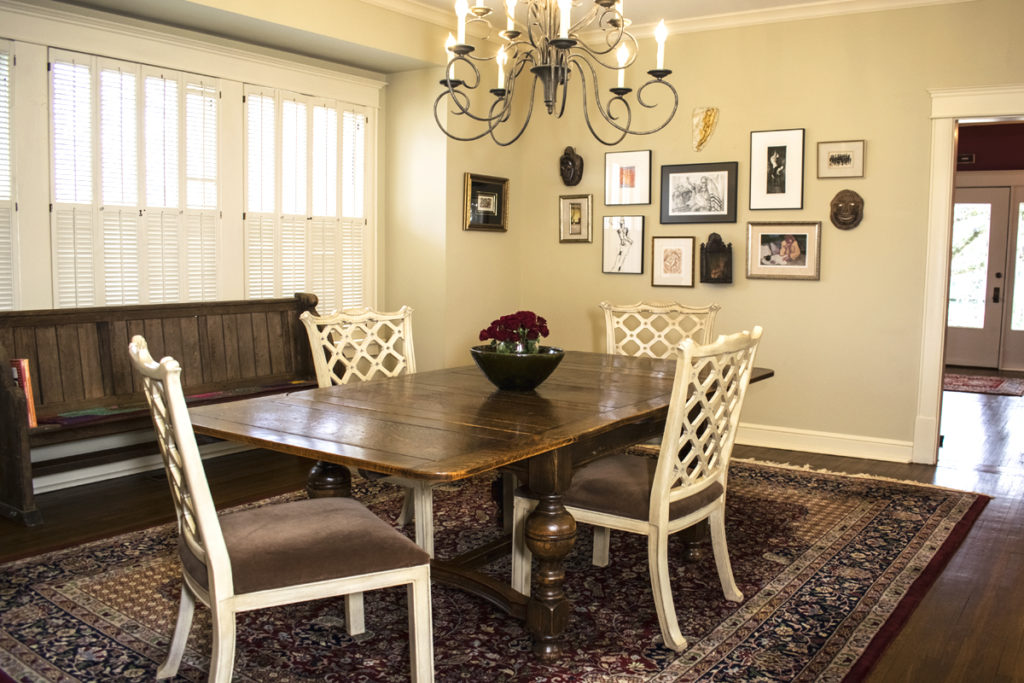 Sometimes you forget what you have and relocating art makes you notice it again. Regrouping your art into new collections by theme or color makes it seem fresh. Create a gallery wall but use the floor first to lay it out. Read here for a tutorial on salon walls and here for more art hanging tips.
Some measurements matter when hanging art.
Generally speaking, hang art 63″ above the floor on vertical center of art since this is considered average eye height. Our client's mixed media piece above commands attention in the foyer and it is at perfect viewing height. There may be exceptions to the height suggestion based on furniture considerations or high ceilings.
Space art 2″ apart when grouping together in a gallery wall. There are exceptions, however, like above, where we spaced things in the grouping closer and further than 2″. I have also seen several groupings where the frames are completely touching each other in a tight installation. That makes an impactful grouping .
Family photos make a great collection for your walls.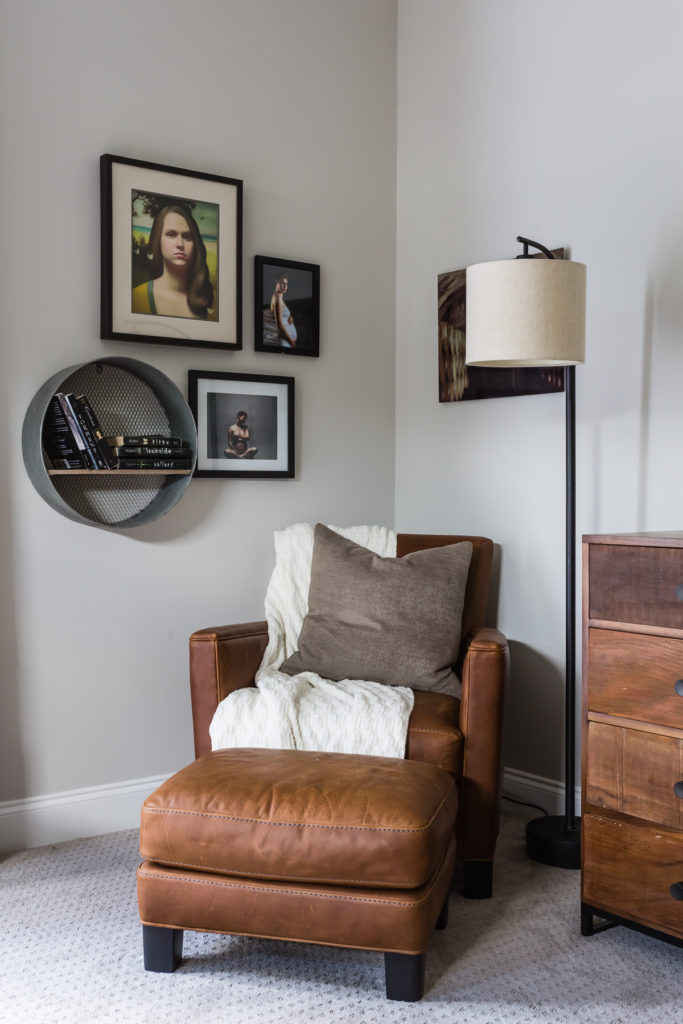 Family photos tell your story and, especially in the master bedroom, certain pieces can really define the space. Family treasures and other memorabilia make your home and personalize it for you. No other home has your flavor.
Take those plates out of the cupboard and slap them on the wall.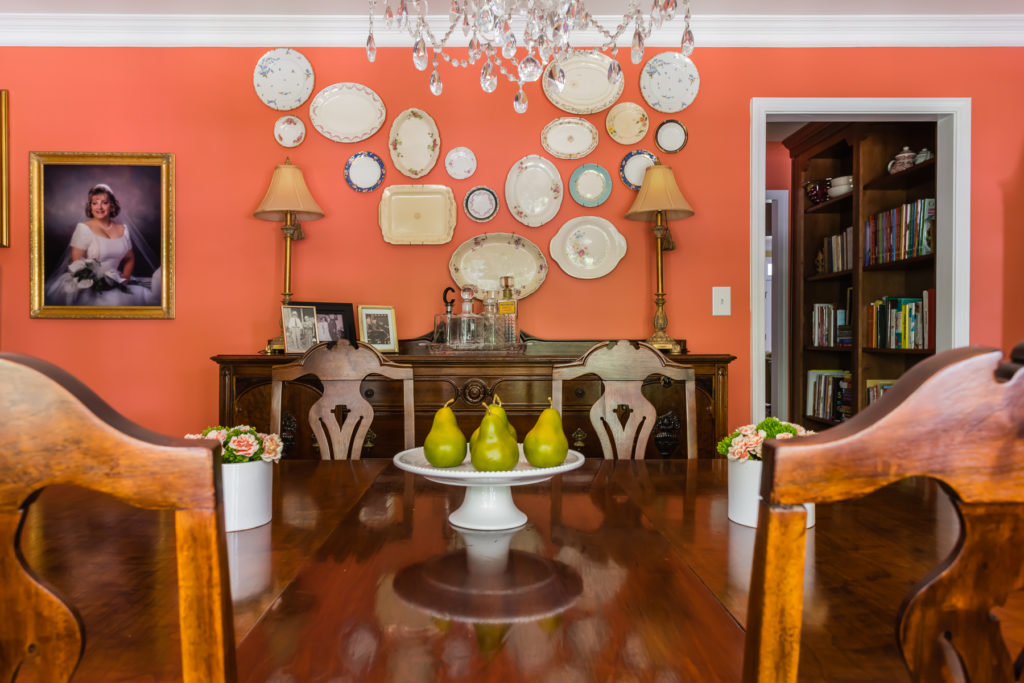 This client had a collection of family plates and platters. We hung them in a swoop-de-do pattern on the wall for a modern spin on family history. Think of what you might have in a closet that could transform into wall art.
Botanical art or prints from disassembled books make great wall art.
I've been known to cut up a book or two. If the book cannot be salvaged then why not transform the content into functional and pretty art? Perhaps you have vintage movie posters or some other ephemera that would make a statement in your home. Clean out those closets and create some wall art.
Large, statement mirrors reflect light and add a lot to your walls.
Love how this mirror absorbs the light in our client's atrium and reflects the front doors. A collection of small mirrors on a wall can also achieve the same lighting effect. Mirrors allow for light reflection but also add variety to the walls.
Finally, after all this hard work of preparing the walls and rehanging art, sit back and enjoy your "new" home. Because, afterall, a little paint and some new art placement are the least expensive ways to give your home a refresh. Read here to find out how we can help.