Textiles and texture in design adds so much to your room. Think about textured curtain trim or your basket collection or even the feel of towels you choose. Layering textiles and texture provide a visual and literal touch in your home.
Bedroom pillows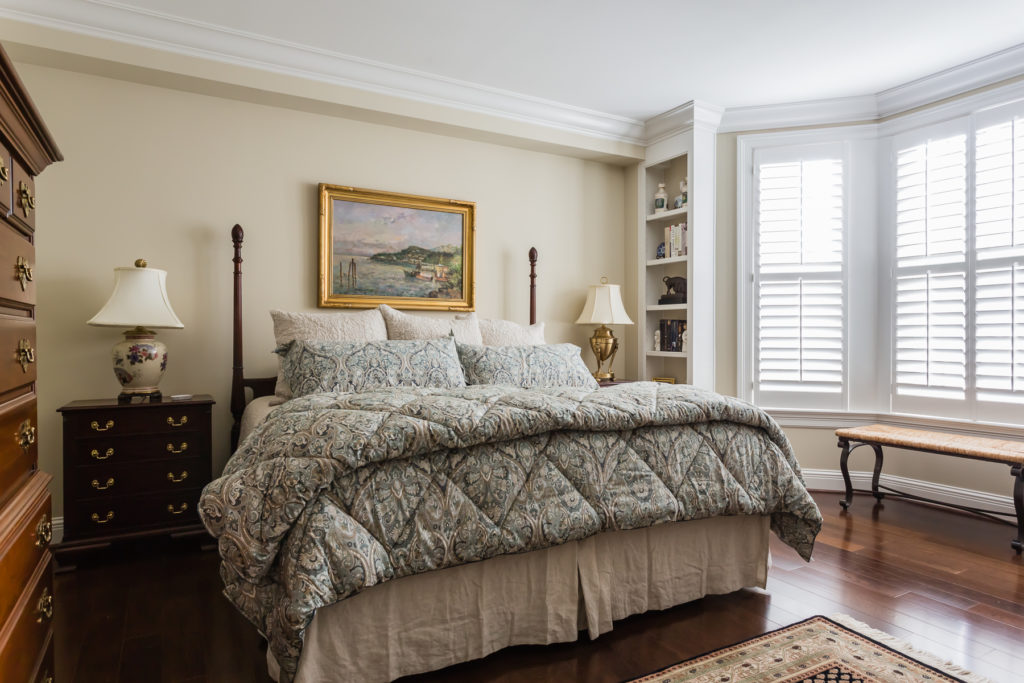 Pillows: To do or not to do, that is the question and how many. I have walked into bedrooms where you can't see the bed for the pillows. I don't enjoy making the bed let alone having to remove twenty pillows at night and replacing them in the morning.
Less is more in the world of bed pillows. Two shams plus three euros for sitting up in bed is enough, as shown in our client's bedroom above. 18″ or smaller pillows on the bed don't add much in the way of function.
And sometimes a refresh is all you need to add texture in your bedroom design.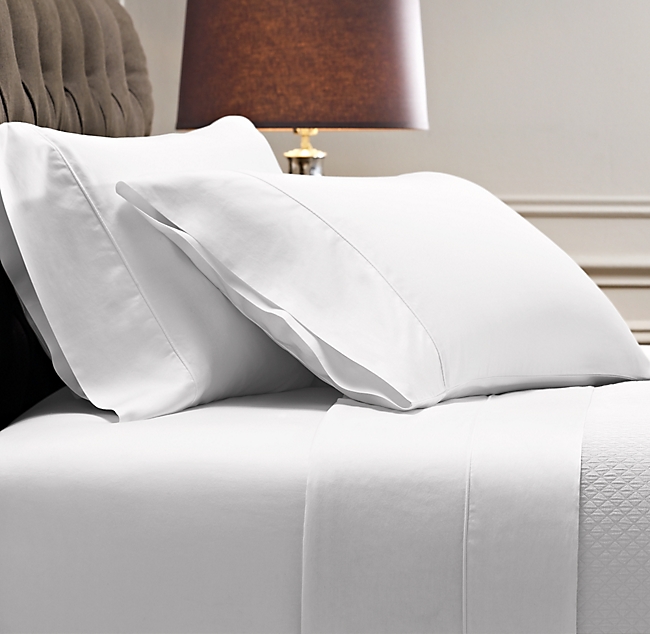 I will never forget the "holey" towels I noticed AFTER my guest had left. On the bright side, the guest was not my M-I-L. So, I invested in all white towels and bed linens after that hosting fail. I love the spa-like feel of all white but you can also add color with duvets and accessories.
For another textile refresh in the bedroom, you can swap out the quilt, duvet or dust ruffle.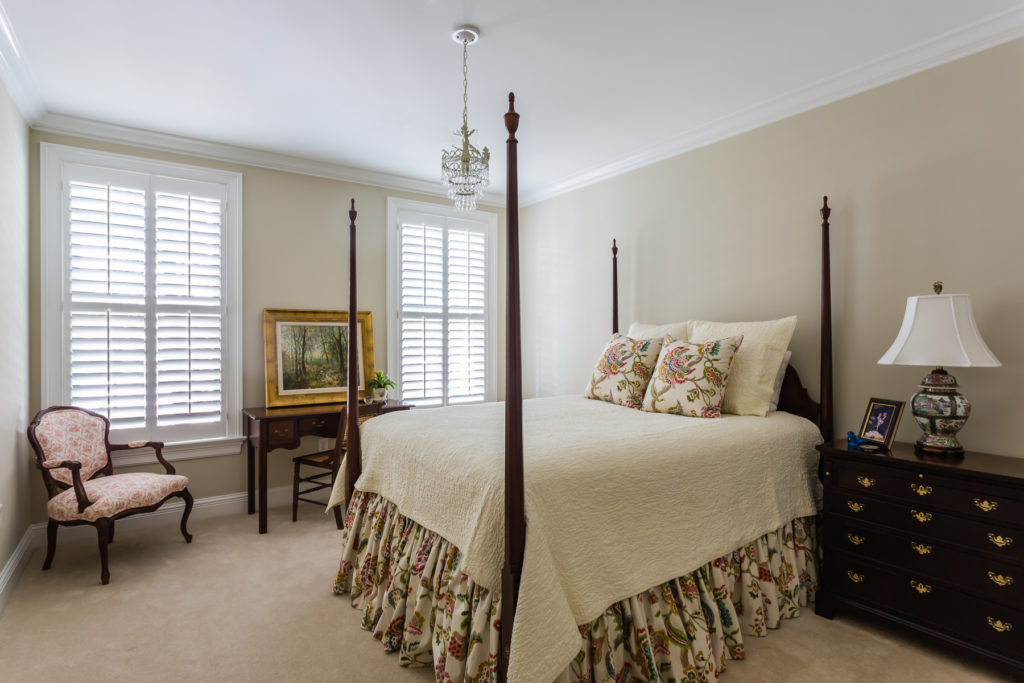 For this client above we did custom pillows and a dust ruffle, mixing them with store-bought bedding for updated texture in this design. And there are plenty of readymade options for your home. This is a new favorite source for me with so many beautiful options.
For a really sumptuous bedroom, with lots of texture in the design, consider a canopy or draped bed.
Allergy prone folks beware as this is not for you unless you like to vacuum. Often. On a ladder. Naked. I added that last part to see if you're paying attention. Anyway, a cozy, draped bed adds a romantic, textured feel to your master suite if allergies aren't an issue.
For easier maintenance, did you know they make slipcovered headboards?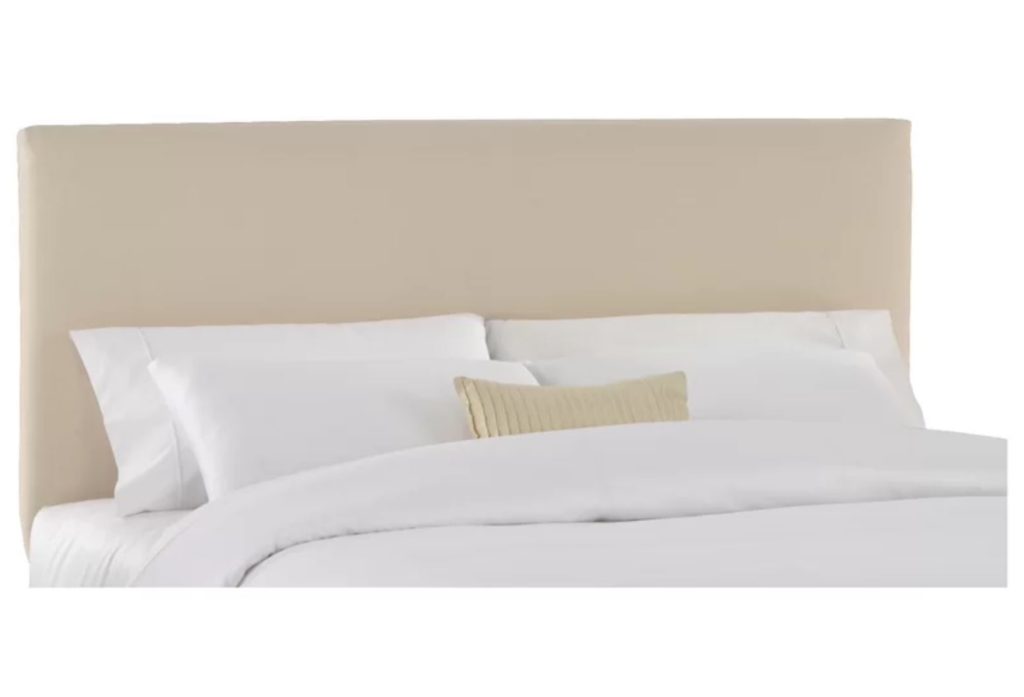 I love this idea for so many reasons because it eliminates the greasy-hair- headboard issue. Just toss it in the wash every so often to keep it fresh and a vacuum or lint brushing inbetween also helps. It's recommended that other textile "undergarments", like mattress pads and pillow protectors, get washed every couple months.
And speaking of slipcovers, I love adding texture to chair design with either custom or store-bought versions.
This client's chair above sports a tight-fitting slipcover which allows for easy washing. Some of the readymade slipcovers also look amazing like the one below from this source. These would make even the rattiest wing chair almost feel new!
Other ways to add texture in design include blankets and throws.
You can't have enough throws around for comfort and don't be afraid to think outside the box as well. Think about vintage scarves, fabric pieces or even kantha quilts like I had in the old version of my living room below. We loved it so much that it wore out! Layering throws with various pillows of different textiles adds a lot of texture to the room.
Lampshades are another way to add unexpected texture to a room.
I LOVE this Etsy artist who makes the most beautiful, custom lampshades. I never tire of plain linen lampshades, but how cool would a little surprise be in a room? I'm talking about a fun lamp made to stand out with a bold fabric. You certainly don't want an entire household of "statement" shades but a few makes for interesting textural additions.
Nailhead trim is not just for upholstery.
Nailhead trim appears on upholstered furniture but it also adds a fun touch to casegoods. This accent table invites touching, right? Nailhead trim on a cornice board or a lampshade are other fun options.
Baskets and other woven items are super textures.
I never tire of baskets for storage and for beauty, as shown above in our client's collection. Hanging the baskets gets them up and off surfaces, elevating them as art.
Woven shades also add texture like baskets and they are a classsic. Alone or layered with curtains, they stand the test of time. Check out the woven shades below and other textural elements. The raised pattern on the rug, the woven coffee table, and the embroidered pillows all add layers in this family room.
A colorful room can have a mix of patterns and textures while a tone on tone room especially benefits. Imagine an all white room but with layers of chunky knits or matelasse, breaking up the monotony of one color.
It's curtains for me.
If there's one place I add texture to the overall design, it's in the window treatments. Curtains make a room seem finished and they warm it up. This client above chose light, modern fabric even though her home was mostly traditional. The tree branch fabric was a nod to all the backyard trees and added a lighter touch to her home.

Decorative tape trim is a go-to for me and I love it especially when other elements in the room are LOUD. These curtains above enhance but don't compete with the Moroccan motif on the walls. Decorative tape trim also looks great on patterned fabric curtains where they are the stars, not the wall. Trim, tassels, or other embellishments draw your eye up and down the curtains and provide added texture.
If curtains are a finishing touch then the hardware is the ultimate jewelry. Hang them high (as in our client's room above) and trick the eye into thinking the ceiling is higher. The textured finials give the smooth rods a little "oomph."
I crave texture in my own home since I think it is these elements that give us warmth and coziness. Think layers of all the things I spoke about – how to add them and where to add them. Where can you add texture in your own home? Read here for design that is dripping with texture and here for trends that include texture.