Now that the walls are painted, the floors done and the lights up, it's time to explore some furniture ideas.
As always, certain measurements are important. Also, think about how you live when making furniture purchases. Sometimes a shift in your existing furniture arrangement makes a big difference or perhaps paint something you already own. This list compiles my favorite furniture ideas.
Furniture does not need to go against a wall.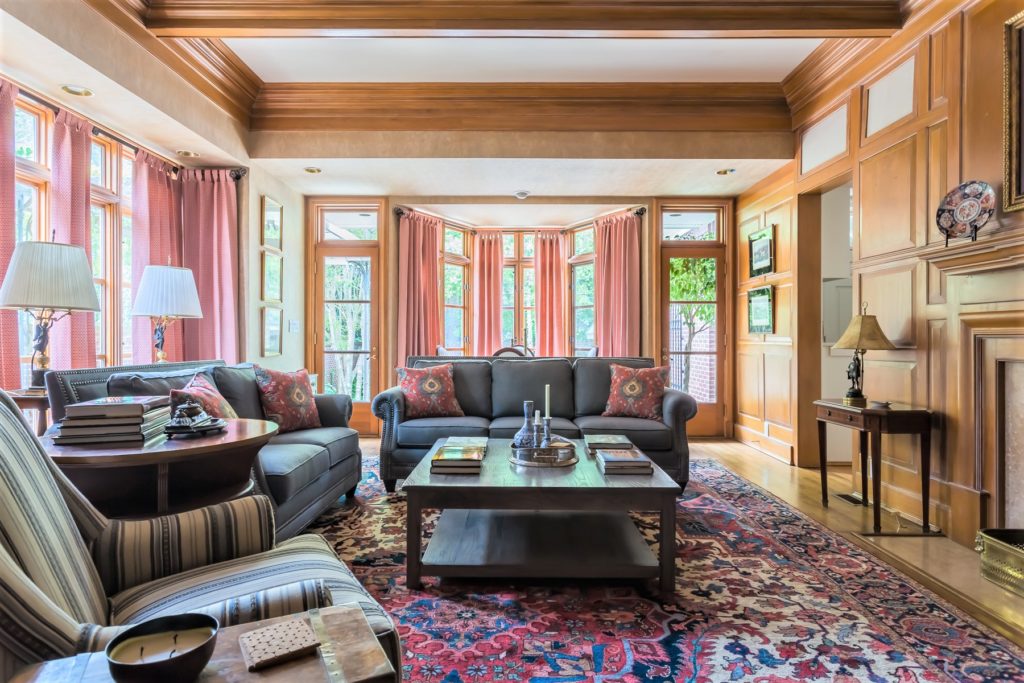 Take, for instance, this client's home where we floated the furniture into the middle of this room. A console table with lamps sits behind one sofa while a game table sits in the window behind the other. We placed the furniture at conversation distance, not backed up against the walls.
It seems tempting to push furniture against the nearest walls and sometimes it is appropriate. However, seating should not be more than 8 feet apart. Therefore, think outside the box and consider how to create a floating furniture arrangement instead.
Like certain Hollywood celebrities, facelifts can likewise renew existing furniture.
Like our friends at Rail and Stile, painting furniture makes a big difference. You can't go wrong with classic, glossy white like the piece pictured. While a client recently had them paint her sideboard in a fun coral and a secretary in vivid cobalt blue for me. Painting did not ruin the value of these pieces since they weren't expensive antiques.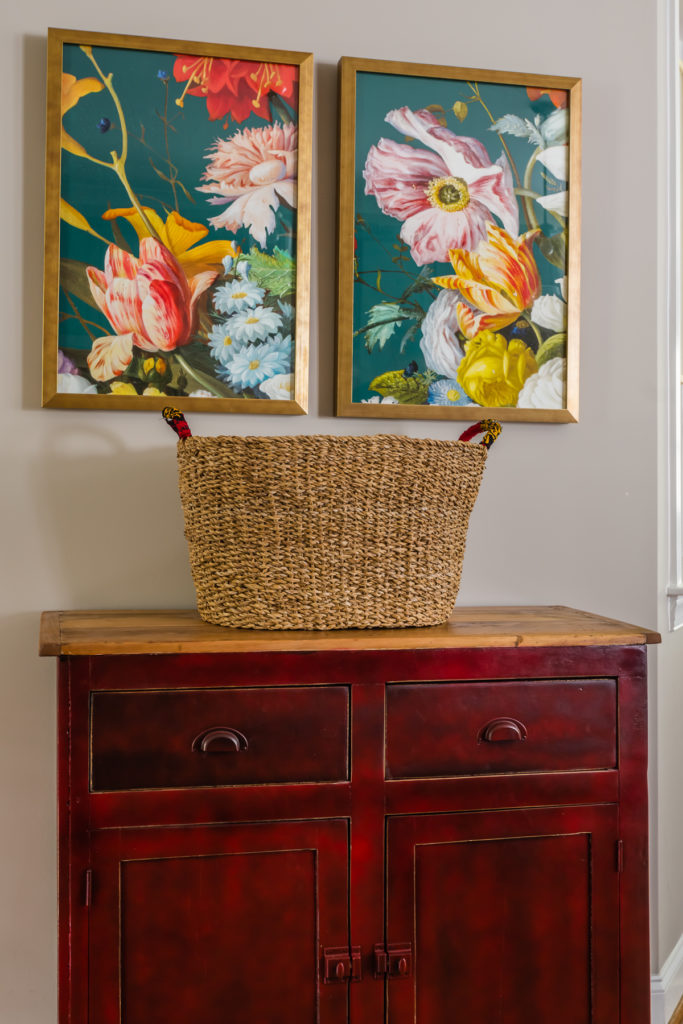 This client purchased a finished red cabinet at Revival Antiques. Or choose an unfinished piece and give it a faded wash of paint for an affordable, antique look. Revival provides a lot of options in their warehouse.
Furniture appliques give another "facelift" opportunity. Check out the beautiful moldings at this online resource. Add some trim to a table front or maybe a swag to the front of a dresser then add paint. Wallpaper can acheive the same transformation by adding it to the front of a dresser or the inside of drawers.
Change up your furniture by changing material choices.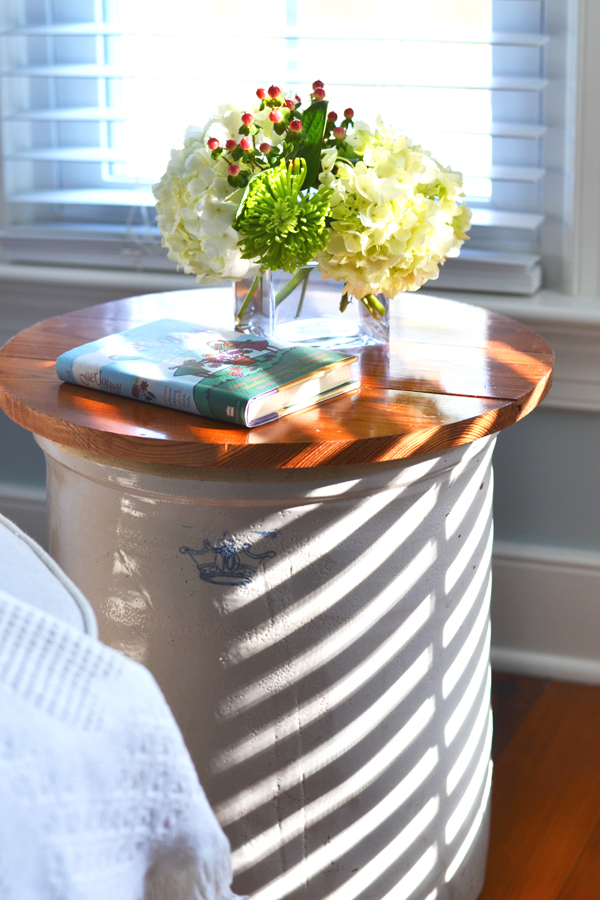 Technically, this was not a furniture piece but we made it one by adding a wood top. A glass top iron base coffee table might look better with some marble instead. Or glass inserts on a console table maybe look better with radiator screens underneath for a quick change.
Antique or vintage furniture ideas make great sink bases or kitchen islands.
Doesn't this antique chest look amazing as a powder room sink? I recommended this inexpensive vessel mount sink to my client which completed the change. How about a dresser with higher legs and some added marble to make a unique kitchen island? These make fun alternatives to regular cabinetry and are often cheaper options.
Speaking of antiques, why not mix them up with newer pieces?
The Asian nesting tables and vintage accessories look right at home with the newly purchased furniture. It's far more interesting to mix it up then to have a matched set. This client's art collection mixed well with the mid-century architecture and the new furniture we chose.
When mixing furniture, avoid overly fussy furniture and mix the proportions of tall and small. Or maybe the vintage furniture has the same curves as the newer furniture. Most of all, acheiving the right mix includes not too many of one style. So, not too many antiques and not too much new stuff.
Farm tables are classic furniture ideas with options.
If our client ever tires of it as a dining table, this farm table would make a fabulous desk. I love the versatility of this piece in a casual dining room or in a kitchen. But imagine it as a desk that you can spread mounds of work upon.
Check out the functional console table.
We reused this small console table as a focal point in our client's living room. She owned this piece for years and it served many functions in different rooms. But now, moved into the living room, the colorful art and lamp give it star status. Console tables are one of the most versatile pieces of furniture you will ever own. Read here for more console furniture ideas.
Speaking of console tables, what about two X-benches tucked underneath?
I love the look of X-benches or small ottomans tucked under a console table. In addition to their great look, they provide extra seating in a pinch. The benches also introduce another fabric into your scheme. This online source has great custom options to consider.
Long live the tiny table!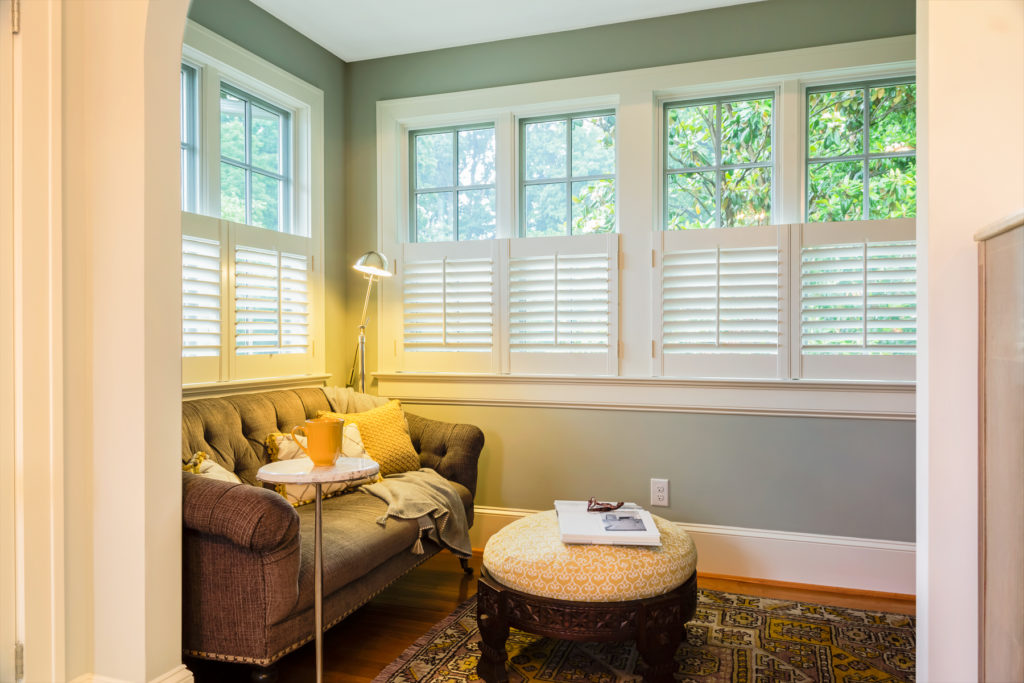 The tiny table provides so many functions but, most importantly, every seat in the house should have a surface nearby. Imagine it as a necessity for your daily coffee or wine perch. In addition, it can serve as a plant stand or as a functional place for soap and other goodies beside your bath tub. Tiny tables rule.
Skirted tables are classic and give the added bonus of hidden storage.
In the old rendition of my living room, this skirted table took center stage. I don't have a foyer so the table helped divide the room and gave it an entry hall look. I once had a quilt skirting a wood top to conceal my stereo speakers. In the same vein, I hid a file cabinet under a wood top and skirt. They sell decorator wood tables here and I particularly love the rectangle version which is both tailored and modern.
Dressing tables are practical for many reasons.
Who are those children in that photograph, I ask, and wonder where the time went. I used to stand in front of a regular mirror and magically put on makeup. As I have aged, a magnifying mirror and a seat are a welcome part of my daily routine.
My dressing table is a stock cabinet drawer suspended between two walls which cost very little and required 3 feet of space. The dressing table can be built-in like mine or a stand-alone table to serve that purpose.
Other built-ins likewise add function and beauty to your space.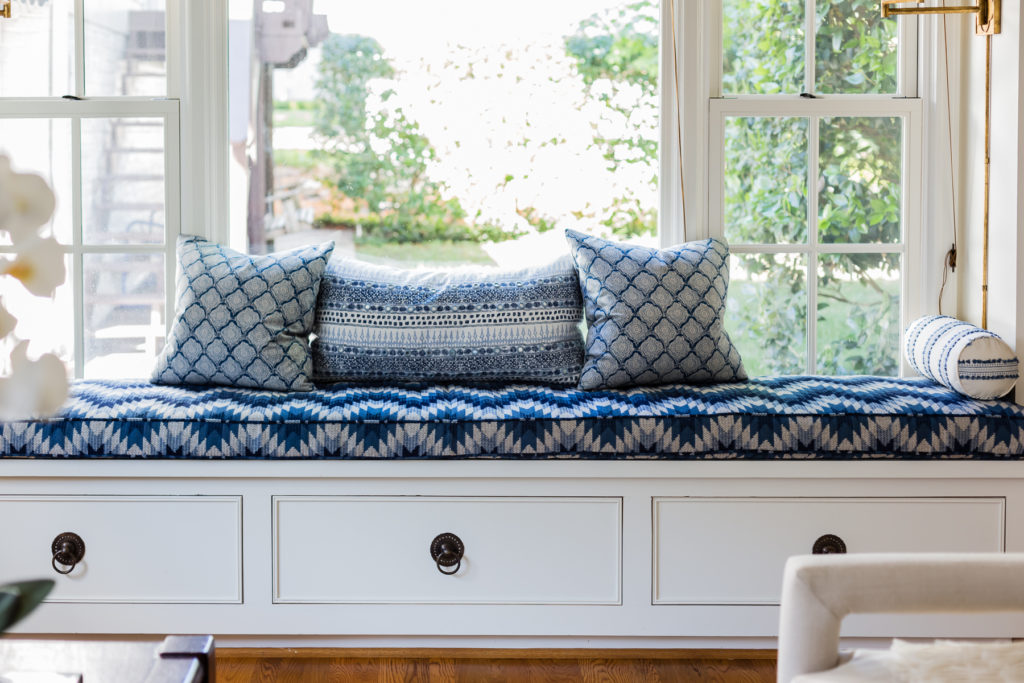 Built-in furniture ideas add architectural interest to your home where maybe there was none. Bookshelves add storage and windowseats provide extra seating (and storage as in the photo shown). Consider an area that might benefit from a built-in but be careful not to overdo it with these often costly additions.
When choosing seats for your home, don't overlook comfort.
Comfortable dining chairs, for instance, encourage lingering and long evenings at the table. Don't forget to allow 3 feet of space between chairs and surrounding furniture so you can pull them out easily.
A loveseat also provides comfort and is a great option in tight spaces.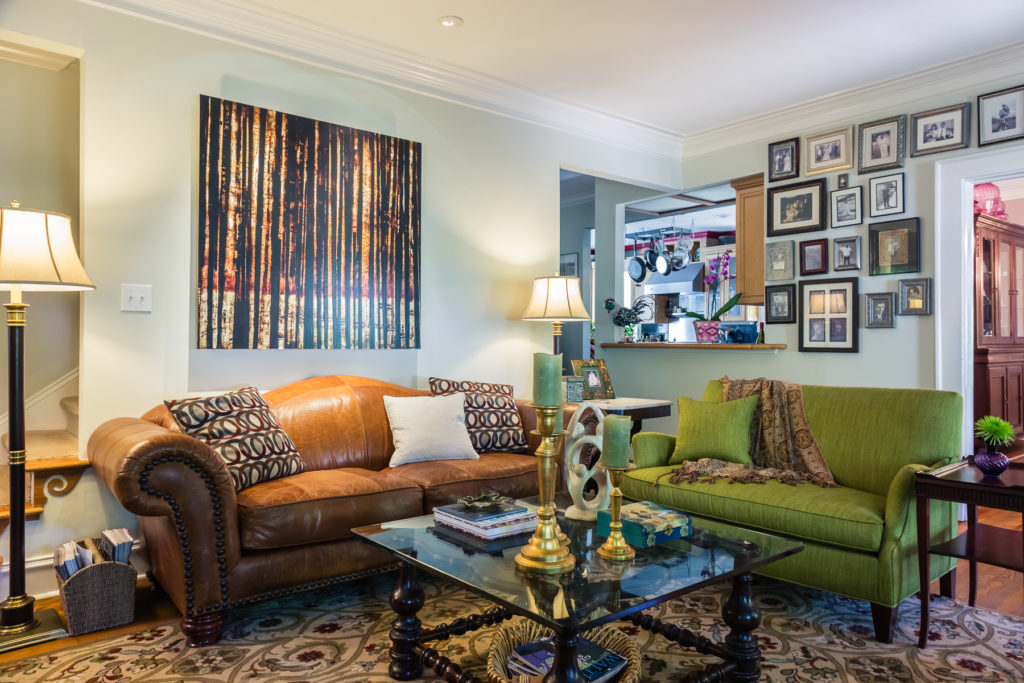 Sometimes you just don't have room for a large couch or, in this case, our clients already had a couch. They needed extra seating but didn't have room for another full size couch. This green loveseat fit perfectly and, with the couch, provide seating for 5 without the "dead" corner seat of a sectional.
Coffee tables come in a variety of heights and styles.
For this client, a pretty glass top table shows off her books and collectibles. You might prefer a put-your-feet-up table with a larger surface. A comfortable height is 18-20″ but some higher coffee tables allow you to set your drinks down easily. The height of your sofa seat and your comfort needs will determine the size. You must also consider if upholstered, wood or glass works best for you.
And glass or lucite furniture, in general, allow you to see through and open up the room.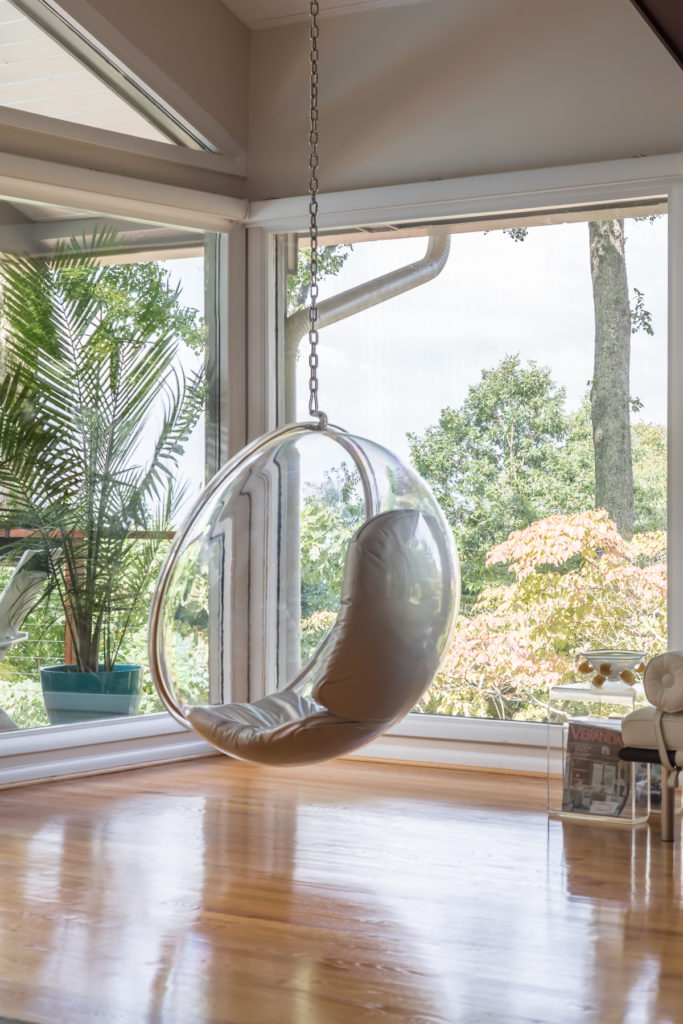 Can you imagine anything blocking this western mountain view? Me neither, so that is why I designed the best seat in the house to be "see- through." View notwithstanding, lucite and glass furniture add to a room without overpowering it. If there is a lot of heavy furniture already in place, these pieces add function in a lighter way.
Sometimes you purposely want to block the view.
Maybe your at home office is in a corner of the living room and you can't escape it when you have guests over. Enter the versatile and beautiful folding screen. Hide your messes, fill an empty corner or use it as a headboard. There's a reason folding screens have been around for hundreds of years.
Finally, my last piece of furniture is not just for the front hall anymore.
The coat rack is not just for coats anymore. I love it in a bedroom for hanging clothes or towels, and especially in a guest bedroom so you don't have to empty the closet. Leave a few hangars out on the coat rack and they have a makeshift temporary "closet" for their (hopefully!) brief stay. As my sister's plaque loudly claims in her bathroom: "Guests are like fish, after three days they stink." (old Italian proverb)
What is your favorite piece of furniture? If the house was burning down, what would you grab? Sometimes it's sentimental, sometimes it's practical and sometimes it's just for the pure beauty of a certain piece. I know what I would grab but I would need three burly (and handsome) firemen to help me carry it out!
Until the next Design Tips installment which will be all about texture and textiles. xo