This is my favorite time of year to go through the house. Decluttering your home need not be intimidating, if you attack it bit by bit.
When putting away the holiday decorations, I crave a more decluttered space. First of all, I go room by room and assess general, visible clutter but also dig deeper for hidden things. My bullet list follows "Reduce, Reuse and Recycle" so, as a result, decluttering your home takes on a sustainable approach. Suggestions include "Reduce" ideas to prevent future clutter, "Reuse" ideas to repurpose items, and finally, some general "Recyle" ideas.
Living Areas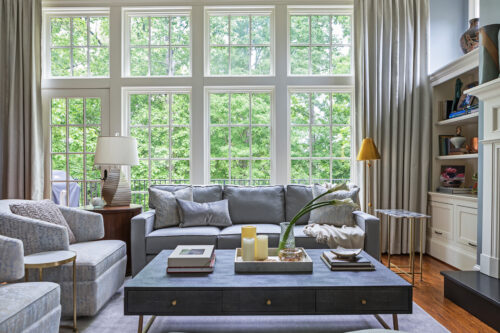 Sell or donate books you've read (REUSE) and books you know you will never read, despite your best intentions. It's okay. Ditto for textbooks – have you ever referenced that Economics 101 book?
REDUCE by uploading future books to a Kindle or tablet of your choice. Perhaps upload some classics you may have given away but want in your virtual "library."
RECYCLE magazines or REUSE by donating to hospital waiting areas. Call the hospital foundation or volunteer program to check if they accept them.
Sell or donate CDs (REUSE). REDUCE future purchases by uploading your playlist to Spotify or music streaming service of your choice.
Sell or donate DVDs (REUSE) and watch Netflix, Amazon or whatever service to which you subscribe.
Ditto above for unplayed video games.
Deal with your mail the day it arrives. Immediately RECYCLE the junk, file away important items or put in an appropriate to-do folder. REDUCE future junk mail by using this incredibly handy guide. Switch to email for bank and credit card statements.
Decide which kid art is frame-worthy and use this archive service for the rest before RECYCLING. Here's some other tips for kid art.
RECYCLE empty appliance and electronic boxes, once you have unpacked your new items. There is no need to keep them unless you actually use them for storage.
Finally, as you are packing away your holiday items, this is a good time to decide if any decorations need donating (REUSE). Perhaps you want a pared down holiday look or some decorations are weathered and worn or ornaments have broken.
The Home Office
Pens and pencils multiply like bunnies. Toss those that don't work, donate any duplicates (REUSE) and REDUCE by investing in a nice pen and pencil that use refills.
Cords and cables similarly multiply. If all your electronics have appropriate cords and you have enough travel cords for small electronics, then the rest can be donated (REUSE). Most counties have electronic recycling drop-offs or designated days for this.
For larger electronics, like computers, they can also be RECYCLED at the county electronic drop-off. I love this charity, Kramden Institute, that restores your old computer and gives to worthy students without one in their home (REUSE).
RECYCLE old paperwork, shred more sensitive items, and request email receipts for purchases going forward.
RECYCLE blurry or duplicate printed photos. REDUCE future photo clutter by storing digitally.
Don't forget about digital clutter. Delete and organize your email into folders. REDUCE future emails by unsubscribing as you receive unwanted emails.
And same for your cell phone. Delete apps you don't use, clear out your voicemail box and transfer good photos to your computer folders.
The Kitchen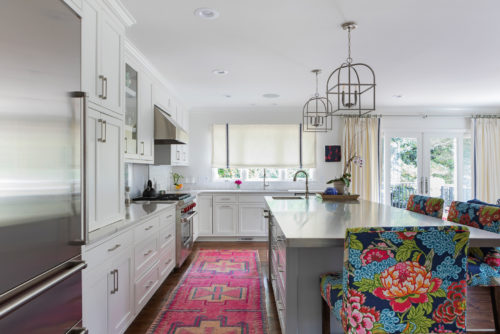 Empty your gadget drawer into a container and replace items into the drawer as you use them. After several months, donate the remaining gadgets (REUSE).
Turn worn or holey dish towels into rags (REUSE).
Empty the "take-out" junk drawer and donate plastic cutlery, condiment packets and paper napkins (REUSE). REDUCE future build-up by refusing these items when picking up take-out food.
REDUCE the number of cleaning products by finding ones that provide dual purpose (like All-Purpose cleansers that clean glass and surfaces).
Donate small appliances that go unused (REUSE) or duplicate the function of another one (think: Pampered Chef Food Chopper versus a chef's knife that takes less room?). REDUCE future purchases by rethinking if it is necessary.
RECYCLE canned goods that have expired. Donate canned goods that you do not use or want to a food pantry (REUSE).
RECYCLE expired sauces, rubs and spices. REDUCE future purchases by buying bulk (when a recipe calls for two bay leaves, buy them in the bulk section).
Donate unused cookbooks (REUSE). Hang onto some general cookbooks for reference and your favorite beloved, dog-eared books. Use Epicurious or other online sources for new recipes (REDUCE).
The wonderful trend of reusable grocery bags has spawned a family of them, overtaking my cubbies. Keep a dozen and use the rest to donate your other stuff (REUSE).
Bedrooms
Toss old, stained and worn pillows. Check if they can be REUSED at animal shelters. Otherwise pillows, like mattresses, are hard to dispose of. REDUCE the waste by investing in good pillow protectors. If washed regularly, they will extend the life of your pillow.
Declutter your nightstand surface as well as the top drawer which often acts as another household "junk drawer." Donate any unwanted items (REUSE).
Single socks are lonely since their mate is somewhere in dryer hell. REUSE singles as dusters on broom handles or as shoe polish buffer cloths.
In your closet, turn your hangers backward. After six months any hangers that are still backward indicates unworn clothes. Reassess and donate these items (REUSE).
Donate shoes that aren't worn anymore (REUSE) or those that are too worn. Resole or get new heels for shoes worth keeping.
T-Shirt collections can get out of control and don't underestimate the sentimental value to some family members. Worn or holey ones make great rags or some talented folks turn them into T-Shirt quilts (REUSE). Donate gently used shirts (REUSE).
A large belt and tie collection isn't necessary if your work no longer requires it. Pare down by donating (REUSE) and keeping a few for special occasions.
A seasonal collection of purses or a couple per season is all that's really needed. Decide what works for you and donate (REUSE) or sell the rest.
Jewelry can be a goldmine. Pun intended. I sold unused gold chains and other silver items a few years back for several hundred dollars and did the same this year (RECYCLE). Fix the sentimental jewelry items that need new clasps or resizing. Take care of the best and donate the rest (REUSE).
Bathrooms

Ratty towels make nice rags (REUSE). That's what I did after my friend visited and I realized while doing laundry that I had given him holey towels. Embarrassing. Each person should have two sets of towels (one in use and one in the laundry) and an extra set if you have regular overnight guests. Having all towels in one color makes life easy for folding and sorting.
Revisit the medicine cabinet every six months or so. Throw out expired medicine, RECYCLE containers if possible, and restock basics. REDUCE what you have by only buying specialty meds when illness arises. I recently found medicinal oatmeal baths from 20 years ago when I had an allergic reaction.
Three words: bath sponges yucky! Loofah or bath sponges seem inherently gross so, if it's been awhile, toss them.
Hair dressers are product pushers. Do you really need a mousse, a serum and a leave-in conditioner before you blow dry? I don't think so. Toss and RECYCLE the containers, keeping only the hair products you really need.
Make-up has an expiration date but it's not always noted on the packaging. Here's a good little guide to help you figure all that out. Toss the expired ones, consider how many products you really use, REDUCING how much you purchase in the future. REDUCE the amount of free samples you accept (that Clinique one is hard to pass up, I know) or donate small cosmetic bags to womens' shelters (REUSE).
The Dreaded Garage and Basement
Mr. F&F and I recently tackled the basement paint storage, after living in this house for 17 years. And many paint jobs, he might add. If the cans are almost empty, remove the lid and let it dry completely. This is acceptable for disposal. For fuller cans, there is household chemicals and toxic waste disposal at the county dump. Fuller cans of newish paint are accepted at Habitat for resale (REUSE).
Who needs 12 power outlet bars? Mr. F&F apparently. I have no idea how we ended up with so many, but we're down to two now after donating (REUSE). It's piles like these that build up in rooms you don't frequent, so it's worth the time to tackle these areas.
Tools can run amok, especially when you misplace a screwdriver, replace it, then find the original one a week later. Sort through and assemble one comprehensive tool kit. Perhaps make an extra small set for the junk drawer (multi-head screwdriver/measuring tape/allen wrench set/small hammer) and another small set for the upstairs, if you live in a two-story house. Donate any extras beyond that (REUSE).
One job, one task at time and it won't seem overwhelming. It sure feels good to complete just one drawer or one closet. Set a timer for an hour, play disco music, keep your favorite hot beverage nearby and give it a go. Here are some other ideas to inspire you to get started on decluttering your home!