Aging in place isn't all about grab bars and avoiding throw rugs.
It can also include some very stylish and comfortable elements. While aging in place focuses on wider doorways, fewer obstructions, and good lighting, for example, it can still include pretty design. How do you incorporate "pretty" while still focused on aging in place considerations?
A recent client photo shoot day had a common theme: all planned to stay in their homes a long time. One couple is in their 50s, another in their 60s, one in their 70s and lastly, a couple in their 80s. I realized this happy coincidence right before, so consider this also a tale of aging in place through the decades!
Color is fun but also provides contrast for depth perception, another consideration for aging up.
The Scalamandre wallpaper was the stylish inspiration behind this whole project for my lovely "80s" couple. The wife embraces color and loved this pattern so we started there, influencing all the fabrics and other textiles. The space is brimming with color, contrast and lots of personal items we incorporated to make them feel comfortable in their home away from home near their daughter.
This home similarly embraces color right from the moment you enter their foyer. The antique mirror was newly lacquered in a lovely shade of blue picked out from the settee fabric. This sets the style for my vibrant "60s" couple and the rest of their home, as you can see in the vivid coral sideboard below.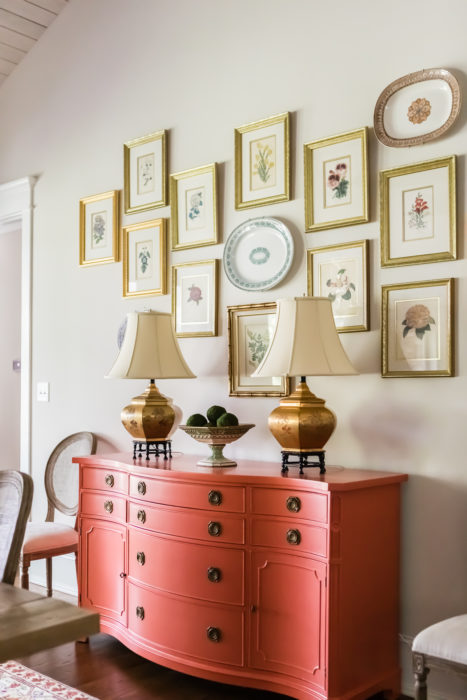 My fun "50s" couple below also love color and we specced a butterfly wallpaper as a happy design element when you open the laundry door. This laundry also offers front load machines and ease of access from the bedroom for aging considerations.
And, speaking of 50s, is that too young to consider aging in place? Not if you realize the house where you currently reside is right-sized and perfect for aging up. A full-scale renovation included an enlarged downstairs master, wider passageways, zero entry shower (more on that later) and a desire to stay in their current home.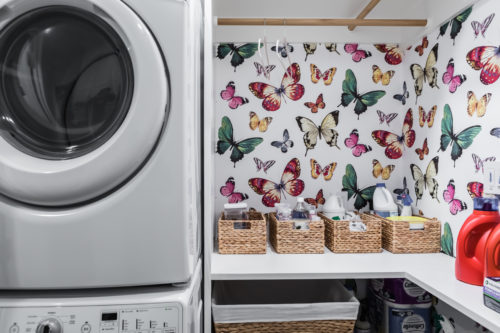 My "70s" couple had a more sedate palette upstairs but for their basement, where they spend a lot of time with grandchildren, we selected fun fabrics. This wonderful couple upsized to a 3-story townhome but everything they will need later exists on the main floor.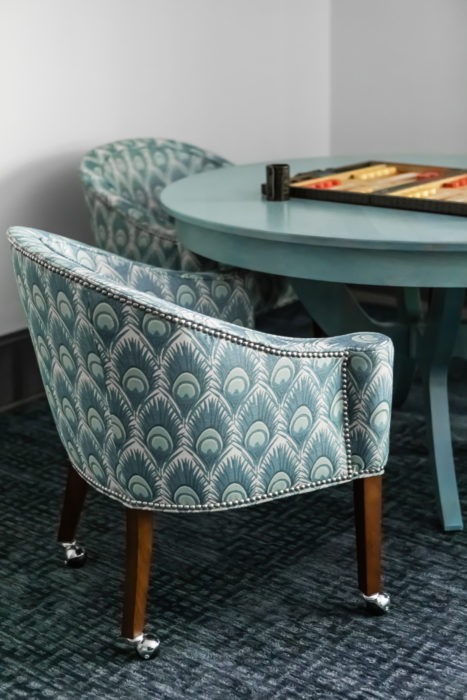 Open floor plans, love 'em or hate 'em, but they do accomodate aging in place.
Three of the four couples have distinctly open floor plans in the main living areas, while the fourth has specific rooms (thankfully large with wide doorways). Two of the couples did renovations that optimized floor plans while the other two moved into existing floor plans. Generally, all the homes are suited for aging in place and, as they age up, certain accomodations can be made. Most of all, the floor plans work and will work particularly well for later on.
This large family room above is open to the dining room, kitchen and a room my "60s" couple call the "cocktail lounge." I knew I liked them the minute I learned this:) The family room allows visiting grandchildren to romp around…stylish and kid-friendly too. And it's an easy room to make small, needed changes as they age.
My very fit "80s" couple love the red, white and black scheme of their family room which opens to the kitchen, dining and sunroom. Everything ties into together beautifully and, most of all, it's easy to navigate from room to room along the hardwood paths.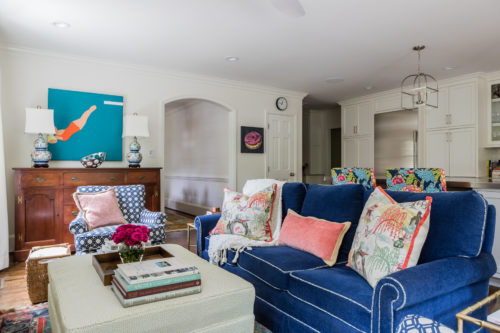 My fabulous "50s" couple did a renovation that included an open family room/kitchen with Asian-themed design pictured above. Doorways were widened to the adjacent dining room and hallways. This house is the perfect size, concept and flow for aging considerations. They are years away from moving rugs and such but everything can be accomodated later with little effort.
Bedrooms should have a clear path to the bathroom, nightstands at same height as bed, and beds at a comfortable, accessible height.
There isn't anything superfluous in my "80s" bedroom above to trip over (nor any of the others for that matter). There's a bed, nightstands, dresser, reading corner and clear path to the bathroom. I generally design bedrooms more "Zen" and decluttered anyway as I feel you sleep better when not surrounded by stuff. My "70s" couple's retreat below has wall-to-wall carpeting (also not a bad idea for aging) like the "80s" couple.
Finally, my "50s" couple's master bedroom below has a soothing color palette, clear wide paths and minimal furniture.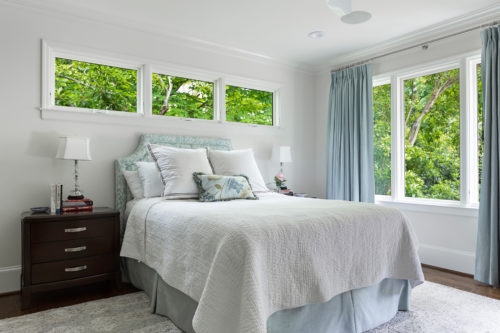 Bathrooms have many aging factors to consider.
First of all, if you have the opportunity to design a zero entry or curbless shower, I highly recommend it. The design is as beautiful as the tile you would select in a regular shower and, with the seamless transition from outside floor to shower floor, I think quite possibly more beautiful. Exhibit A from my "50s" couple below.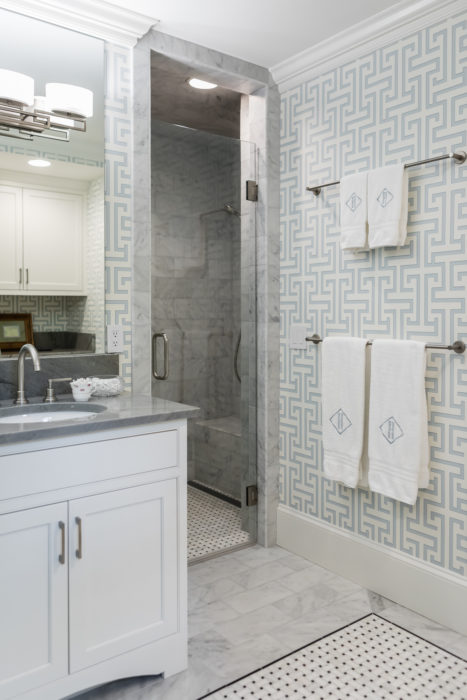 And Exhibit B from my "60s" couple below.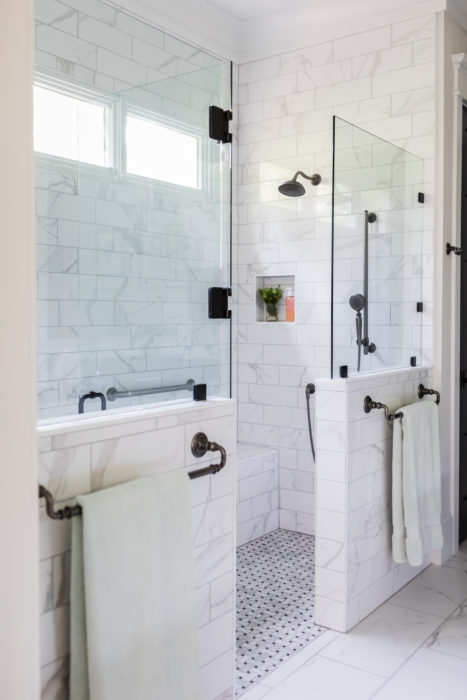 I don't care what age you are, these are beautiful floors with a seamless look. Why not do it? And, if you have elderly parents visiting, all the more reason to design your bathroom floors this way now. If you are renovating anyway, consider curbless showers as an option. And throw in a shower seat/bench plus a handheld showerhead for good measure and easy clean-up.
Comfort height toilets are also something any age can appreciate. It's a long way down, in the middle of the night, to a regular height toilet:) Bidet seats are a luxury item (or necessity for me!) but also a wonderful thing as you age for hygiene and mobility. Other considerations are anti-slip tiles and slip resistant rugs outside the wet zone.
Finally for the nasty, but necessary, grab bars, they have come a long way. You can see the black one in the shower above. Here's a link to many more choices in a myriad of stylish options and colors. Grab bars can be added to the shower and toilet area when needed.
Here's to stylish aging! I know I plan to be as cool and mobile as Iris Apfel who turns a very young 100 years old in August. But I also know that smart, comfortable choices in the home make a difference for your independence and injury-free aging. Cheers to Iris! Read here for more aging advice with clients who masterfully downsized to their final home. And read here for full portfolio photos for my 50s, 60s, 70s and 80s couples. Until next time.
xo