Vintage desk accessories provide a nice alternative to big box store options.
Your desk. Where hard work, a calendar overrun with notes, and perhaps even some aggressive paper shuffling meet. It's a place to get things done, but it can also be a place that you enjoy with some vintage desk accessories instead of the usual. Here are a few simple steps to get your desk looking and functioning just a little bit better.
Foundation pieces
Start with a desk that appeals to you aesthetically and is spacious enough for your needs. Here we've got an antique pine desk with one drawer. We're often on the go here at F&F, so this is a great "landing spot" for laptops and files. Just enough room to spread out but also small enough to prevent us from creating a new vignette called "Crazed Sea of Paper and Electronics." 😉
Comfy chair
Chances are you'll be sitting here a while, and comfort is key to productivity. Here we have paired the antique desk with a retro-industrial chair for a little mixing of eras.
Lighting
You've also got to be able to see what it is you're working so diligently on, so a lamp is usually a pretty good idea. We've just used a nice, classic white lamp here. Never goes out of style!
Desktop Elements of Vintage Desk Accessories
1/ Storage and filing
2/ The not-so-serious spot for attractive items to give your weary eyes a rest
Room for pretties on the desk? Are you sure? Oh, yes. You heard me. Make way for the pretties! You'll be surprised how much happier your work space will be with a few non-work-related items on your desk. Here we've gathered them all together using this little brass tray. Our Fresh Linen candle adds a nice scent to the air while greenery or flowers add a bit of nature to the mix. And, of course, a picture of the fam or friends never hurts either.
3/ Toolbox
Use vintage items to hold some of your "tools." Here we've got an old trophy holding pens and a small blue and white cupcake box to hold paperclips, rubber bands, etc. Think outside of the box – there are so many great vintage items that can add a lot of character to your home and still be just as functional as a new product.
4/ Gentle reminder wall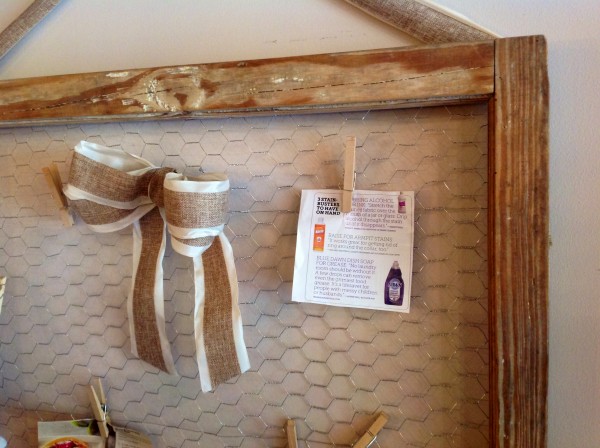 Made from an old window, this memo board would be great for to-do lists, reminders, or even some favorite pictures.
For more inspiration, check out this article. Great ideas for adding personal touches to your office.