Paint changes everything indeed.
Paint affects how you feel in your space, how your furnishings look and how the overall scheme comes together. Along with paint, I sneak in some wallpaper and other design elements to illustrate how to lighten things up. Dark and cozy still reign in my heart but we endured such a dark year. So let's look toward the light to see how paint changes everything….
When darker elements distract from artwork and decor, paint has the ability to change everything.
Take, for example, my house. I thought it seemed like a tremendous idea 13 years ago to make this modern mountain house more mountain-y. So I painted the beams brown to evoke wood and I knew soon after that that was a mistake.
After spending time in Palm Springs during Modernism Week (read here and here for my inspiration), I knew the ceiling must change. After replacing the original windows, we needed to paint the trim so we decided to do the beams at the same time. I avoided the ultimate disruption of scaffolding, painters and mayhem for too long. Here's the refreshed beams (along with a few other changes – can you spot them?).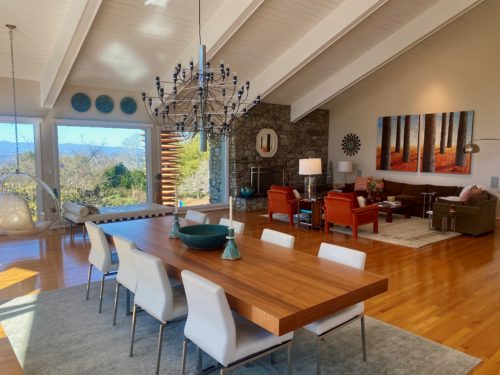 Here's another before-and-after from the kitchen which opens to the living room (can you see other changes?). It's pretty dramatic because the beams don't steal the show now, giving the artwork and furnishings top billing. The beams recede into the background as they now match the wood ceiling.
Faux painting really changed everything in the 90s and sometimes you just need to say "buh bye."
Guilty as charged. I don't think all faux painting is horrible and, in fact, I am considering lime plaster for a project right now. It has such a chalky, beautiful feel and translates well in both modern and traditional settings. I do think "sponging", overtly "Tuscan" walls and other types of faux painting need to die a quick merciful death.
Exhibit A…this eat-in kitchen area in another home.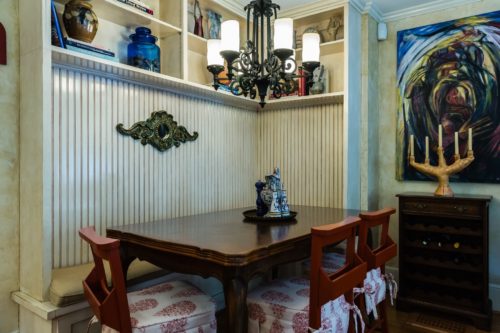 This beadboard banquette seating area sported an "aged" antiqued gel over white paint and the walls a yellowed plaster. Farmhouse meets Tuscany, I guess. The banquette provided great function when the kids were young but needed a more grown-up and lighter look. I snuck some wallpaper in alongside crisp white walls and trim….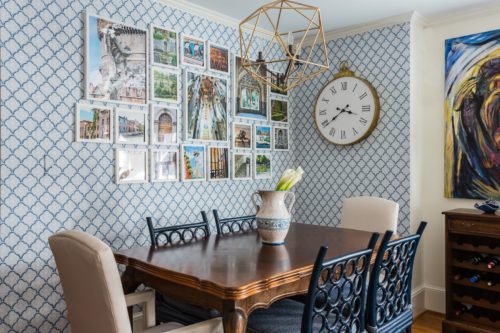 This was time to also address the lighting and other elements in the family room that adjoins the eating area. Both needed a refresh (i.e. remove the ceiling fan with light kit) and a lighter touch. The "faux painted" bookshelves received fresh paint, the kid's craft desk was removed, and the window seat became deeper with new drawers underneath. Before-and after pictured below.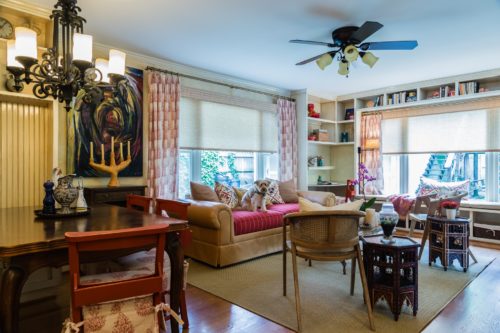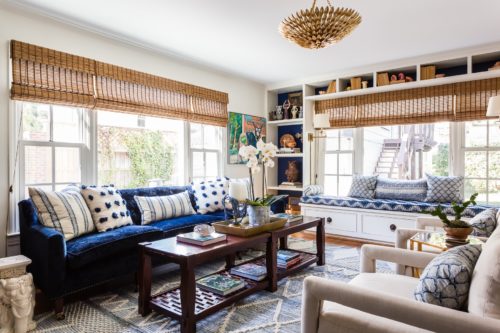 The loggia, directly off this family room, received a similar redesign. The whole house exterior was painted creamy white which lightened things up considerably from it's prior taupey color. Fresh fabric tied it into the family room, as double doors are often open between these spaces.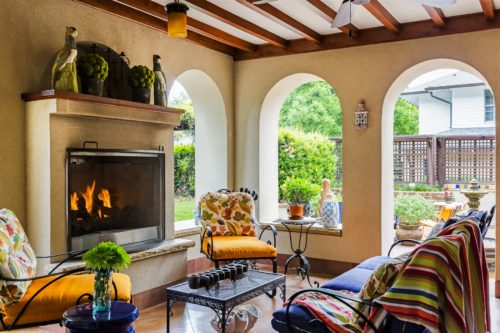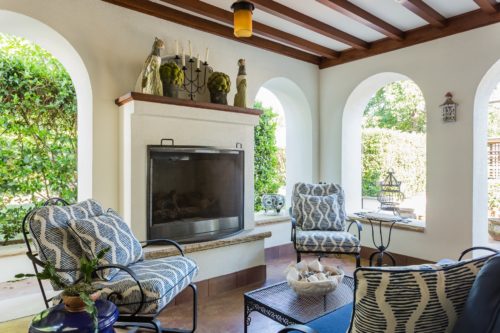 Paint changes everything for kitchen cabinets.
The kitchen in this same house also needed a "facelift," including the addition of a window, new cabinet color and quartz countertops. Because the new window meant losing a cabinet, we added open shelves to compensate. The painted cabinets, originally a creamy yellow, changed out to a creamy white (only a professional who paints cabinets should attempt this IMO). Dark granite swapped out for the sleek, lighter quartz.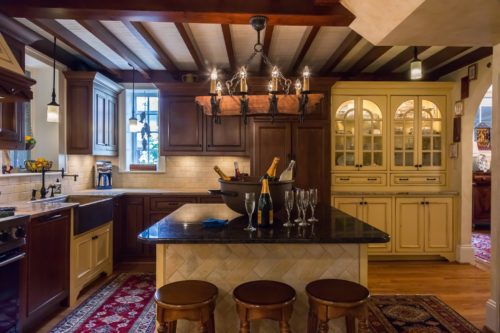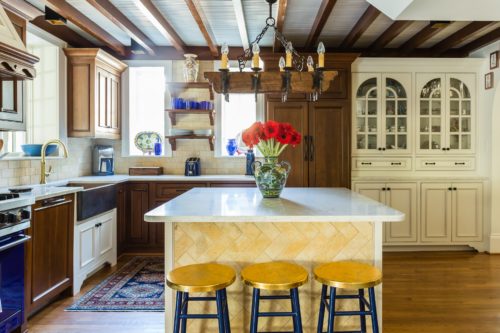 Not every kitchen needs a massive overhaul and this illustrates where good bones can be improved upon without a complete demo. Along with new paint, the new window and countertop add so much light to this space.
The bathroom felt neglected once everything else was done.
The domino effect really happens so beware. Once you attack one part of the house, it's difficult to stop. The bathroom simply needed the faux painting gone and new, light wallpaper did the trick. Now this 1925 home is done for awhile….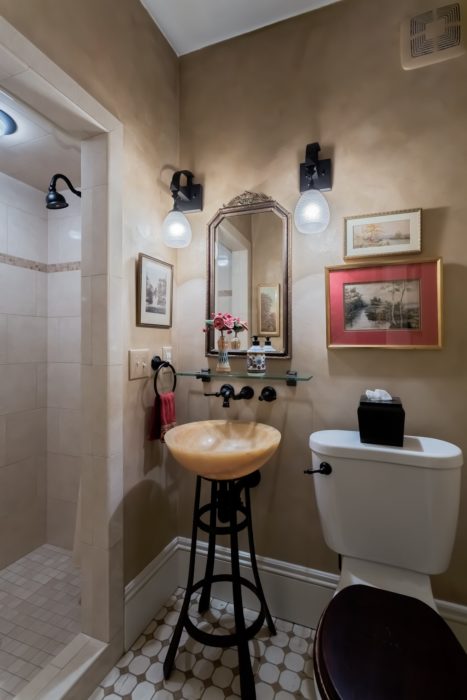 I love transformations that don't necessarily break the bank, don't disrupt too much and don't require a complete overhaul. These homes show that if you initially invest in good bones then a little paint and other elements can really change everything. Read here for more paint ideas and here for wall ideas. xo