"Minimalism is a tool to rid yourself of life's excess in favor of focusing on what's important—so you can find happiness, fulfillment, and freedom." The Minimalists
There's quite a buzz about the minimalist movement and it's interesting to understand how that applies to minimalist interior design. It's certainly subjective and your version might not reflect my notion of minimalist at all. Some envision minimalist interior design as stark, modern interiors, few tchotchkes and no warmth. How much you decide to reduce your possessions can result in minimalist interior design whether your home reflects modern or traditional architecture. Most of all, I agree with the idea that having less to fret about frees us up to focus on the importance of living.
Minimalist Interior Design Kitchens
Exhibit A…my recently redesigned, Spanish kitchen below.
Now you may be thinking, WTH? That is not minimalist interior design! However, for me, it is. I removed a cabinet on the far wall to add a window, reduced my gadgets as a result and cleared the counters. The added light and less stuff makes this a room I enjoy again. I am not finished however and, because of this first round, I am inspired to attack my house again. Marie Kondo, my first influence for reducing possessions, offers a lot of insight, despite the "goodbye" process some readers found weird.
How many spatulas or egg beaters or wooden spoons do you really need? I recently read about one minimalist who keeps only four bowls for her and her husband in their tiny apartment. It forces them to wash the dishes regularly, that's for sure. Kitchens across America are filled with unused gadgets or once/year machines. I still have the hand-crank pasta machine Mr. F&F and I enjoyed for dinner parties, mostly 30+ years ago. That is on my next "goodbye" list, since I have held on to it purely for sentimental reasons.
A lot of the minimalist folks espouse purchasing better quality for the fewer items they really need.
I love this idea. Purchase a kick-ass Italian coffee machine, if coffee is your thing, but get rid of the French press and other coffee accoutrements. If you make smoothies and invest in a Vitamix, good for you. But you don't also need the blender you got as a wedding gift. Quality over quantity. Minimalism is not about owning nothing or only 20 things; it's about owning the least amount of quality stuff you need to run your life.
The take-away is also that shopping is no longer a chore because you only shop thoughtfully for quality items.
Mostly you still try to reduce the things you already own. And take into consideration how much time you want to devote to your things. Things need dusting, things need repairing, things need washing. Ultimately, as some suggest, if you follow the principles of minimalism, it reduces debt, allows for more time, and creates purpose in life.
Minimalist Interior Design Dining Rooms
We recently finished the design of this Chapel Hill dining room below and it truly reflects a masterfully edited collection. This couple sold most everything when they moved from L.A., so we chose new, quality dining furniture and added in cherished pieces of art they kept.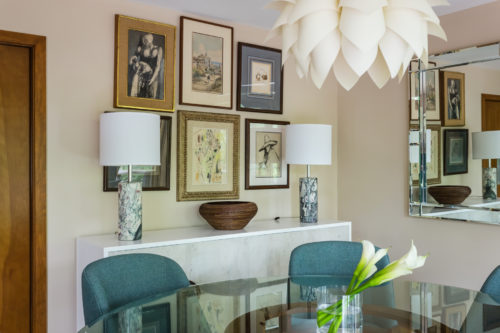 And here's my Spanish home again that I've recently pared down with the most meaningful items. After grabbing my husband and our dog, the painting of the kids is next out the door in the event of a fire. There should be some kind of rating system besides a fire that helps us establish what we keep:)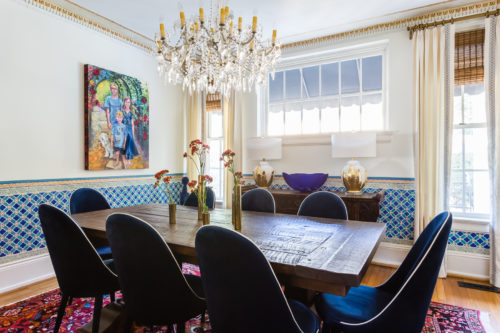 Living Areas for a Minimalist Interior Design Look
The areas where we lounge, read or watch TV become infested with clutter easily…a pile of magazines waiting to be read or a jumble of throw blankets. These should function as rooms for relaxation and respite from our busy lives. I don't want to sit on the couch in the evenings and look around at reminders of what I need to do. If a home office has to be in a combined function living area, it makes entertaining easier if the work area is generally clutter-free. And I do love a minimalist work area for inspiration and an uncluttered mind to get the job done.
Minimalist Interior Design Bedrooms
This is our final refuge, our place to truly escape and capture a good night's sleep to recharge. The bedroom should be the epitome of a minimalist's dream. I don't want my last vision at night to be a pile of clothes on the floor or a stack of unread books or an ironing board on display. But this is what I commonly see when I first visit client's homes. Our job often involves assisting with the paring-down decisions to reveal the most important stuff.
As a result, we help create a zen, low maintenance atmosphere for this most important room.
The Chapel Hill client from the previously mentioned dining room had bare minimum elements for their master bedroom. We purchased the custom headboard and paired it with existing nightstands and a dresser they had kept from the move. They actually still need a few things, including proper reading lamps (we stole one from the living room for the photo shoot!). But they mostly want to keep things simple and restful in their newly designed master suite.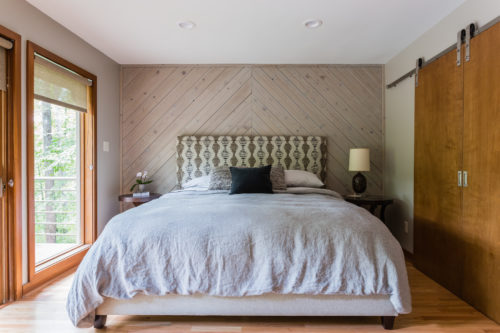 Another piece from their fabulous art collection hangs above their mid century dresser.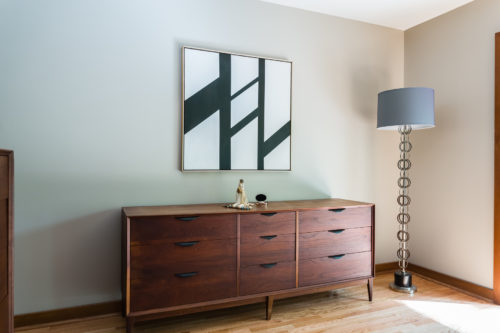 After their move, these clients were unintentional minimalists and after we hung their art collections and arranged accessories, it allowed them to value their remaining items more.
My sister alerted me to the scary, but do-able, minimalism game.
At the start of a month, you give away one thing the first day, two things the second day until you reach 31 things the last day. For those of you who don't want to do the math, that's 496 things! She started as a means to rid her basement of a lifetime of stuff and her grown daughters use of said room as a "storage facility." She didn't know where to start until she began the game with a friend and they texted each other photos of donated stuff everyday. My sister is repeating the game this month and she claims to be well on her way to clearing the basement and the rest of her house.
Could you actually find 496 things to give away?
I have started with this month and, given that I regularly clear things from my house, I am a tad concerned. But I think it will force me to reexamine items even more aggressively. For example, I wear the same two pairs of jeans all the time, but I own five. You get the gist. I am hoping that minus the three pair of jeans and the pasta maker, I can find the remaining 492 items.
I also want to read The Gentle Art of Swedish Death Cleaning. Yup, it is exactly as it sounds. We don't need to be at the end of our life, however, to do this. Just get inside the heads of your children or your relatives that will inherit your mess and be unrelenting in your approach. Make their job easier and enjoy your remaining years more. Sounds like a good plan to me. Just for fun, here's a dissenting opinion on minimalism and an ode to being messy. I still think reducing possessions, for the most part, is a good idea and will add to the quality of life. Let me know what you've done to acheive a more minimalist interior design.