My recent Minimalist Interior Design blog got me thinking about downsizing your home and what that entails.
The process of downsizing your home makes you somewhat of a minimalist since you are purging possessions to make the move. Downsizing is different for everyone and really is a function of lifestyle choices. First of all, how much do you want to downsize your home? How much will you give up? Do you want to travel more? Finally, are your kids ready to accept family heirlooms or are you ready to sell select items? The process is sometimes difficult but with proper planning, downsizing your home can be done. My clients did a masterful job of sifting through the important versus not-so-important stuff. We helped with the arrangement in their new home, along with some fabric selection and custom work.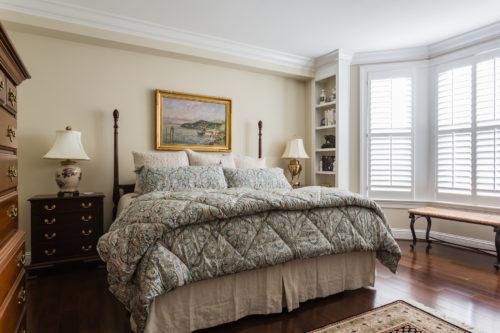 1/ Plan ahead and think about these questions long before you make the actual move.
Most of all, document a thorough inventory of items you plan to keep. A written inventory by category (furniture, china, art) is ideal but a room-by-room video is also useful. Start speaking with family members about what they want. These conversations can be difficult and there may be competing interests for certain items. My family came up with a lottery idea where each person rates items in order of preference. Names are then drawn accordingly. In the end, it's just stuff and hopefully everyone remembers that.
2/ Declutter items that didn't make the inventory list.
Eliminate obvious duplicates in the kitchen and closets. Don't forget stuff like those heaps of extra cords. Decide what to donate and what to sell. Consider using a professional organizer to help with this process. You could also hire an estate sale company if large furniture and collectibles remain. In addition, the buyers of your old home may want to purchase items from you. In the decluttering frenzy, hang onto important papers (marriage license, etc.), emergency supply kit, sentimental items and basic cleaning supplies. Finally, here's a great article on what NOT to throw out.
3/ Consider your lifestyle when deciding on your new home.
If travel is the new priority then a lock-and-leave condo sounds ideal for practical reasons. Size matters as far as upkeep and the time you want to devote to your new home. Dusting and vacuuming have never been priorities for me and I certainly want less in my twilight years. Mr. F&F recently expressed that he won't miss yardwork when we ultimately move. Really? I thought you loved it with your seasonal allergies and your love affair with poison ivy! In the future, a condominium seems likely for us.
4/ Determine the function of every corner in your new space.
Decide how each room will generally function and if existing pieces will work. Measure these pieces and make sure they will fit into your new rooms. If you can negotiate a rent-back situation at your first home, it creates overlap time with both homes. This allows you to move in stages and see what fits ahead of time. As a result, this makes the decisions about selling and leaving behind a lot easier. If the new space is considerably smaller, every inch counts and some rooms will have double functions.
5/ Multi-functional furniture can help in the new space.
I wrote a previous blog on this topic and it really applies when downsizing your home. The guest room may double as the home office. Or a reading nook in your old home's den may be combined into the living room. Stackable laundry units can go in the master closet. And on and on. When using a small space, every inch counts. It's therefore more efficient than a larger space where you accumulate more because you can.
Overall, downsizing your home will have a profound psychological impact, hopefully for the better. And in the twilight years, downsizing your home allows you to enjoy time with family and a newfound freedom. Why stay stuck in an oversized place that requires so much upkeep? This is the mantra I have to keep telling myself to prepare for the future.