I am in Canada (a.k.a. The Frozen Tundra), visiting my folks, and I am reminded of how influential my mother's design aesthetic has been on my own. My parents moved into this condo, almost 19 years ago, after moving out of the family home where we were raised. Things have changed in recent years to make room for a hospital bed for my mom and some shifting of furniture in the bedroom, but much of what she did upon moving in has remained the same. And it is on this trip I realized all the design lessons I learned from my mother.
My mom was like the proverbial kid-in-a-candy-store when she moved here. A newly built home (after dealing with a1930s house that required constant attention) provided a clean slate for her design. My mom is an inveterate collector but she has the ability to display things with a master curatorial eye. She has classical design taste which never really goes out of style, does it?
Speaking of classical design, my employee and I had the recent pleasure of seeing Jennifer Boles (The Peak of Chic blogger) at a book signing for her book, In With The Old.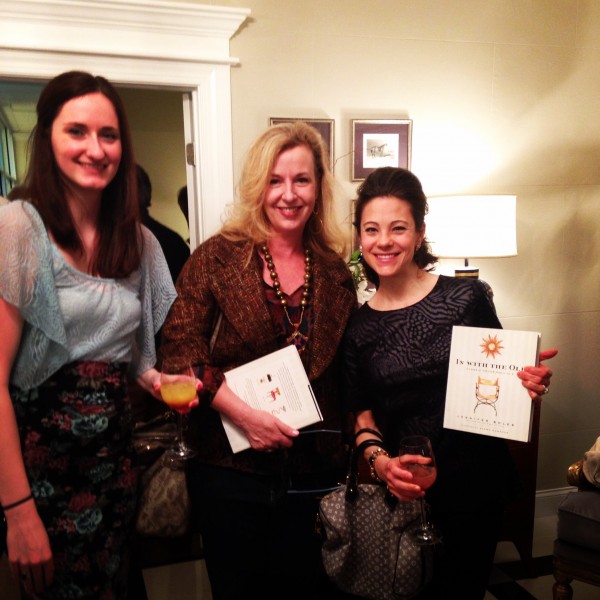 We ran into a sweet customer who just had a baby which was hard to believe!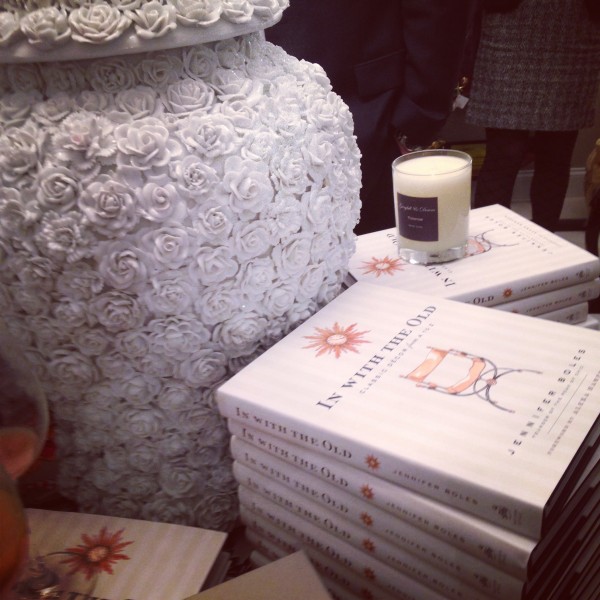 And when I tell you this book is genius, I am being sincere (and not being paid!). Boles organizes the book alphabetically, defining the signature pieces that constitute classic design. It is essentially a guidebook, not your typical pretty coffee table book with loads of pictures (though it does have beautiful photos), but rather a reference book with a well-researched historical perspective on these items. I devoured it in one evening. My mom would love this book.
In honor of classic design, I came up with a top list of design lessons I learned from my mother, as captured unfortunately via I-Phone photos (apologies in advance):
DESIGN LESSONS I LEARNED FROM MY MOTHER
1/Built-in storage
When done with solid architectural detail and function, built-ins will never go out of style. These two examples were added by mother and not part of the "stock" design of this condo.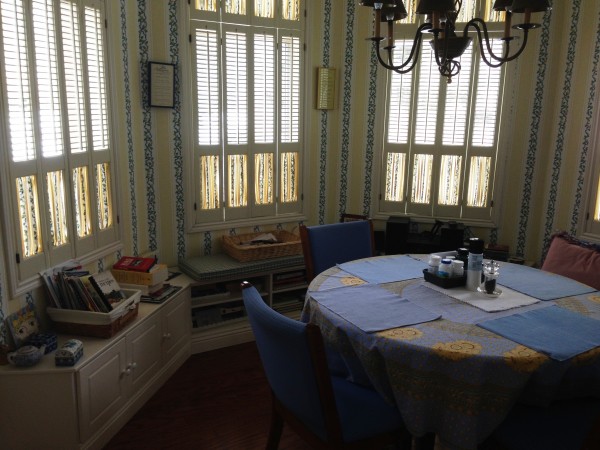 The kitchen nook is more functional with the built-in window seat which also accentuates the lines of the windows
Living room bookcases conceal the TV and allow for plenty of storage
2/ Collections look purposeful and neat when clustered together instead of scattered throughout a home
My mom collects teapots and "mother and child" sculptures/figurines.
Mother and Child figurines clustered in a large hutch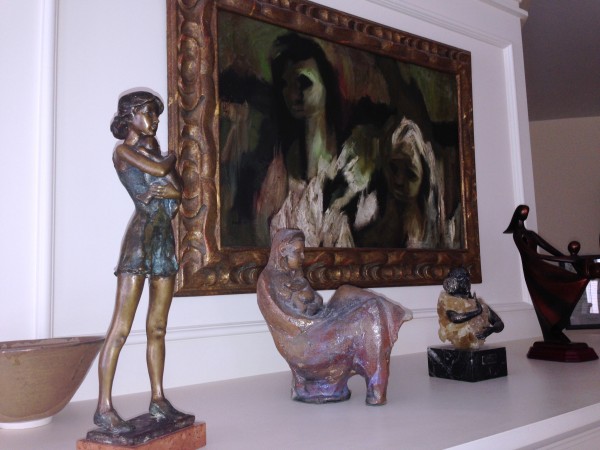 More Mother and Child sculptures clustered on the TV cabinet "mantle"
3/ Vignettes
My mom has wonderful little vignettes of other collectible items that may be disparate but, when put together by color or theme, look beautiful.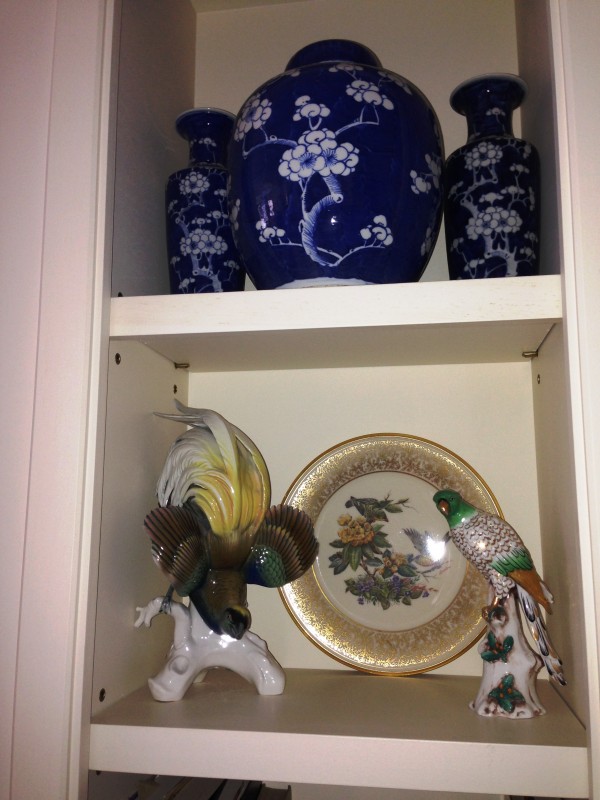 Blue and white, and birds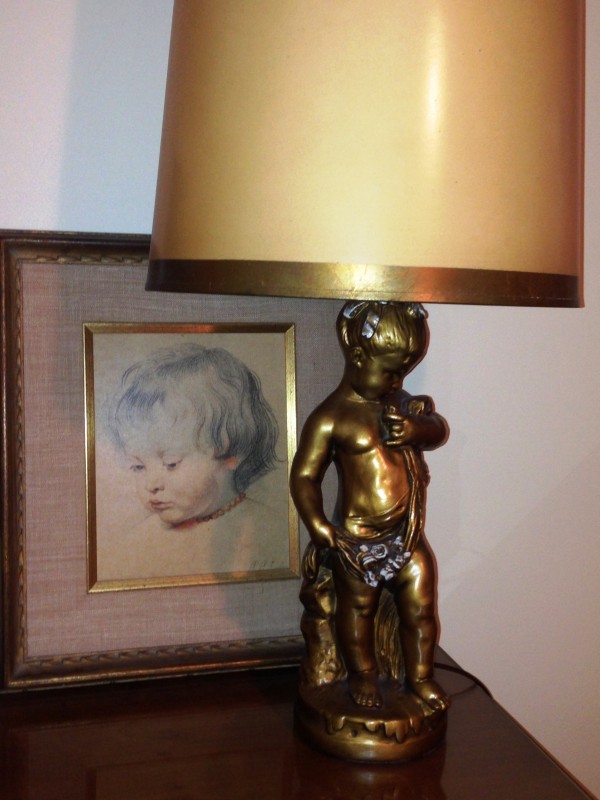 Baby art and cherub lamp
4/ A classic mirror on foil wallpaper always looks fresh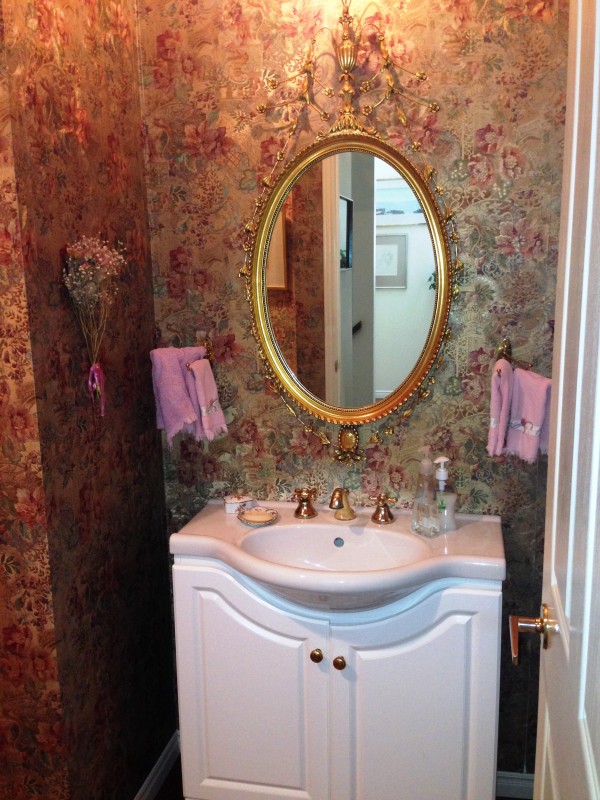 Classic French mirror and foil wallpaper
5/A gallery wall pulls together several pieces of art in an interesting alternative to one large piece of art
When placed with a mirror, a gallery wall makes a statement in a foyer.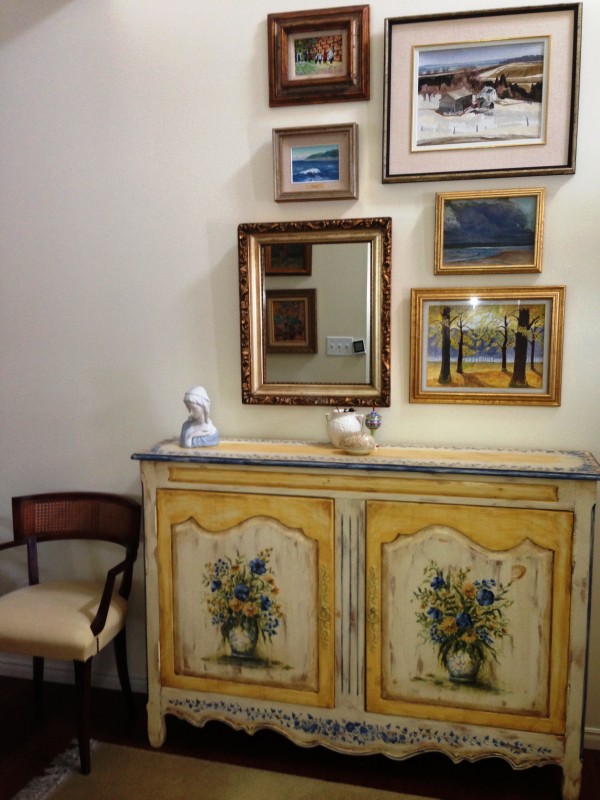 Gallery wall including mirror to check yourself:)
6/ Modern art, mixed in with traditional pieces, creates tension and an interesting juxtaposition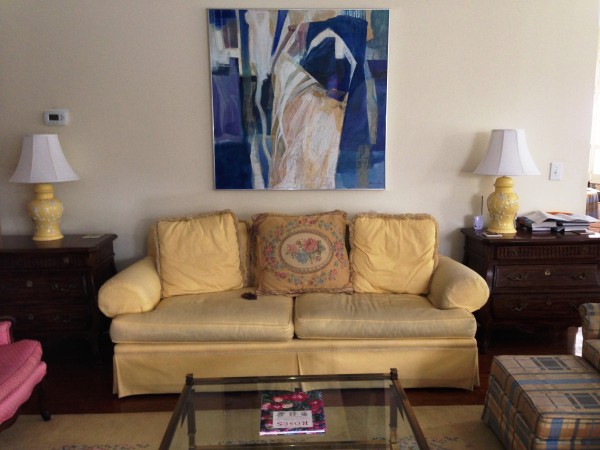 Modern art works in this vignette as my artist Uncle, who gave my mother the painting, knew it would!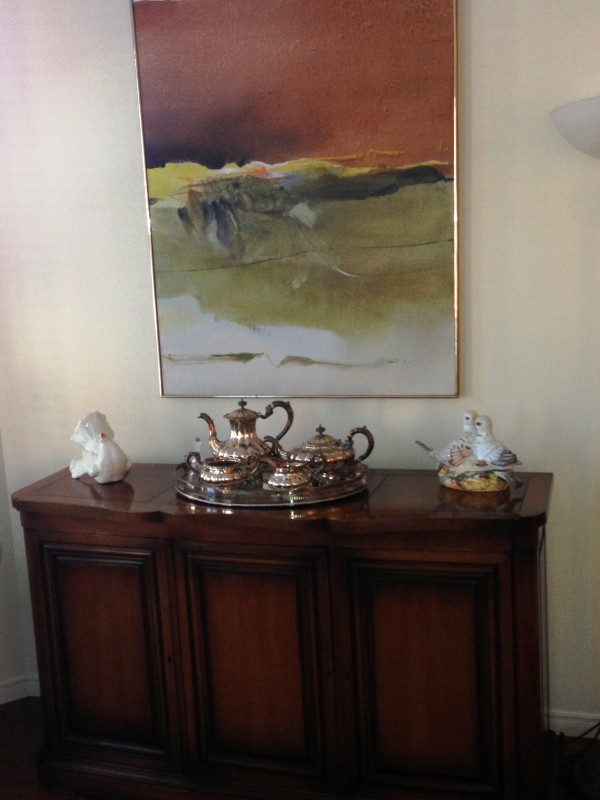 More modern art over the sideboard
7/ Styling and art in unexpected places
As in the master bathroom and laundry room below.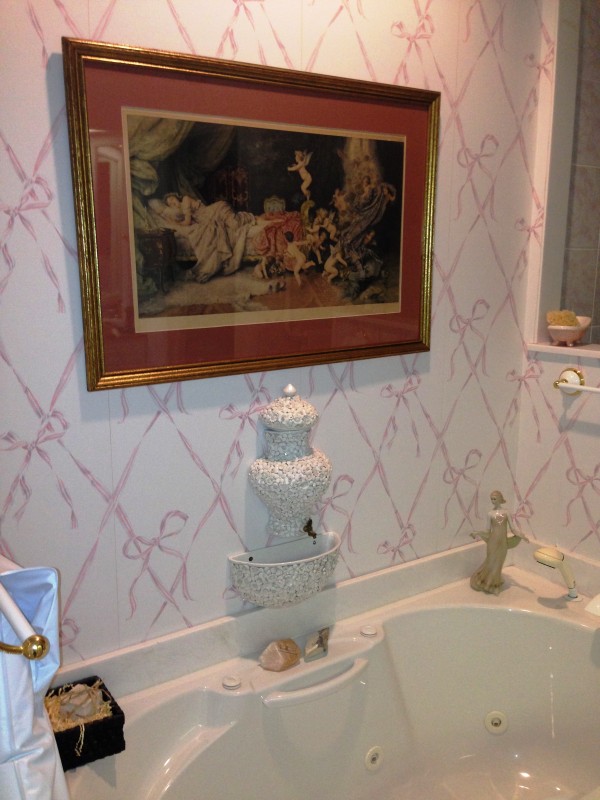 Why not formal art and an Italian wall fountain by the bath?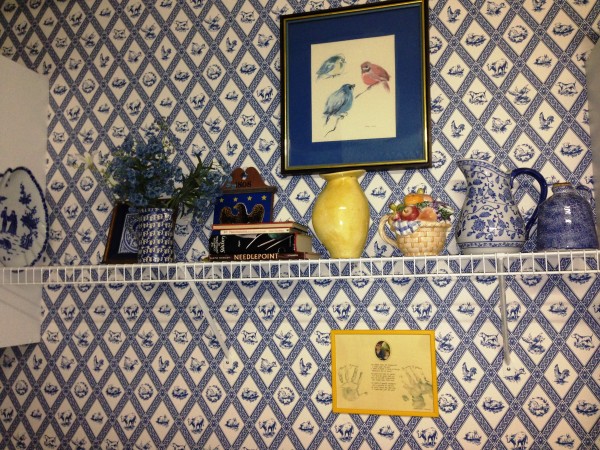 Fun pottery and other bits above the washer and dryer against blue & white – my mother's favorite motif
8/ Don't overlook little nooks and corners
This little bookcase shines in the corner with an original art shrine to my mother for her 80th birthday.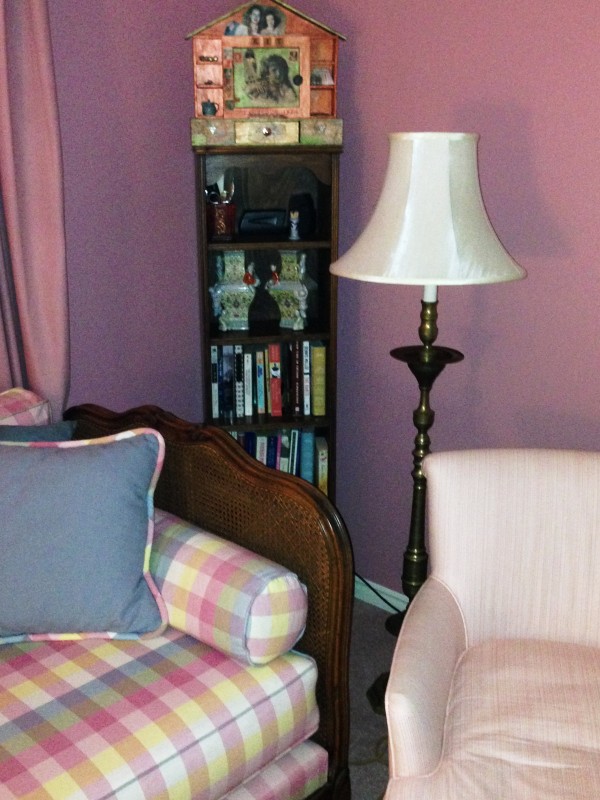 Love this diminutive bookcase in a corner of the master, between a French cane daybed and chair
Most importantly, this is a home, not a museum. It is comfortable and lived in (I didn't "tidy up" the built-ins or rearrange before shooting the photos). It is what it is, as most homes should be. I am thankful for my mother's inevitable influence…despite our mother-daughter clashes over the years, I am my mother's daughter afterall.