This design client came to me with a photograph of Scalamandre's zebra fabric in a vivid red color.
I told my design client they also make a wallpaper and that became our jumping off point. With only two walls in the dining room in an open floor plan, this seemed bold but not overwhelming. However, the open floor plan meant the color scheme was now red, black and white. Since we were purchasing furniture for the whole house, our inspiration began here.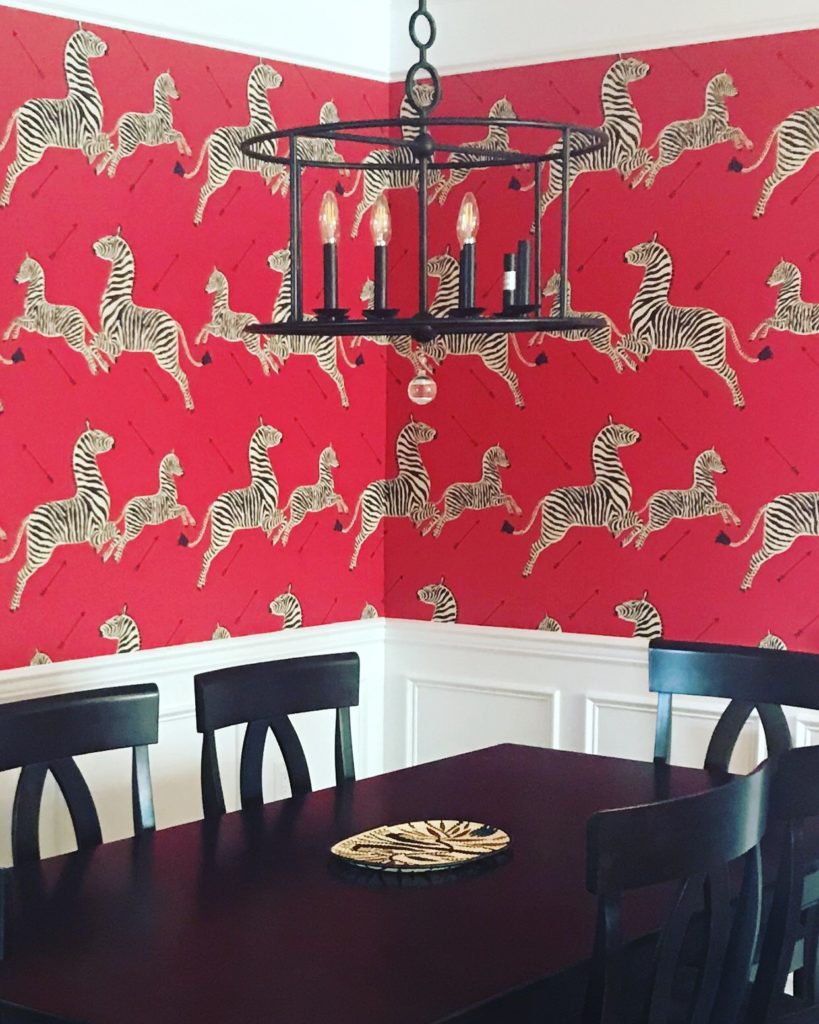 Once my design client saw the zebra fabric for the ottoman that was that.
We added other elements to avoid too much of a theme. Simple drapes, modern lamps, and abstract art not yet hung.
A close-up of the ottoman shows our carefully selected accessories.
A few vintage and new items along with this tray reinforce the color scheme. The tray also provides function for placing drinks.
The red chairs have a subtle animal print, adding to the tribal feeling.
And check out those pillows we scored for $25 here. Of course, we snuck an F&F small table inbetween the chairs.
With everything else in the room, clear glass lamps provide a nice relief.
I generally don't do theme rooms, so I was very careful in adding the remaining accessories. The accessories, smaller furniture and lamps were all sourced in Raleigh. Yes, I practice what I preach.
This is a second home for my design client to be near her daughter part of the year.
She and her husband brought some fun items from their other home. The husband contributed the antlers.
Their collection of carved animals looks great with artwork drawn by a relative.
Since I don't normally source this much furniture, I was thrilled to incorporate their personal items. That's what we do best.
We elevated the design client's basket collection to a wall.
See what we snuck in the middle? The husband was excited to see "things he brought up from the basement" looking so good!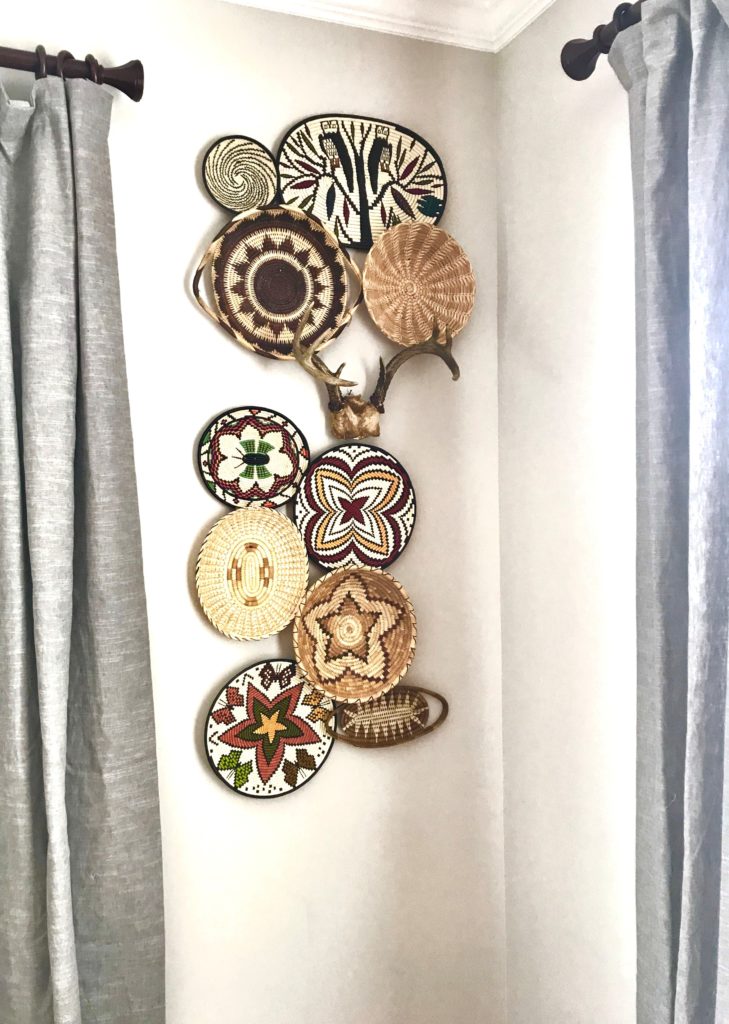 Recliners look so much more elegant in fabric and with smaller scale arms.
We sourced the bookshelf here and, with the addition of a "lego art" collection from a grandson, the sunroom will be complete.
First impressions count and your foyer should command attention.
When we found this Chagall print here, the foyer took off. We bought the table, lamp and accessories to complete the "form and function" of this entry.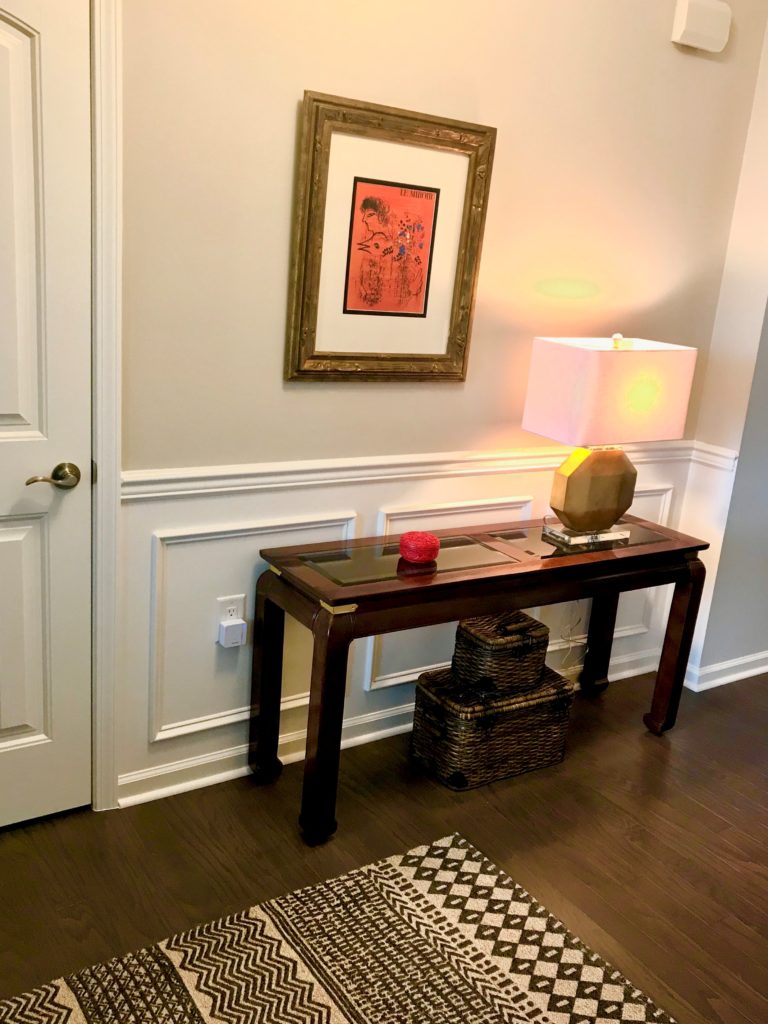 For the lady of the house, the office is elegant but with a nod to her love of animal prints.
The cutout brass on these bookshelves shine and, along with the brass console, make a beautiful backdrop for her desk. Lamps and artwork coming soon.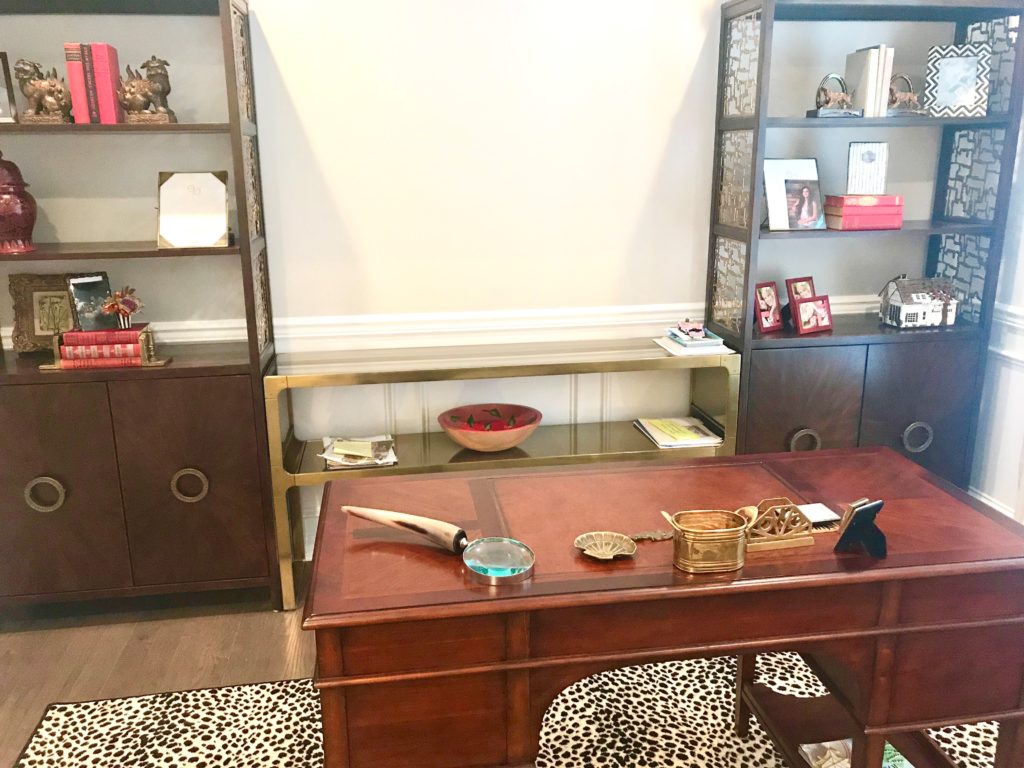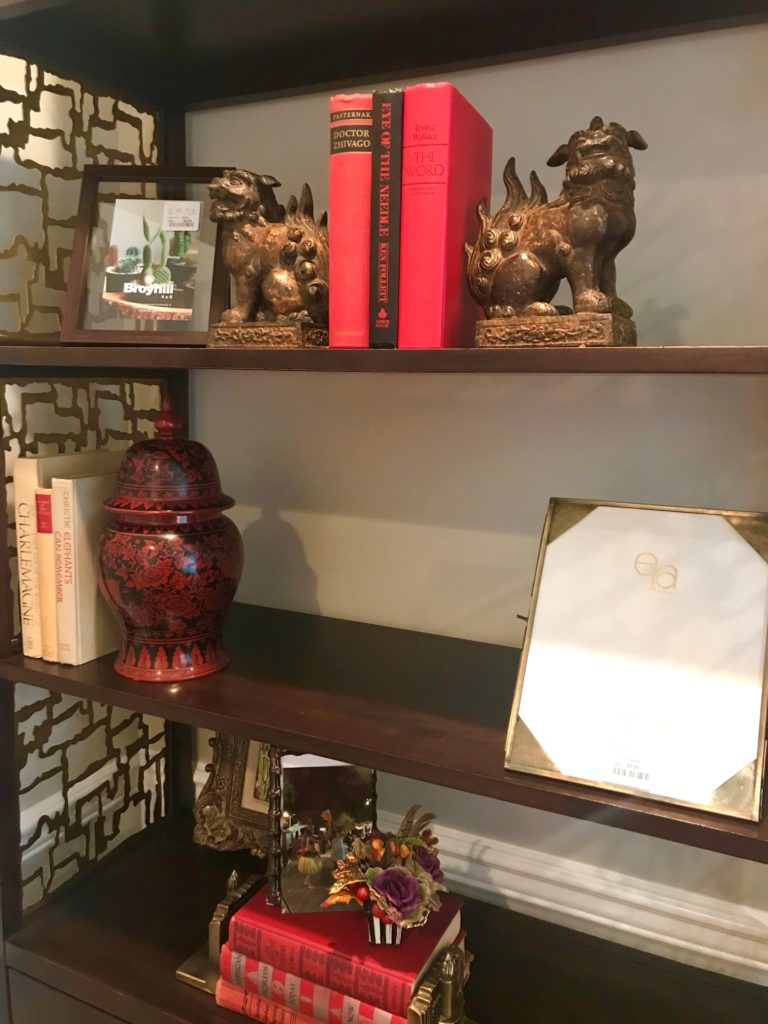 This corner of the office quickly turned into a favorite reading nook for my design client.
You can see one of my favorite design tricks on top of the desk. Why buy new accessories when vintage ones provide a more interesting way to organize your work surface?
Sorry for the camera phone photos but we will shoot this home once all the art and remaining items are in place. I love how the zebras provided the inspiration for this fun retirement home. For more design client inspiration and our design process, read here.