Happy Memorial Weekend to everyone! Whether heading to the beach or enjoying time at home, here's some red, white and blue decorating to inspire you.
This guest bedroom below was a catchall for extra furniture, textiles and art. With new red benches, crisp white walls and lacquered blue beds, a red, white and blue decorating scheme emerged. Now this former drop zone looks cohesive, eclectic and fun.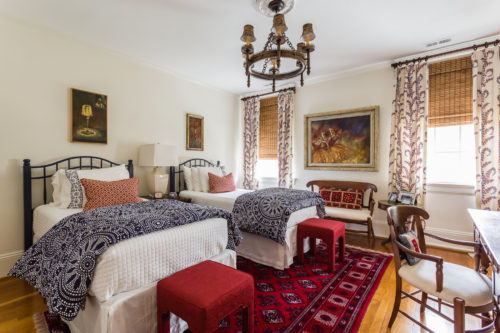 During our redesign days, we love to play with client collections. This client owns a particularly lovely collection of mid-century art. This painting, along with some blue coffee table books, adds some Americana color to the room. Of course, we snuck some yellow in there as well.
This sweet client had a pair of these French chairs covered in a red and white buffalo check. We added some darker accessories and other colors to tone them down a bit.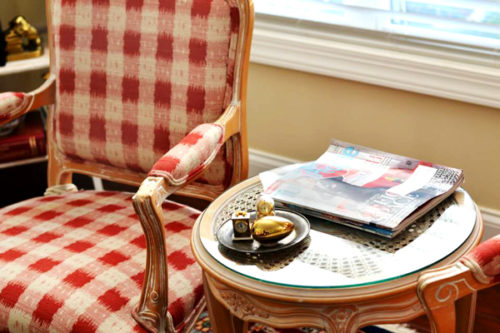 Bookshelf styling on this etagere allowed for some sneaky red, white and blue decorating. It's not all flags and bunting but more about the subtlety of this scheme.
The beautiful elephant in this client's room is this red sofa. Paired with blue and white pillows and other accessories, this traditional living room feels collected and comfortable.
We styled bookshelves in another room for the same client, incorporating these fun coral plates. Despite old photos and a pottery collection, the fun pops of red, white and blue keep it fresh, not stuffy.
This red and white geometric pillow on the blue daybed grounds the room's other colors. You can see the rest of the color scheme in the background. Rather than repeating all the colors, this red, white and blue punch is enough.
Our mid century client collected like items which we grouped for maximum impact. This variation on our theme includes more of a teal blue on these beautiful vases. Repeating the teal and the red accents against the backdrop of white mattes brings the shelves to life.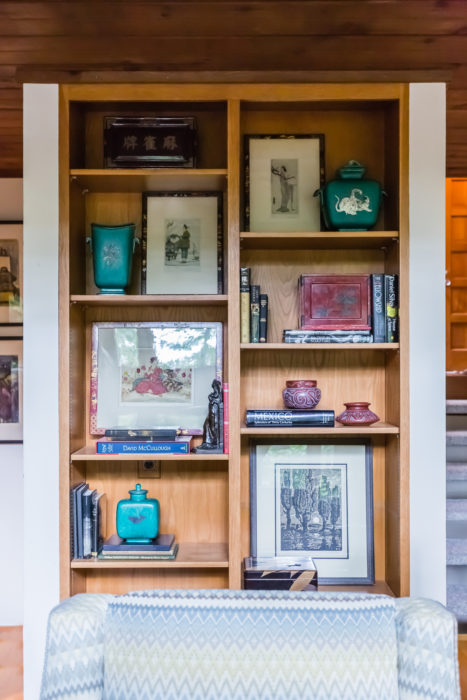 This client's chairs sport fun red and white fabric. We introduced the blue subtly on the book spines and tabletop accessories. And how about that tall white lamp?
This client didn't have a lot of books but we played up the accessories against the red backdrop. Wouldn't an entire collection of blue and white look amazing against that red?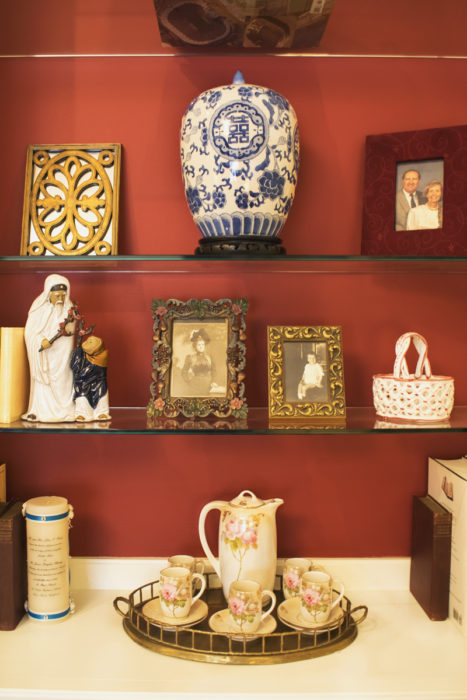 Finally, we paired red and white custom curtains with the client's existing blue gray sofas. We added some more red in the Ikat pillows to pull it all together. This room has tremendous warmth with wood paneling but the curtains keep it light and modern.
What's your favorite way to use red, white and blue? Hope you all have a safe and Happy Memorial Day. And thank you to all those who have served this country on our behalf. xo