Just moved my son into his new college pad and I am pumped with several cool decorating ideas.
First and foremost, I need to make a disclaimer. My son's apartment is decked to the max because he loves design and, well, I am his mother. A rising senior in a work co-op program, he makes some cash during his college career and he likely will reside in this apartment for awhile. The cool decorating ideas featured here were purchased over the last two years as he has built his collection. I hope these ideas encourage folks to avoid the trap of buying cheap, big-box items that end up in the landfill.
A combination of quality vintage items mixed with select, new items that can be reused or donated illustrates a more sustainable and stylish alternative to an all "big-box" home. The sight of overstuffed dumpsters during move-in week horrified me. Local landlords didn't provide recycling bins for the endless cardboard boxes or opportunities to donate really useful items. There are campus efforts across the country to address this sickening waste, so I am somewhat encouraged.
Cool Decorating Idea #1 – Make your entry functional and make a statement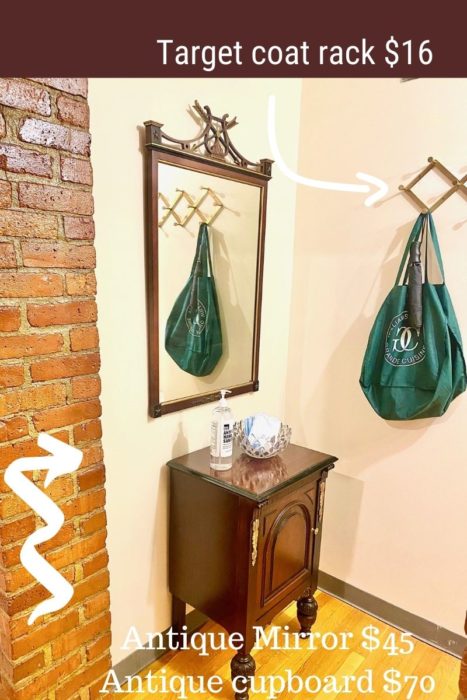 This mirror and cupboard make an enduring statement but they additionally provide function and storage along with the coat rack. I never imagined that a cool decorating idea would include a "Covid Station." As we move forward in this new world, it is interesting to see how design ideas will adapt, including new innovations to address our germaphobia. In the meantime, an antique cupboard and $9 cut glass bowl work for my son and his roommate:)
Decorating Idea #2 – Vintage prices beat new and you can't beat the quality.
We had just purchased two barstools (still boxed up, thankfully) from a well-known retailer when we discovered these beauties. Similar vintage ones cost well over $1000 online. The boxed ones went back and we scored with these at $83 bucks apiece plus change. My son's style is classic with some modern elements and I love watching his aesthetic evolve. Most importantly, I love that he "gets" vintage and understands the quality and investment in these pieces.
Decorating Idea #3 – Make the most of your walls for storage.
Just like the coat rack shown in the hall, you can also capture wall space for pot storage. This deal from Amazon (slightly higher than what he paid last year) is sturdy, good looking and truly amazing for the price. Although he has more cupboards than his last apartment, he and his roommate wanted to preserve room for FOOD, of course! So the pots went up on the wall just outside the cozy kitchen.
Decorating Idea #4 – Quality hand-me-downs rock (especially from your mother).
The roommate's mother donated this amazing couch, and along with the couch my son got last year, they have a comfy place to lounge. I donated the vintage rug since we are downsizing soon and cannot use it in our next place. He lucked out on that one but I also know that he appreciates it and takes care of things.
Decorating Idea #5 – Media center components of unmatched items can be used in other rooms later.
These Target bookshelves are from the Project 62 collection which I love for their durability, good looks and quality for the pricepoint. My son bought one last year and luckily they still stocked them, so he bought another one to create a symmetrical grouping. Last year the chest held clothes in his studio apartment with his TV on top. While it still holds the TV, it now stores tools, extra TP, and other items. Bookshelves and a beautiful dresser can always function differently in the future.
Other elements in the living room include the Asian coffee table…beautiful but not too precious for boys who want to put their feet up. The boys started their university careers with a study-abroad in London and the flea market map above the TV serves as a nice reminder of their time there.
Decorating Idea #6 – Vintage Books + Art + Personal Mementoes make it feel like home.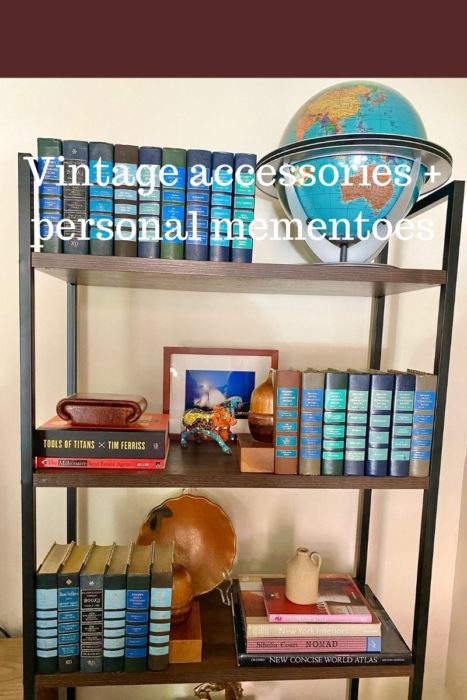 Adding color and warmth to bookshelves, vintage books are readily available at most estate sales (often for a couple dollars or less). Throw in some other vintage items and meaningful accessories and it really starts to feel like home.
Decorating Idea #7 – Antiques look great mixed with more modern elements.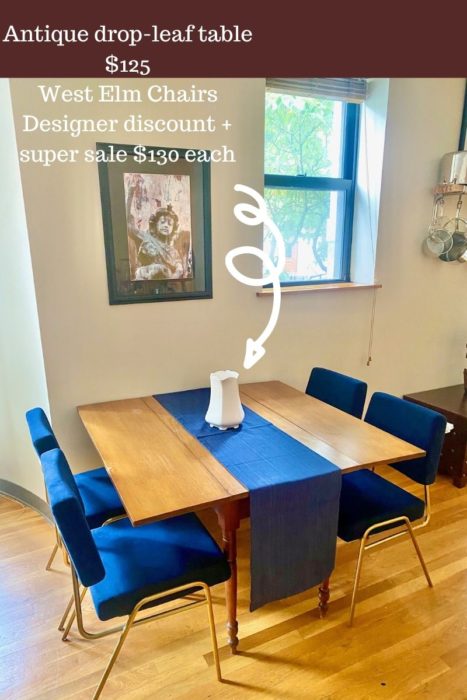 I love how these items play together…the sumptious velvet (a high performance fabric) with the charm of this maple drop-leaf table. It comfortably seats 4 and accomodates the boys' studies as well. It can morph into a sofa table, console or entry table in the future. The drop-leaf table remains one of my favorite, versatile pieces of furniture.
Decorating Idea #8 – Don't let worn leather scare you away from a classic piece of furniture.
In my son's bedroom he ended up with an empty area in front of a curved wall. It presented the perfect opportunity for a quiet nook with the addition of a chair. We saw this classic vintage chair but the arms were seriously worn. I knew I could probably fix them up but we shopped around first, as vintage addicts do. After an afternoon of scouting, we did not find anything better for the money. And after some elbow grease….
A close up of the chair placed in its new cozy home….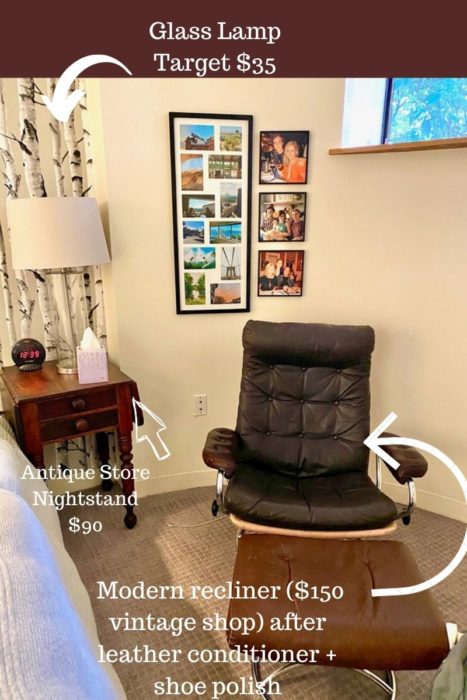 The vintage shop owner gave my son the ottoman as a bonus. The leather color doesn't really match the chair but I told my son that shoe dye might fix that (another project for another visit!).
And Cool Decorating Idea #9 – Removable wallpaper amps up the design for little cost and little effort.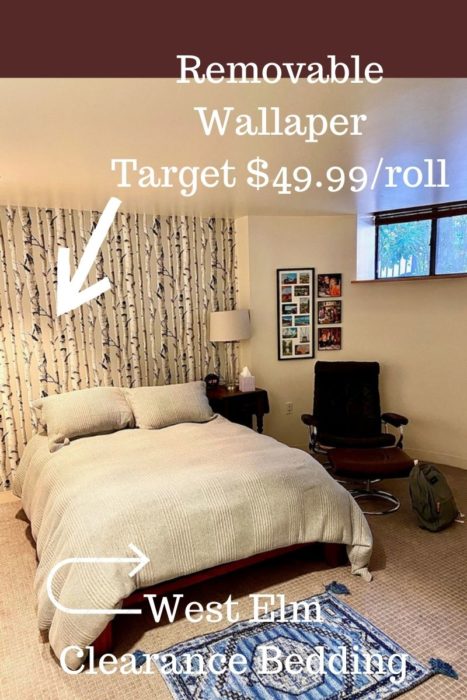 As this was my first attempt at peel and stick wallpaper, I was pleasantly surprised when I finished in about 45 minutes. To be honest, this pattern did not require matching, went up pretty easily and had a logical ending point.
The wall opposite the bed houses his new dresser, a mahogany classic scored from an estate sale.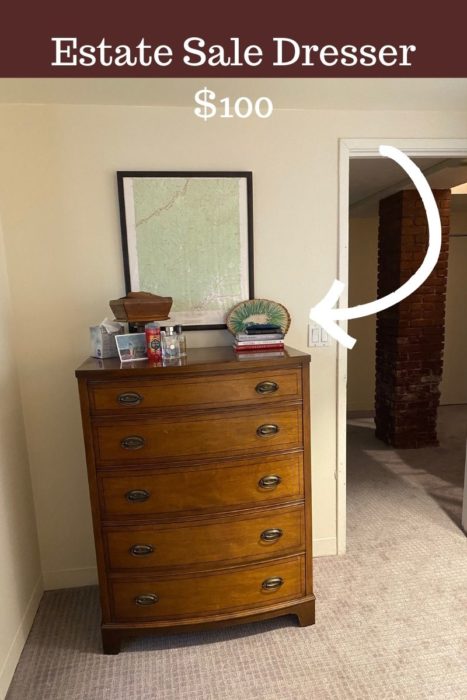 Last week left me exhausted but we did manage to add some field trips to the mix. We finally got to see the Isabella Stewart Gardner Museum on a free afternoon (with socially distanced guests and safety protocols in place). The Moorish architectural motifs reminded me of my time at Alhambra and the art collection rivals larger museums. A little sneaky peak inside the magnificent atrium….
Hopefully there's a nugget here for your decorating ideas. Good foundation pieces provide the basis for a college apartment and for any home really. There are so many opportunities for solid, vintage pieces to create a functional and stylish home. Check here for our latest inventory samplings. The ladies at The Shops at 1700 embody the spirit of vintage collecting and the cool decorating ideas featured here.