After working with a variety of clients, I've compiled some home decorating ideas that we use in our design process.
Our process always begins with an initial consultation in our client's home. This meeting allows us to discover the client's style, lifestyle and how furnishings function in their home. Using this information, we make a plan to incorporate their existing decor and purchase new pieces, only if necessary. I've listed these home decorating ideas in a specific order to help you make a plan for your design.
Most of all, any home decorating ideas you incorporate should reflect your style.
It's your home therefore it should look like you and tell your story. Magazine clippings plus Pinterest boards help determine and refine your style. We worked with one couple who wanted new furniture and a home with southern living style. They loved bright colors like the chartreuse green walls in their family room below. In selecting the furniture and fabric for that room, we also added a coral color. The color scheme respected their wishes for the style they wanted.
Another set of clients moved into a modern, rustic farmhouse along with their modern art collection. We helped select new foundation pieces to mix with their existing modern furnishings. Their pieces also reflected an ethnic, global vibe in this fun, eclectic mix below. Don't be a slave to one style if you're drawn to several.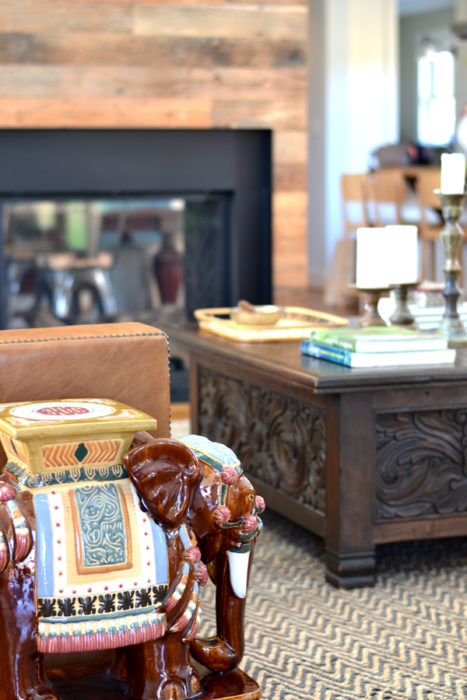 Also consider your lifestyle or how you want to spend your time.
Do you like to dust or perform high maintenance chores? If not, then you might prefer a more minimalist look which I discuss here. If you don't mind cleaning then you might love more items in your home decorating ideas plan. Do you have children and does this impact your choices? We helped a young family select a sturdy kitchen table and metal chairs. For the built-in seating, we chose comfy, inexpensive pillows they could swap as they wear out.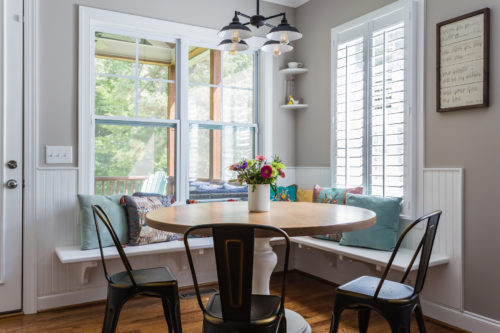 For this bathroom renovation, our client preferred open shelves to keep things accessible. I suggested baskets to keep it looking organized and easy to maintain. Open shelving has become popular but it's waning as people find it difficult to maintain. For open shelves, limit items to a few categories. In the kitchen, for example, all plates on one shelf and all glasses on another shelf keep it tidy. On my laundry room shelves, I display decanted laundry products in glass containers for a prettier, more organized look. Keeping the design simple still makes open shelves an option yet your time and lifestyle are important considerations.
Foundation furniture pieces should come first, after determining style and lifestyle.
We help clients identify foundation pieces in their existing decor and add to that, if needed. This might include a couch, rugs, dining table, bed and other large pieces of furniture. For one couple, who already owned the bed pictured below, we helped select the remaining furniture, bedding and drapes. They will add art and accessories over time as their budget allows. Never hurry final decisions which leaves the door open to finding art during travel or to celebrate an anniversary.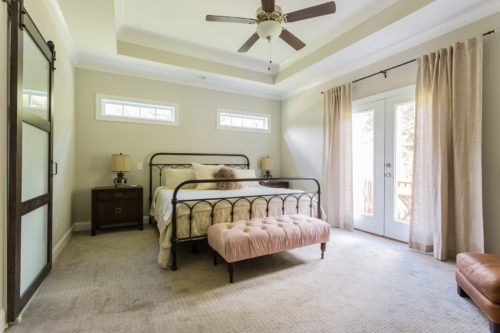 After a long renovation, our client needed a place for him and his three children to relax. Selecting comfortable, practical furniture was the priority. Art, accessories and window treatments can come later. Our goal was to get them the immediate pieces so they could begin life in their new home. We don't rush clients to finish by adding lots of meaningless accessories.
While selecting your foundation pieces, consider furniture that is multi-functional.
I wrote about this same home decorating idea here about furniture built specifically with dual purposes in mind. However, you may already own furniture that could serve another function. The client below had this sideboard in her bedroom. We repurposed it behind her couch where it now serves as bar and linen storage near the dining area.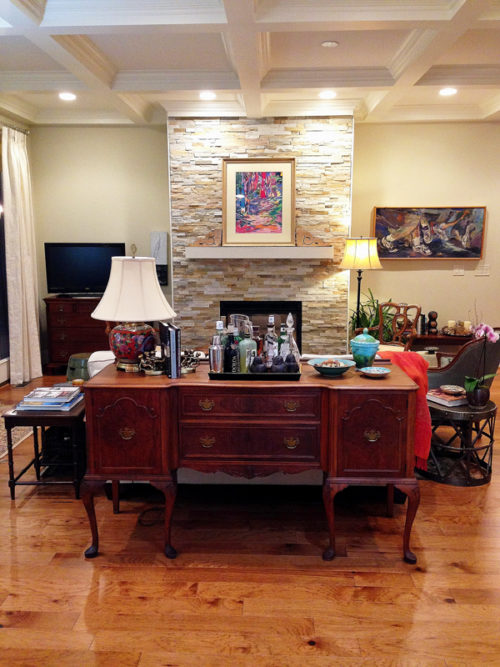 Another client stored games and other living room items in this mirrored chest. The small, folding screen hides the tv, so the chest additionally serves as media equipment storage. Look for existing pieces in your own home that can provide dual purposes.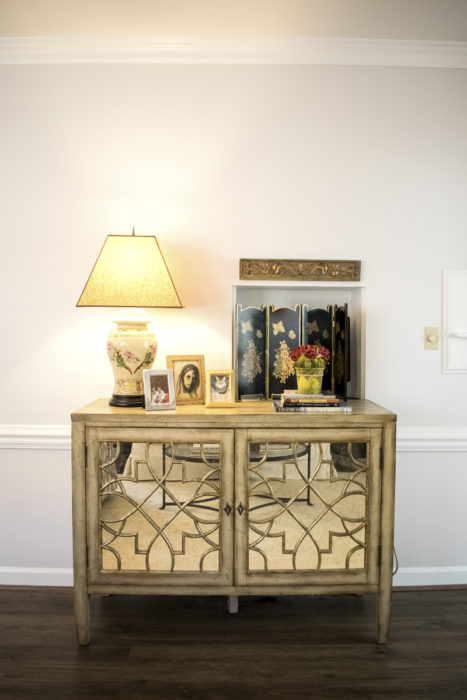 In addition, storage pieces should be accessible and near the location where stored items will be used.
Take this fun red cabinet, for example. It functions as a downstairs changing table with diaper items behind closed doors. Our clients don't have to run upstairs to change diapers anymore. When they are past this stage of life, it can function as extra storage in the kitchen.
We situated this sideboard where it services the dining room, storing linens and plates. The barbecue is right outside the dining room doors, so it could also store essential outdoor items. Think location and storage when picking and storing everyday stuff.
Since we've taken taken care of business, let's address some fun home decorating ideas.
Bookcases are a personal favorite since they say so much about our clients. This is your opportunity to showcase your books while also revealing special collections and memories. This client owns a North Carolina pottery collection which we placed high above little children that visit. We styled the shelves with family photos and other meaningful items collected over a lifetime.
We worked with this client for a couple years, helping with countertop and other selections and we suggested red paint for the back of these bookshelves. After renovations were complete we performed a Redesign Day. We styled the bookshelves to focus on a pretty plate collection, books and family photos to distract from the tv.
Finally, utilize trays for display and pretties.
Most clients have trays at home that we reuse in various rooms. Trays corral pencil cups, paperclip holders and other office necessities. Used on a console table, trays hold liquor, glassware and other bar stuff. Trays are perfect for coffee table organization to hold the tv clickers, a candle and a catchall. Or, in this case, a tray provides a useful flat surface to make this ottoman functional.
This client owned several silver trays, stored mostly unused in her china cabinet. She loved our idea of reusing one in her bathroom for lotions and bath goodies. Don't fear the tarnish and bring those silver trays out! Add your bathroom necessities and it looks fabulous.
After the last blog, I thought it might be fun to look at how to decorate your newly organized home. What better way to celebrate the new year than an organized and newly decorated home? Check out our portfolios for more inspiration. And for more home decorating ideas, read here and here.