After all this rain, I assume the pollen onslaught is over. Therefore, consider it time to break out some spring tips to refresh your home.
I plan to clean my covered porch later this week and sit outside again. Pollen be damned. Sometimes the pollen, rain and other spring annoyances make me forget to appreciate the other aspects of this season. So embrace some spring tips, I shall, and I hope you do too.
Sometimes making small changes around the house helps usher in the new season.
Seeing things in a new light by reexamining our "stuff" is a good springtime practice. Just moving things around makes things seem new. And spring cleaning rituals make it easier to relax during the sweltering season that follows.
Toss It
I use to practice the one in/one out philosophy. I now practice the toss ten/buy less philosophy. As I wrote about here, the minimalism trend has hit the mainstream. Since my nest became empty almost two years ago, I find this process much easier. Organizing the remaining items with the use of trays is a favorite go-to trick.
Moving things around gives you new perspective.
When I redid my mudroom last year, I was so excited with the new, fresh wallpaper. In addition to the wallpaper, a rug from my kitchen added to the new look. It made an impact and also added another color to the room.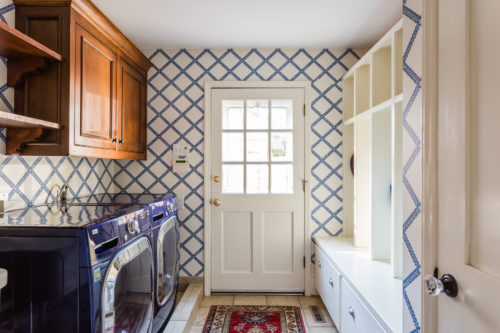 Open the windows and let in the light.
Last night Mr. F&F put the screens in our bedroom so I could sleep with the night air. That man knows me so well. I did notice, as a result, that the windows need washing. Cleaning the windows, moving the curtains aside, and repositioning lamps makes the house seem spring ready.
While puttering outside don't forget to bring some plants inside.
I love fresh flowers in the house, especially this time of year. If you don't have a lot of spring blooms, check out my favorite place for flowers. Even a small, five-buck bunch perks you up.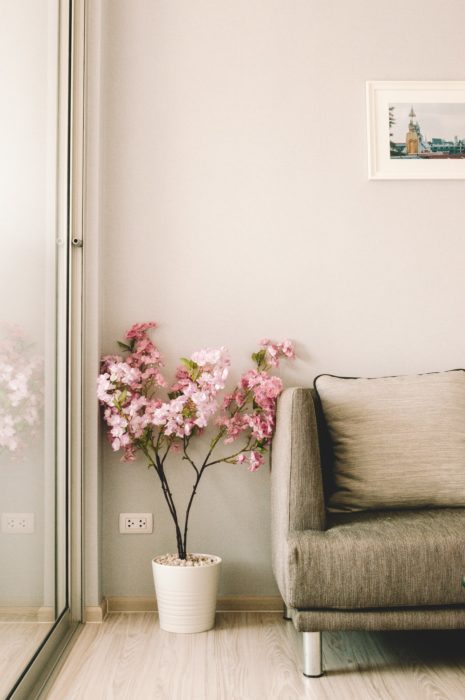 Change out to lighter accessories, collections and rugs.
This doesn't mean expensive. Lighter throw blankets, linen pillows and natural rugs are available for all budgets. Switching out these items makes a winter to spring statement in your home.
Rotating your artwork from dark to light imparts a spring feeling.
You don't need to be a Rockefeller (Kardashian, for you young folks) to own a rotating art collection. Perhaps those black and white vintage family photos get swapped for your botanical collection. Or maybe the painting at the spring festival called your name and you need to move a painting to accomodate it?
Let's not forget the outside porch area.
Most of all, I mentioned cleaning up all the pollen. After a good scrub, adding some already potted plants to the porch seems easy. Throw in twinkly lights and outdoor pillows and your porch is spring ready.
Buy a fresh smelling candle and make a spring vignette.
I use heavier scented candles in the winter like pomengranate and currant. As spring approaches I prefer sea salt or light florals. This little purchase seems justified in my mind, at least.
Finally, I would be remiss if I didn't point out my favorite spring tip. Always have citrus in a bowl and ready for visits on the porch. What is spring without that perfect cocktail to sip and lounge with friends?
Come visit us for more spring ideas in the store! xoxo