An interior redesign day, where we restyle our client's existing decor, provides great satisfaction to clients and us.
Design That Tells Your Story. We rewrote our tagline recently and it especially rings true in our interior redesign work. We tell our client's story, sifting through their collections to best reflect their life.
The Archeology of Interior Redesign
I feel like an archeologist when performing our redesign services. Before a redesign day, I worry a lot about displaying the heart of a client's collection. Though the initial consultation reveals a lot, we thoroughly examine a client's collection on interior redesign day. This allows us to accurately tell their story and perform our services effectively. Thus the actual day involves thoughtful "digging" to create meaningful vignettes for our client.
Hanging Art to Bring a Collection to Life
I've said it before and I'll say it again. When your collection is amassed in one grouping, it has far more impact. Two recent clients collected botanical art and, coincidentally, antique plates. We did similar groupings to highlight their collections. We repeat some "tricks" but each home is as unique as the people who live there.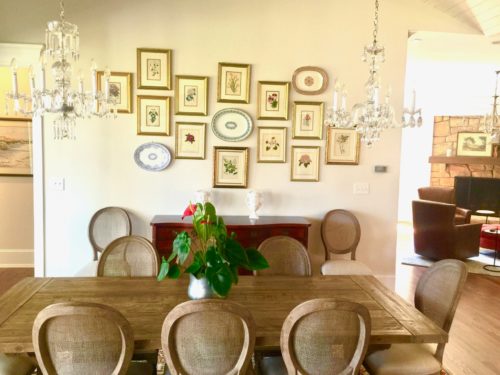 Repeating Colors that Clients Love
You may not know this but I bet you have colors repeated in multiple rooms in your home. We bring things together that lived in separate rooms yet play nicely together in a new room. Furnishings attract people for different reasons and color plays a big role in that. Imagining things in new places, with no preconceived notion of placement, is our job.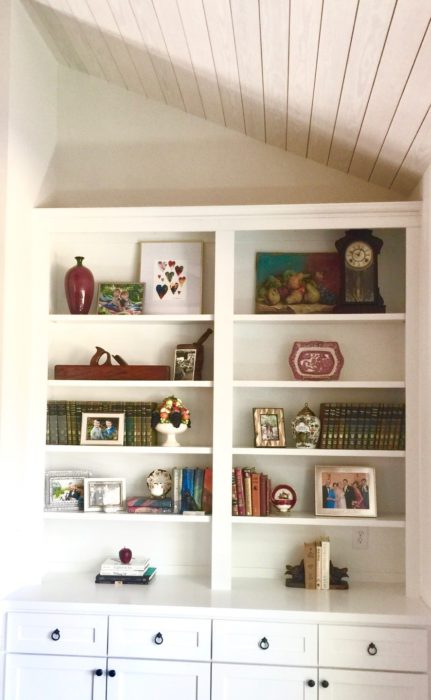 To Pair or Not To Pair, That is the Question
We don't like discussing break-ups except when splitting up pairs in our clients' homes. Sometimes a single piece of furniture is needed elsewhere therefore we'll break up a pair. Having a pair in the same room, but not necessarily next to each other, is also okay. Reimagining how to display pairs also happens during our redesign days.
For more interior redesign inspiration, see our work here or read this great list of ideas to restyle your home.