Shopping for Vintage Furniture and Goods
I am reminded lately how lucky I am to do what I do. Life is short so you better love what you do. Someone commented recently that it must be wonderful to go shopping all the time for the store. I grumbled that it IS work, after all, even though it seems glamorous. And I must use time management skills to ensure I am allotting enough time to client work, visiting job sites, the dreaded paperwork and all the other things that keep my business humming. It's hard to do all the work that enhances the store. And yet, for the most part, shopping for vintage for the store IS wonderful. Here's why:
The joy in rescuing things from obscurity
Many times, while I'm prowling around, I make sure to look in the far corners and deepest hiding spots of my favorite haunts and estate sales. That is where the treasures often hide. Like this "mademoiselle" featured below.
And I make her a French "she" because she is now swelling with pride (as the French are apt to do, style mavens that they are) after a good cleaning. Perhaps some sweet, vintage casters to make her even more functional? Decanters, ice bucket, glasses on top and fabulous liquor selection below? She begs to be a very French bar with the necessary accoutrements like these.
Or if a bar's not your thing, she would be a fabulous bedside table with lots of room for lamp, clock and many books below? Or a great table in an entry hall with a basket on the lower shelf to stash dog leashes, shoes, and life's other messiness? That is part of my shopping and buying process, imagining the potential use for the treasures I find.
The thrill of the hunt that results in a great coupling
I feel like match.com for furniture sometimes. Found the Henredon chairs at an auction then the table sprung up a few days later at an estate sale.
They are not an exact match of wood species which I like even more. The best couples are not an exact match. For example, Mr. F&F is oak – solid, dependable, tough – and I'm more like pine – soft, prone to dents, with lots of patina! Not too matchy-matchy, as it should be. They will be sold separately (four chairs and dining table), but look great paired together for the store. Chairs will sport newly upholstered seats in a neutral fabric.
Finding historical pieces that can be repurposed for today
I loved the carving on the sides of these folding seats from a Baptist church.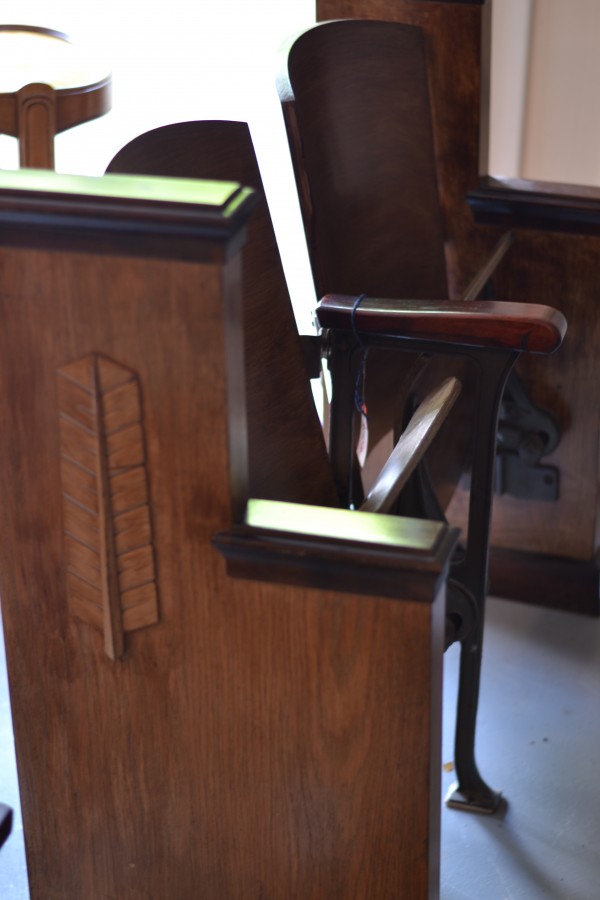 Since it is only a two seater, it doesn't take up too much room and would be great in a mudroom or front entry in lieu of a bench. Great place to put shoes on. It would also be cool in a playroom for "theatre" play or in a theatre room for movie watching – a cushion would make it even more comfortable. The history of the piece makes it more interesting; its function makes it great for today.
Sometimes it's just about the "pretty" factor
We are really into blue and white these days and it's everywhere in the shelter magazines. Flowery, vintage paintings and other goodies just beg to be rescued to the store.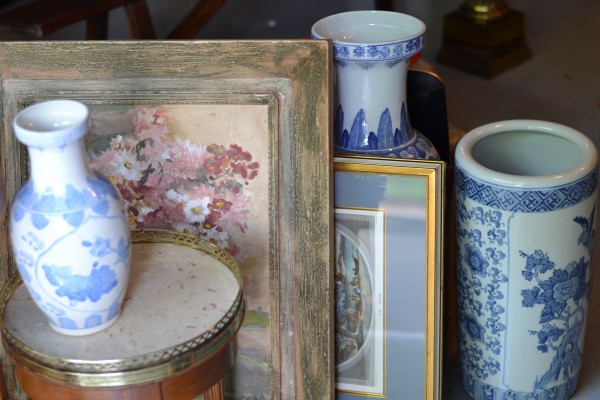 The smaller blue and white vase sits on a Frenchy side table, making this seem like a decidedly Frenchy post, non? And yet the store is full of industrial, Asian, quirky and everything inbetween. I am always drawn to French for classic, foundation pieces for the home and general good lines and looks.
Pretty factor is easiest of all the list. Pretty sells and we know what pretties our customers like. The other things (the obsure, the matchy and the historical) all require more thought before I make the decision to buy. Shopping for the store is all a crap shoot, to be sure, but as I always tell design clients and customers: buy what you love or what will be a functional addition to your home. You will find a place for it. Thankful to find and scour the countryside for these folks.