Maybe it's the on-again, off-again warm weather, but I've got decorating with shells on my mind.
I went crazy for this inspiring shell display on my trip to Savannah.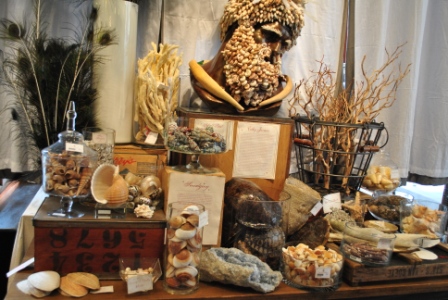 And now I'm seeing shells everywhere.
Shell boxes are fun (these two examples are from some of my "neighbors" at Hunt and Gather).
And shell mirrors are hot again but these are NOT your granny's shell mirror.
Check out these easy, relaxed centerpiece ideas.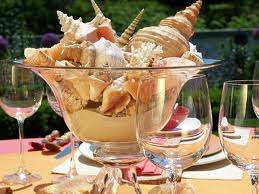 How about a shell wall shelf?
I love, love, love all the giant clamshells I'm seeing, but who'd thought of using it like one as a sink? Brilliant.
Why not a shell encrusted bust? Decorating with shells as an art form.
Get your shell on.
Amass in a bowl, toss 'em on a table, use as a paperweight, tie with twine and use as a napkin ring, or stand a placecard up in a shell for your next gathering. Or just keep a big conch on your desk to daydream about the beach, just like the sweet old man whose estate sale I attended last weekend. When I asked a relative if the conchs were for sale she said that, of all his belongings, the owner was hanging onto the shells. How sweet. Maybe some fond memories of combing for shells one day long ago.
I'll never forget the great haul my kids and I got at Cape Lookout one spring. How could I ever get rid of those big shells? Sometimes the simplest things mean the most. So, get in that summer frame of mind even if this rain persists outside.