I attended High Point this past time with no agenda but rather chose to attend some seminars and wander the showrooms.
I loved roaming High Point with no schedule except for a couple educational opportunities. Absorbed by the color and feel, I visited showrooms just for fun and didn't particularly pay attention to "trends." I just snapped photos of things that caught my eye.
Enjoyed a quick visit with editor Jane Dagmi who revealed the latest edition which features my home. I will have a link to that article on the website soon. So grateful to have met Jane and her team this past summer at Designer Experience.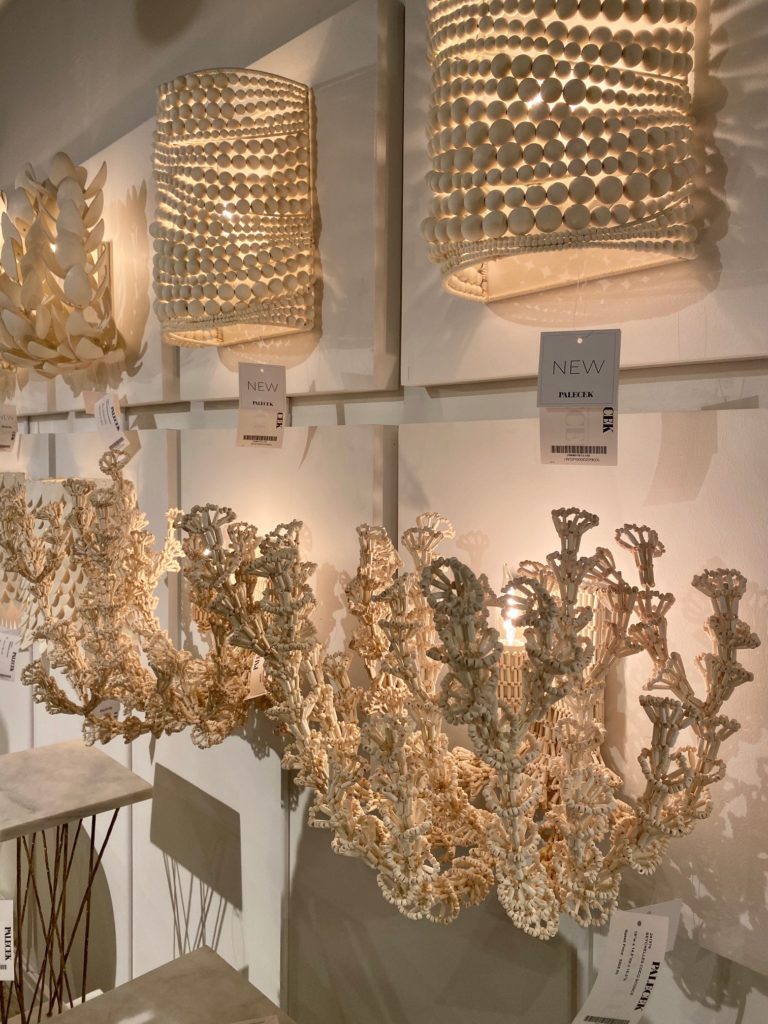 Loved the bleached coconut in these sustainable light fixtures by Palacek.
They have an organic, yet elegant, quality to them. These fixtures have possibilities beyond beach houses, in my opinion.
An elephant desk appropriately named Babar, designed by Kenneth Cobonpue, captured my heart.
Not just a pretty face, this desk packed function with "ear" cork boards and storage galore. At the end of the day, close the door and hide your mess.
Mirror, mirror on the wall, High Point showed many this fall.
I place so many mirrors on jobs, so this was fun to see all the styles available. A mirror reflects light when placed opposite a window but a beautifully framed mirror also acts as a piece of art.
These whimsical pottery planters appealed to my eclectic side.
Besides the obvious centerpiece idea, I could see these as wooden spoon holders on a kitchen counter or in a bathroom filled with soaps and loofahs. They would make such happy addition to any space.
This American made hand marbleized paper make a very unique wallpaper.
There is something very old world with a nod to Florentine papers. This is a splurge worthy item for a wow factor in a powder room, for example.
I love the affordable options for modern lighting pieces in this showroom.
These string pendants are classic and add a light touch over an eating area or island. Adesso also featured many stand-alone table and floor lamps.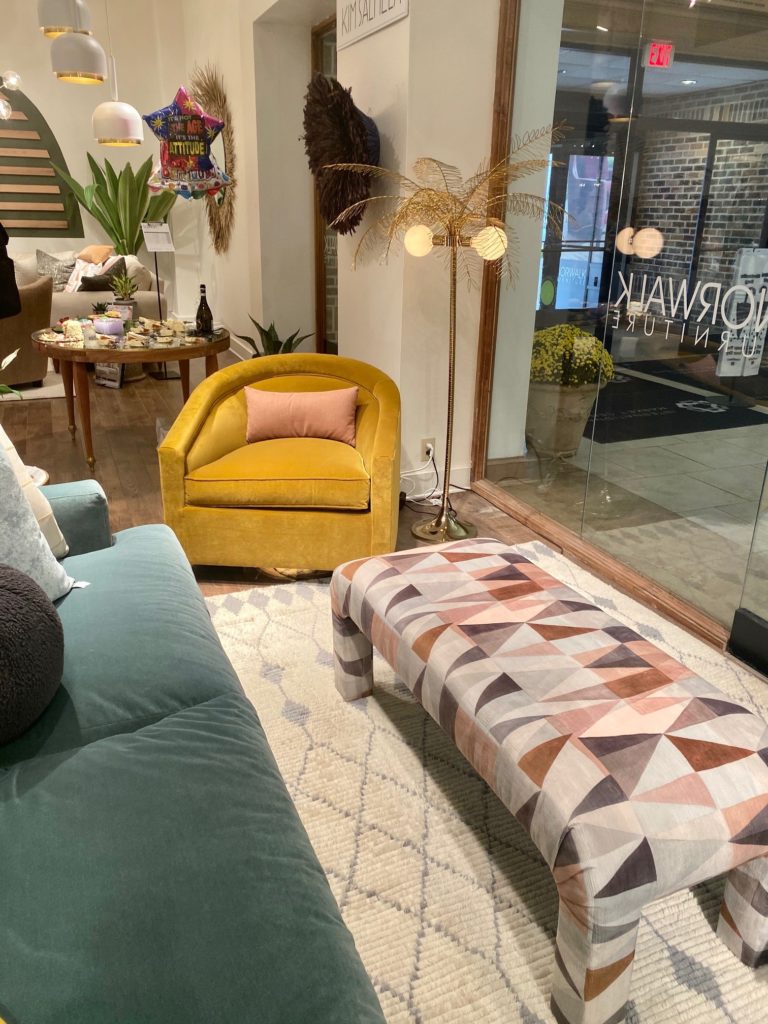 I loved seeing this gold chair amongst the fun mix in this Norwalk vignette.
I felt validated with my two very mustard hued chairs in my living room:) The collected, non-matchy feel of many groupings also dominated several showrooms.
Overscale, BIG birds for the win!
What an impact these birdies would have in a room. More whimsical, affordable art that wakes up a sleepy room.
Ettu Home had lovely selections for the home, made of upcycled wood and glass products.
Their collections definitely had a modern feel to an otherwise "old world" European vibe. Stay tuned as F&F may be adding some of these to the mix:)
And I always love a quick tour through Vaughan Bassett, one of the last companies still making casegoods in the USA.
They have a line designed by the sweet Mississippi couple from HGTV's show Home Town. Their price point is very competitive to imports.
Currey and Company certainly had a buzz with Sasha Bikoff's "The Birth of Venus" inspired showroom.
I did a quick spin through there for classic inspiration and a modern Italian feel.
All in all, I left after two days, feeling inspired and transported and ready to tackle some big design projects. I took a tour of showrooms that were unfamiliar to me and learned a lot in a couple of marketing seminars. It's always an effort to get away from work and life but I always feel like it's time well spent.