As soon as the cool weather hits I feel inspired to get some fall projects done. The bathroom reno spilled over into the bedroom which received a fresh coat of paint, trim added to existing curtains, and new bedding. Our inherited 1920s furniture suite seemed weary but had great bones and included tall and short dressers plus a vanity. However, all the wood and hardware seemed old fashioned. I modernized the room a bit with fresh elements, eliminating the vanity from the bedroom and kept the tall dresser unpainted (as per Mr. F&F's request).
I decided to paint the shorter dresser in a silver metallic paint.
I've never been a fan of metallic paint which can't seem to replicate the texture and look of silver or gold leaf. BUT I was recently introduced to Martha Stewart's line of metallic paints at Home Depot and it genuinely impressed me with the quality and resulting texture. Now I want to paint everything metallic, but I'm really using restraint. Here's some in-progress pictures of the dresser.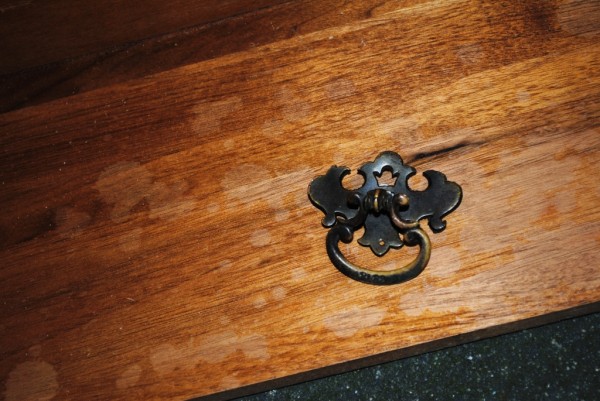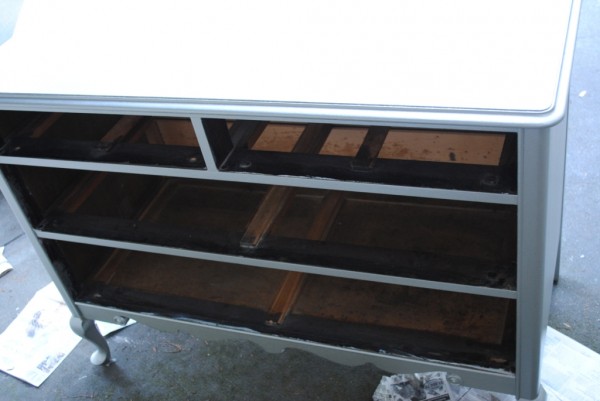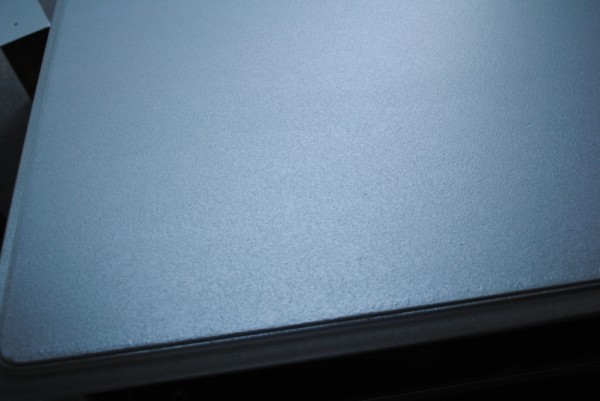 While I finished this, Mr. F&F embarked on one of his own fall projects, reusing old stones in a creative project.
We have a stone wall that is original to the property and probably predates the building of our home in 1925. These stone walls mark the division of property lines in this old neighborhood. Our wall leaned for several years and our next door neighbors wanted us to remove it after they began their renovation. Unfortunately two sections recently collapsed onto our property, so the whole wall (two hundred feet long) needed to come down.
We saved the stones and Mr. F&F decided to build a border for the driveway, or as he calls it, a "warning track."
Apparently this is some baseball field term which means nothing to me. But it's supposed to keep middle child and I from driving off the driveway which we admittedly do. Rumble, rumble, you're on stone now….STOP. I still drive on the stone but I guess it keeps me from tearing up the bushes in behind. Anyway, the reuse of the old stone is much more beautiful than I imagined when Mr. F&F suggested this project. P.S. he conceived of, planned and began said project without consulting me. Risky, but well "laid", sir.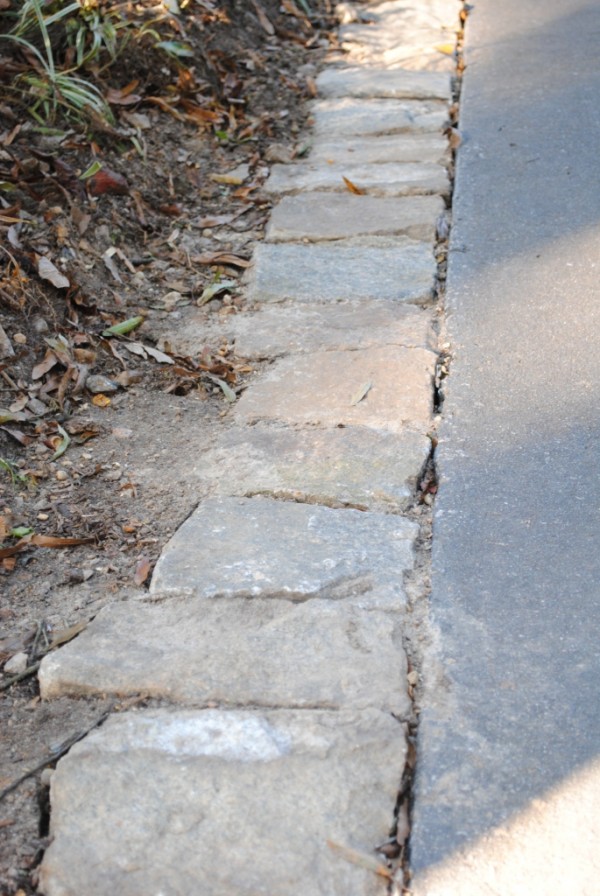 While Mr. F&F finished the border today, I embarked on my favorite of fall projects, marinara day.
That is, the day I "put up" (well, not really, since I don't can but freeze instead) the marinara for winter. It involves chopping 60 pounds of tomatoes then cooking them with other ingredients. About a third of the way into the chopping process, my new Santoku knife let me know how sharp he really is, as my thumb now looks like this.
But after two hours at urgent care, I once again evaded stitches. Best of all, the last batch of marinara is simmering away on my stove and I'm drinking a glass of wine.
Ultimately, we'll have pasta sauce for parties in the coming weeks, flavorful lasagna, and great sauce for naan bread pizza. First, of many, wintertime hibernation projects done. Many more projects to come as the cool weather inspires. Bathroom reno pictures coming soon. I'm just being picky as the shutters aren't installed yet and I'm not done decorating the den. Full reveal SOON.