It's that time of year…time to reveal the 2019 interior design trends.
You know I hate these kind of lists because I eschew anything trendy, preferring the classic and timeless. However, you can incorporate these interior design trends with a nod to longevity and a fresh spin on timeless design. Here's my take on interior design trends that will stand the test of time.
Glossy Walls
I LOVE lacquer. While this interior design trend seems a bold choice, there's something timeless about high gloss in dining or living areas. Imagine dinner by candlelight in a sexy, lacquered dining room. The reflective quality beautifully bounces natural light in lacquered rooms.
Salon Style Art Hanging
And now that you are all glossied up, how about some art with those walls, ma'am? With a no-rules approach, gallery walls have become increasingly popular and warranted a mention for 2019 interior design trends. Frame art in identical frames or in a mismatched bunch for a more curated collection. My own crazy "Wall of Women" below evolved over several years with no specific plan on how to hang. So it usually goes something like this, "Hey, Mr. F&F, there's an empty space up there." And so it grows, up and out and all about.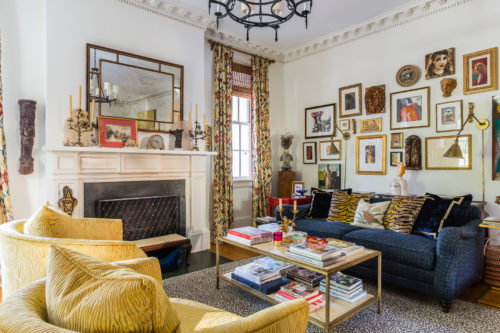 And for this design client below, we pulled different pieces from around the house and placed them over the sideboard. The pieces came together by figurative subject matter and generally how they felt together. This gallery wall collection looks purposeful when grouped together.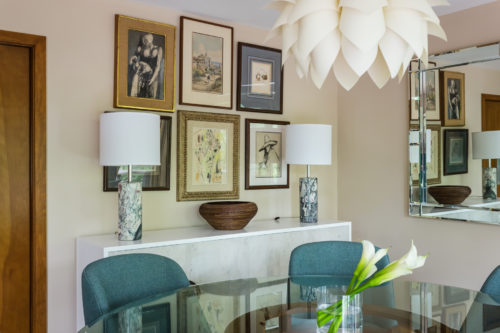 Whimsical Art
And speaking of art, why not incorporate some fun art into that gallery wall? For 2019, think classical art with a whimsical style and unique approach to formerly serious subject matters. We love this artist that we feature in the store who prints her art on antique book pages. Whimsical + Upcycled = Win Win in our books!
And a colorful, playful approach to figurative or portrait art makes for a fun statement wall. Mr. F&F and I fell in love with this artist, both his story and his fun art. This otherwise white, boring wall below comes alive with Tres Taylor's inspired, whimsical art.
Neutral Palettes with Pops of Color
This is one interior design trend I fully embrace! If I never see another all-grey room devoid of color, I will be sooo fine. Take that grey room and add fuchsia or chartreuse or colorful art as mentioned above. Perhaps a fun rug adds to the "blah" mix or install one wall with fabulous, vibrant wallpaper. Anything, but please add some color to the sterile rooms of recent years. For different clients below, we popped spicy coral against white walls for one and on a white sofa for another.
Rugs with Personality
I love the timeless quality of a traditional hand-knotted rug, don't get me wrong. The 2019 interior design trend toward bold, colorful rugs provides a nice alternative. Are you getting the idea that a lot of this coming year includes color? Yay for color, yay for bold choices! Think vibrant, geometric kilm or an abstract, painterly rug with classic, contemporary appeal like the one from Crate and Barrel below.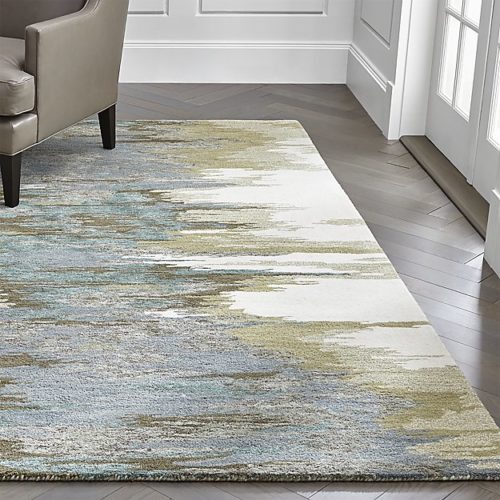 Curves in All The Right Places
I've been saying this for years, but not necessarily about design;) Curved sofas and chairs hearken back to mid-century design and timeless appeal. Especially in rooms with very rectilinear backdrops, the curves provide a welcome relief and a dose of sensuality. This curvy sofa from Crate and Barrel is a steal and comes in a variety of colors.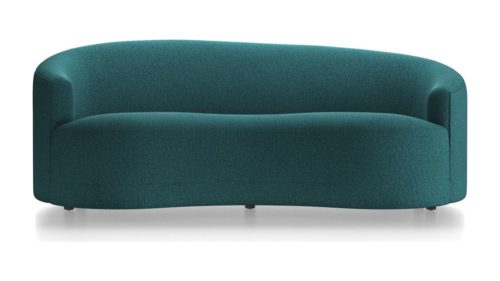 You can add curves in other places as well. Check out the curvy console and rounded tuffets below with the circular motif repeated elsewhere in this foyer we designed.
Brass is Here to Stay
Those 90s peeling brass fixtures did nothing to win us over to this now trending metal. However, the new brass with texture or perhaps a matte finish has lasting appeal. Combined with other metals, brass adds style and sophistication to light fixtures, for example.
Sprinkle brass accessories (especially vintage patina brass) into the overall design, adding a level of warmth that other metals cannot. Check out the oversized pillar candleholder pictured below in my family room. Decor like this, previously overlooked at garage sales just ten years ago, now sells for bigga bucks. Have you checked here lately?? Yikes! Tell your momma not to throw her brass out.
Greenery and Natural Texture
Plant mania and indoor gardening seem well-rooted (see what I did there?) interior design trends. Thank this woman for contributing to this return to plants. Plants create a better breathing environment, add life to our homes and bring nature inside. What's not to like? Add to that some natural rattan, woven baskets and other textural elements for timeless Bohemian elements.
What's your favorite of the coming year's interior design trends? I, for one, am delighted about all the COLOR! For some more ideas about color peruse here and here or for gallery walls read here and here. Finally, for natural decorating ideas, read here and here.