All About Bathrooms
We've got a lot of projects happening round here and it feels mostly all about bathrooms! For one client, we designed two bathrooms, both modest in size, but where we added lots of function. The guest bathroom was complete first. Thankfully the homeowner was gone for twelve days so we could finish and also start demo on the master bath.
Guest Bathroom
For the guest bath, we went classic with oversized subway tiles and a grey marble decorative strip in the tub area. The porcelain floor tile is a remarkably good "faux" Carrera and the whole scheme is befitting of this 1940s home.
The built-in shelves we designed provide storage for linens and bath goodies. We stole six inches from a bedroom closet behind the shelves to make them a roomy ten inches deep.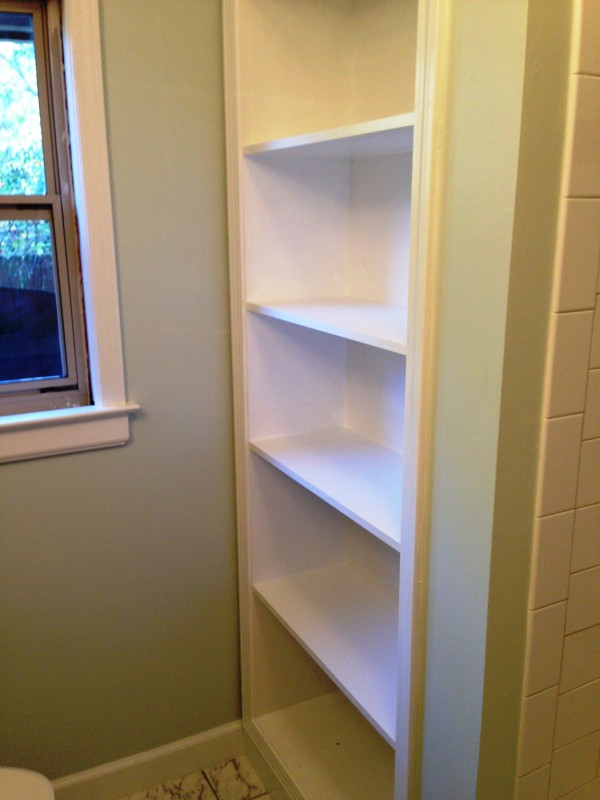 These shelves allowed us to remove a useless narrow closet behind the main door which then revealed the exposed brick. The medicine cabinet adds more storage and the traditional sink base completes the overall look.
Master Bathroom
The master in progress with a more "zen" modern feeling for a homeowner who likes exotic travel…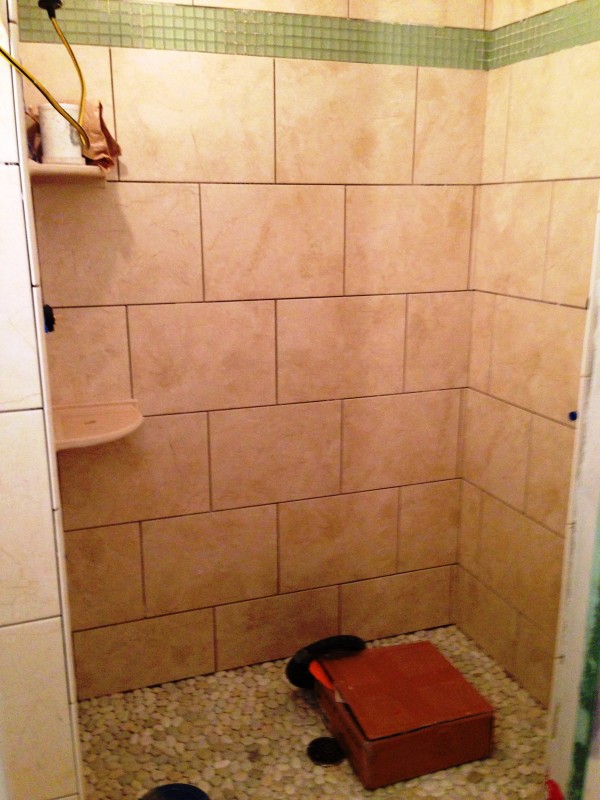 Both bathrooms have budget conscious tile and splurge materials were saved for the decorative strips. The decorative strips were culled from 12 inch sheets and we were able to get three or four rows from each sheet. It's a great way to add bling to the bath on a budget. Here's the completed portfolio with better photos of both baths.
Bathroom Art Collection
Took some time off today to attend to my own house for a welcome change. I purged a lot from the house today and it felt so good to rid the house of clutter and perform small tweaks. Art hanging in the downstairs bath awaited my attention for many months. My tree art collection had grown but I wanted them to look cohesive. Some paintings in okay frames just needed a gold "rub and buff", using this product. I have gone through countless tubes, transforming many a frame and other things around the house. Call me Goldfinger, because that's what it looks like when I'm done. Mr. F&F hung my now cohesive collection of vintage paintings, all scored for 50 bucks or less…
The footprint (not including the shower) of my bathroom is 4'3″ x 4'4″, smaller than the client's above. But we've squeezed a lot in there, stealing a closet from my office to create the shower six years ago. It's a cozy, warm bathroom and the tree paintings add a gallery feel to the bath. They are tied together thematically by subject and also by the gold frames (hence the Rub 'n Buff). Bathrooms are consuming me now, as you can see. Check here for more bathroom work we've designed.