I am generally not a fan of these lists as I prefer to promote the time-honored, not trends.
This year since there are so many 2018 home decor trends that border on classic, I would be remiss not to embrace them. So many folks have written on this subject in the weeks prior and I have compiled my interpretation and favorites. In no particular order, here is my list of 2018 home decor trends and beyond:
COLOR
Overall, I gladly kiss goodbye the home decor trend of neutral and bland and welcome color back into the fold. All white kitchens are not de rigueur anymore and color makes a big splash in these rooms on cabinetry, small appliances and accessories. Wood tones are in the mix as well, giving a warmth to interiors after too many years of cold grey, in my opinion. Perhaps Pantone's Ultra Violet as color of the year is too much for most folks as an all over color.
A jolt of ultra violet accessories or furniture pieces instead might be an alternative to painting the walls and would still inject some boldness into an interior.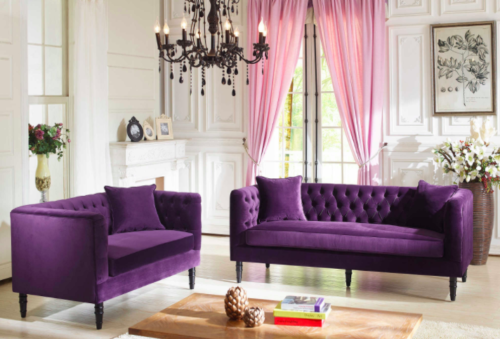 The other 2018 home decor trends are jewel tones of deep blues, rich reds and emerald greens. I've used them liberally myself and for clients over the years. Benjamin Moore's color of the year, Caliente, is very reminiscent of my dining room color I used 16 years ago. Red is classic and repeated hits of red in a room make for a lovely motif.
I adore Sherwin Williams' color of the year, Oceanside. This deep teal along with other sapphire blues are so warm and easy to live with. 2018 home decor trends aside, this color can hold its own as a rich alternative to other dark colors and could give a kitchen island rock star status. It also plays so beautifully with black as in the dining area below.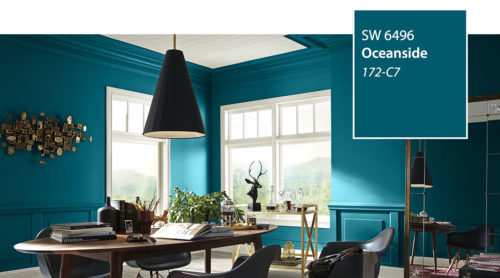 BIG, BOLD PATTERNS
Along with color, this one is easy for me to embrace, as my crazy, colorful house can attest. A statement pattern on a chair or drapes can really make a room. The not-your-grannies, big floral patterns are modern and fresh.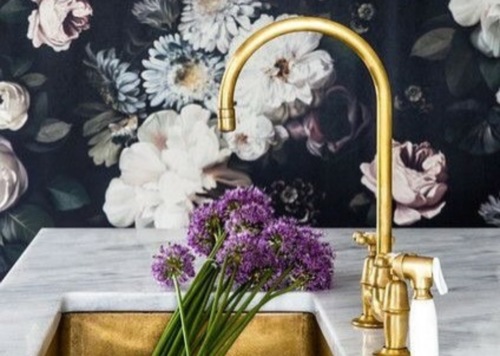 The bold patterns are unexpected and, mixed with a more tempered palette and smaller pattern on accompanying items, the room won't look overdone. That said, multiple patterns with lots of color can also be successful as illustrated in this brilliant mix below.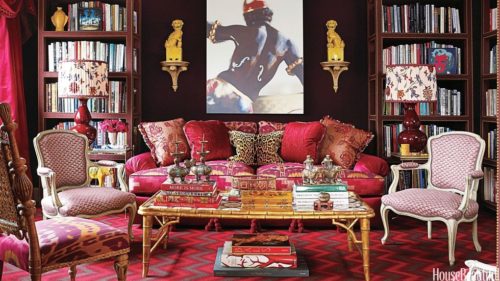 METAL MIX UP
Stainless steel is finally having some competition and thank goodness for that. I cannot stand all the finger prints and upkeep. Black stainless is one new option as a 2018 home decor trend for appliance finishes. Along with a return of white appliances and matching cabinet panel overlays, there are other options to consider.
I am also really digging the more burnished, matte brass, providing an alternative to the all shiny, super gold brass. I recently replaced my kitchen faucet with one by Newport Brass in this satin brass color. I am thinking my cabinet hardware will change over as well. Shh, don't tell Mr. F&F.
I also am loving this hammered antique brass side table I just purchased. Everyone needs a martini perch, non?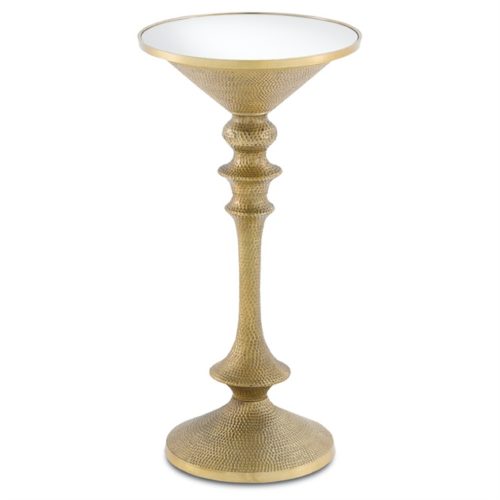 COZY LIVING TREND
Cozy living, also known by the home decor trend of Danish Hygee, is a return to rooms that wrap us in warmth and comfort. There have been such recent home decor trends of soaring ceiling heights and open floor plans that left us feeling Lilliputian and cold. Reading corners with sheepskins, chunky throws and pillows galore allows us to feel both welcome and comfortable in our homes.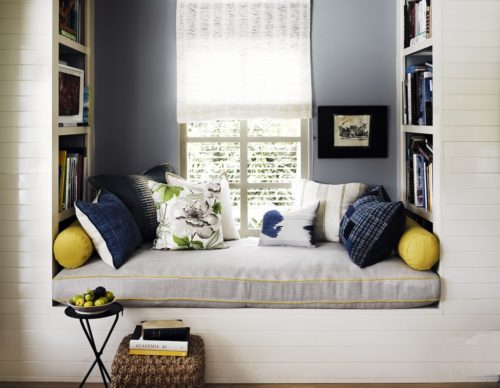 STATEMENT DECOR TRENDS
We have all heard the term "statement walls" and that is still a go-to for me with carefully chosen wallpaper or paint. With reposition-able wallpaper, it has made this an even easier decision.
There are also other surfaces to consider, such as ceilings, where a bold statement can be made.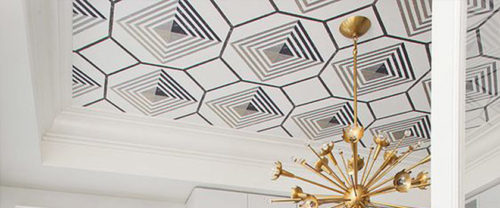 And floors, a large part of any home, are generally a missed opportunity. Why not herringbone? It works equally well in a traditional setting or in a modern setting, as featured below.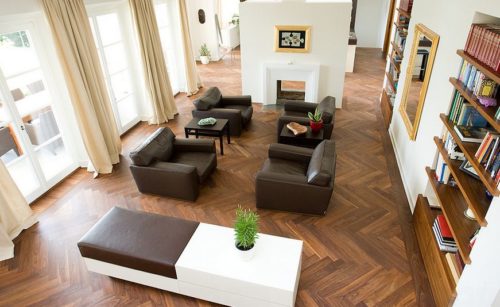 While some suggest that gallery walls are a home decor trend that is in decline, I will never give mine up. Big, scale art is a 2018 home decor trend and I love that look too. Collector types like myself, however, will go kicking and screaming before we entirely give up our twenty-piece art groupings. Read here how we like to do gallery walls.
You can never go wrong with a statement front door. It is just paint after all and can be easily changed on a whim. The exterior of your home can really make a statement about what to expect once you enter the threshold.
PLANTS
The use of plants as a 2018 home decor trend should not be interpreted as all 70s-messy and macrame. A carefully curated collection of succulents, air plants and patterned plants is elegant and a lovely organic addition to the mix. I have been playing with my twin etageres that house books and various ob-jets. Adding plants has helped soften the look and, don't tell anybody, three of the four are fakes. Yes, real live fakes! The fake varieties have become so good in recent years, why deal with all the fuss of pruning and watering?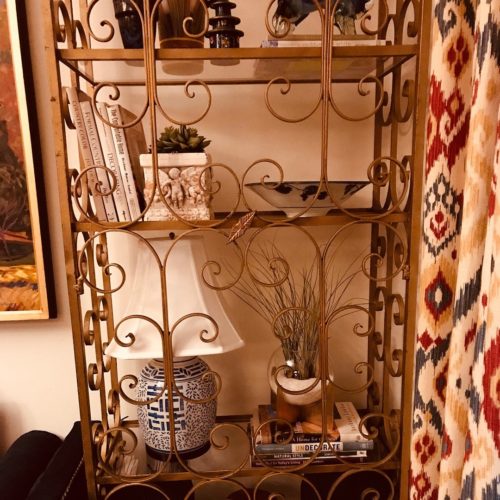 VELVET
I am feeling a little ahead of the curve with my velvet sofa from way back. There is nothing more luxurious than this 2018 home decor trend of all things velvet. If there is one thing that really wraps us up all Hygge-like, velvet is it. It feels so good on the skin and is lovely draped in windows. Who wouldn't want to watch movies in this gorgeous TV room below?
ARTISAN, HANDCRAFTED DECOR
Live edge tables. Hand-blown glass. Hand-built pottery. These are the accessories that give soul to a home. Travel souvenirs or local art are unique and far more interesting than any big box store trinket. This is a home decor trend that is enduring and allows homeowners to stamp their mark on a home. I love to visit local art fairs and was lucky to meet a husband and wife who are both extraordinary woodworkers. I love to look at these pieces that grace my coffee table.
What trends are you embracing for the coming year?