Collections. We all have them but how do we make them look cohesive rather than a jumble of mismatched bric-a-brac?
When consulting with our clients we often provide redesign services where we use existing décor, restyling their home with fresh eyes. In particular, collections compiled in one area of the home appear infinitely more impactful. The clients are often stunned to see the results. One client owned a monkey collection scattered around her house in various rooms. We grouped them together on a half wall that separated the foyer from the living room. The monkeys became a collection that provided an instant conversation starter for arriving guests. After years of working with clients who have sentimental treasures, art collections and interesting artifacts, I compiled my "collections" tips:
1/ Think outside the "symmetry" box for unexpected art display.
People love pairs but sometimes you inherit art or photos, for example, that aren't an exact match. Another client had an interesting collection of etchings and family silhouettes of various sizes. We grouped the smaller antique pieces to provide equal weight to the larger piece on the left side of the mirror. The furniture we arranged below perfectly echoed the era and feel of the artwork. Instant collection and high impact for the foyer of this beautiful home.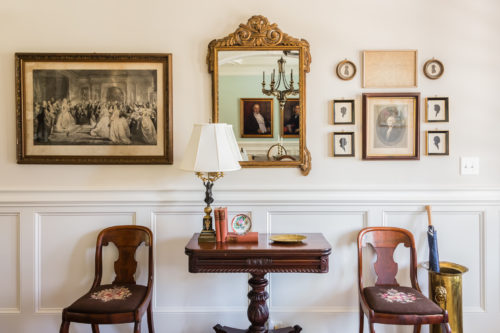 2/ Think custom floating shelves as an option.
In a modern kitchen, we assembled a Royal Haeger collection, USA pottery and some modern pieces on custom floating shelves. We fabricated the shelves from stainless steel (approximately $1000 for the labor and materials). The beautiful pottery, clustered by color, provided not only visual interest, but function within arm's reach for everyday use. If custom shelves aren't an option, then there are several ready-made floating shelf options that are available. I love the Holman Shelf from Pottery Barn as it has a lip in the front to prevent items from falling. It also comes in a variety of colors and range in length from two to five feet long ($79-$199).
3/ Think restyling your built-ins.
Sometimes clients already have built-in shelves or cabinetry, making our job relatively easy. We were particularly excited to work in a home where there was a significant collection of North Carolina pottery. We brought it together on the higher shelves of the beautiful built-ins and it now gives the collection a place of honor. The location also provides a safe haven from potential breakage.
If you aren't blessed with existing built-ins, there are several free-standing options available for instant gratification. One of my favorites, the Acrylic Leaning Bookshelf from Wisteria, is a classic. It's both at home in a modern or traditional setting. The clear acrylic is elegant, allowing the collection to be the star. We used it to house a trove of modern design books and mixed in smaller art pieces, to stunning effect. On our redesign days, we especially love styling bookshelves for our clients. Read this as the ultimate compendium for your bookshelf styling.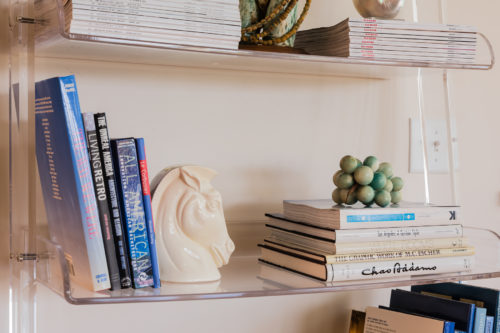 4/ Think kids and desks.
Kids often begin their acquisition phase young, amassing a rock collection in their preschool years or collecting souvenirs from travels. For my son who had a globe collection from years of tagging along to estate sales (who also needed a study and craft area), we built an inexpensive desk top using a door. We also constructed higher shelves from plywood which house the necessary pencils, paints and paper interspersed with the vintage globe collection. This spawned a theme for the whole room with maps and other global art in the mix.
5/ Think plate collections in unusual locations.
Back in the day I was all about hanging plates anywhere in a dining room. Around a mirror, up and down a wall on either side of a door, leaning on plate racks on the sideboard. All very predictable. I still like to use a client's plate collection, as it is often a family memento (grandma's china), a souvenir from travel or signifies a time in their life. One client had some red ware plates that were made for her daughters that were tucked away in a cupboard. We dug them out, giving them a place of prominence above a window seat in an upstairs landing that the homeowner passes daily. The plates are now sentimental reminders of the three young ladies that call her mom.
Another client owned a vintage plate collection that came to life when placed above the large picture window in his breakfast nook. They, too, were hidden away in obscurity. When placed in an oft used area, the plates can now be enjoyed on a daily basis.
And isn't that the point of collections? Beautifully displayed memories in our homes that can be seen and appreciated every day.