Ugh…I used to dread back to school time.
My youngest is entering his sophomore year in college and we still deal with some back to school things. Mostly he handles it and it is nothing like running around for clothes, school supplies and the general mayhem of three kids as in the past. I thought I'd share some organization ideas for back to school that helped keep me sane.
1/ Reliable, kid-friendly alarm clock
This perhaps seem obvious but my husband and I fell into the trap of setting our alarms and waking our first child in his early school years. The next two pretty much handled it on their own after we learned our lesson. First child is always the guinea pig, right?
I love a cute old fashioned alarm clock, like the one pictured above, which is easy for a young child to operate on her own. As my youngest moved into high school he asked for an upgrade in the form of a colored-number-fancy-digital model. I happily obliged since he handled the routine well and any tool that helped was a good tool in my mind.
2/ Lunch packing zones with easy kid access
This pretty much falls into the same "first kid trap" as above. We packed our kids' lunches until we figured out that the youngest, at age 3, liked to spread peanut butter himself. Wait a minute?!! They should ALL be making their own lunch.
Thus we began with lunch packing zones. Ziploc bags, spoons and all packing stuff were stored in a reachable kitchen drawer. They chose their snacks and non-perishables from a low shelf in the pantry and all fresh items from a lower part of the fridge. Everything was assembled the night before, so no early morning lunch panic ensued.
3/ Command center for school notices and signed papers
Now, I will confess that I was not SUPER religious about this idea. I organized everything near the back door on a table in the mudroom where we would see it on the way out the door. We didn't have an actual corkboard or anything fancy. LOVE the command centers other folks have posted. Do what works for your family and where it will serve as the best visual reminder for permission slips and the annoying stream of paperwork from school.
4/ Dedicated and well-stocked homework station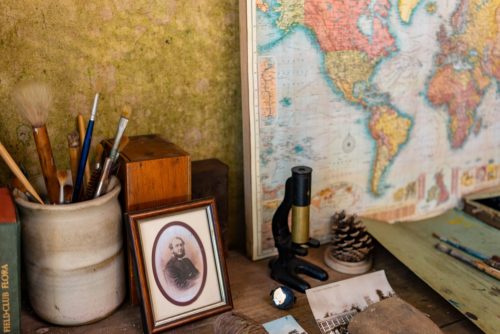 Our homework hub resided in the family room (next to the kitchen) on a square game table that tucked into a corner. I kept a cubby stocked with various writing utensils, markers and crayons. I also found a six-drawer unit where we stored small crafty items and a stacked filing unit filled with various types of paper on top. Other than a computer, which was elsewhere, the table displayed everything they needed to complete homework. It furthermore allowed our kitchen table, where we ate, to remain clutter-free. Here's some more ideas for an organized homework station.
5/ Donation boxes upstairs and downstairs
One of the best organizational habits my kids developed was to willingly let go of stuff. We had a large bag in my closet and another one in the mudroom. When they outgrew clothes or "finished" with a toy, they placed it in the donation bags. They learned not to hang onto items and felt better when their rooms were organized. It was easier to get dressed in the morning with less to choose from and their space didn't clutter their brain. An organized kid can perform well without the distractions of stuff.
What organizational ideas for back to school do you use? As much as I always dreaded this time of year, I always felt on top of it at the beginning. Now, don't ask me how I felt come holiday time:)