Thought I'd give a sneaky-peeky at the coming Form and Function Raleigh Store! Big announcement: We have a space and we open June 1st. Never in my wildest dreams.
ARCHITECT THE SPACE
Imagine a strip shopping center, generally devoid of any architectural interest except for brick floors (odd, but lucky me), fully exposed ceiling that's been painted dark grey (cool) and details that F&F is adding to make it fun and focused on reuse (of course).
THE DETAILS
Brought in some old wood doors from a previous booth life to highlight an area near the front door, providing a window "visual," if you will, and an area I'll generally keep lit to advertise the store. Here's the doors laid out but not installed.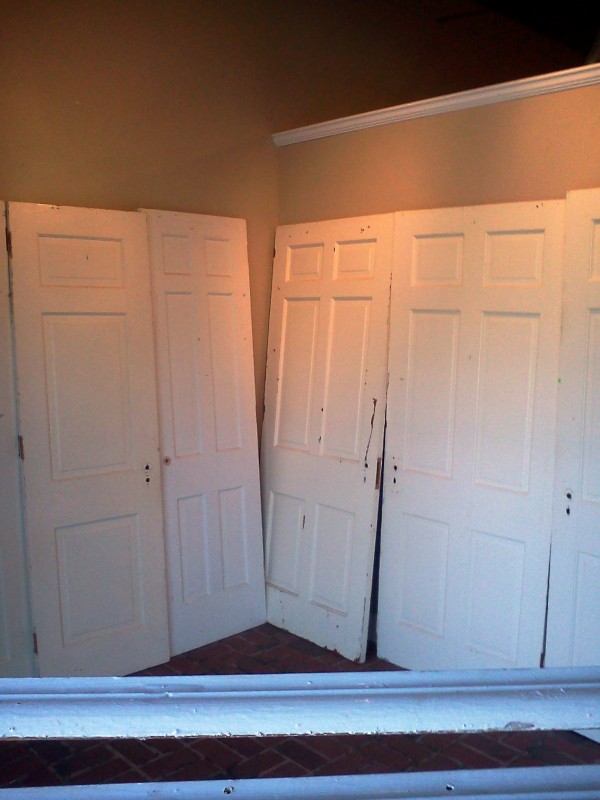 Picked up a mantel this week…not my best craig's list experience, but nonetheless, a great mantel. On either side I'm adding a wainscotting that I took out of my den during the recent master bath renovation. It apparently came from some old house in North Carolina and the people who owned the house in the 1980s added it (we didn't have the heart to tell them we painted it white)….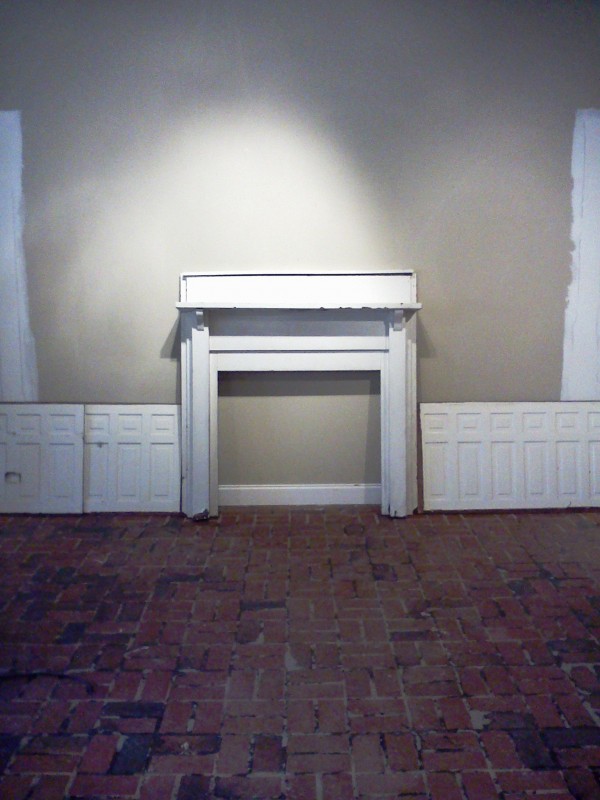 Going to replace all the light bulbs with LEDs (great modern track lighting already there and tons of plugs in the ceilings for chandeliers) and paint with low VOC paint…trying to be green as possible along with the reuse of other architectural features we're adding.
FILLING THE SPACE
Today was sunny and cool and the prettiest day all week…and also the day I planned to meet some folks with barns full of treasures. One of the most thoroughly enjoyable days ever. First gentleman had a sign I saw on craig's list and he had other treasures I found in his many outbuildings. When we were planning to meet earlier in the week, found out that the other gentleman I was meeting lived on the farm that backed up to his and they were related (brothers-in-law). Small world indeed. Here's a sneak peak of the mess in the back of my van that will be treasures once displayed…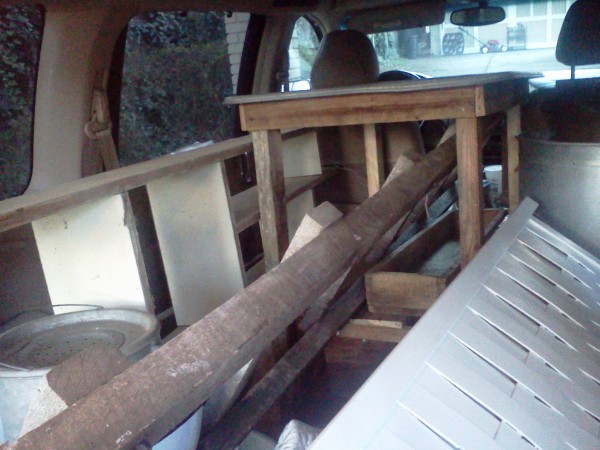 Building updates as we move along. Planning on light grey walls to contrast with all the white panelling and doors – neutral but not white or beige. Thoughts?