Perhaps there is nothing quite as functional as the humble cart. It seems that several carts have been finding their way into F&F land lately. Different kinds of carts but each with their own quirks and "form." Each cart required some work and that was a learning curve for me. First up, a typewriter cart that began with copious amounts of sanding (many thanks to little man who did the bulk of that) and after revealing the lovely silver underneath, I decided that paint would not be required.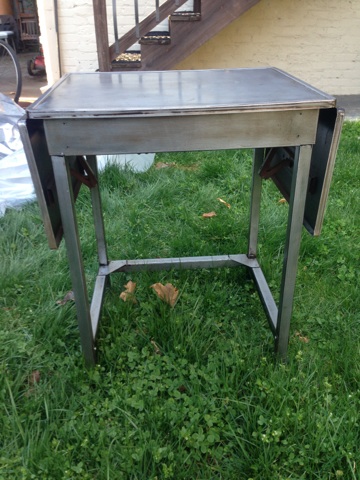 This was probably more work than I bargained for but, in the end, I love the patina of the metal we uncovered. Hours spent will not equal selling price, but these are the things I learn. This sweet little cart can provide similar function to days of yore. Instead of a typewriter, perhaps the printer can sit atop or other computer equipment? There's no end to the funtion this little beaut can provide. Need more room, just pop up the sides.
Next up, a sweet three-tier cart that hid under so much rust encrusted goo that no amount of sanding could uncover the metal beneath. So I decided this one was a prime candidate for painting. Discovered Rustoleum Ultra Cover 2x in silver aluminum. A few cans led to its transformation.
I think this cart, in particular, would make a fantastic bar cart. Imagine liquor and a tray on the top tier, glasses on the second, and other bar necessities on the bottom. Found a couple inspirations on Etsy, like these silver rimmed glasses…
And how about this sweet vintage ice bucket…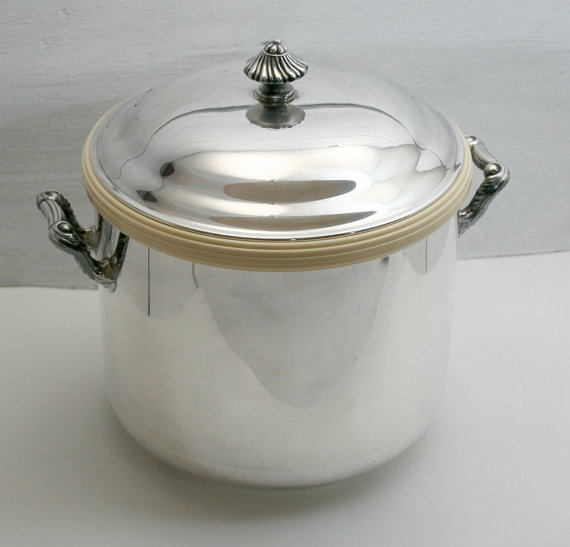 Lastly, a two-tier cart that likely made an appearance in a medical setting in its former life. Its creamy yellow paint seemed in good condition, so this cart required nothing but a quick clean. Thankfully. I envision this as a wonderful side table or a bar cart, of course, or office companion or bed side table. I love this sweet cart probably because I didn't have to work so hard.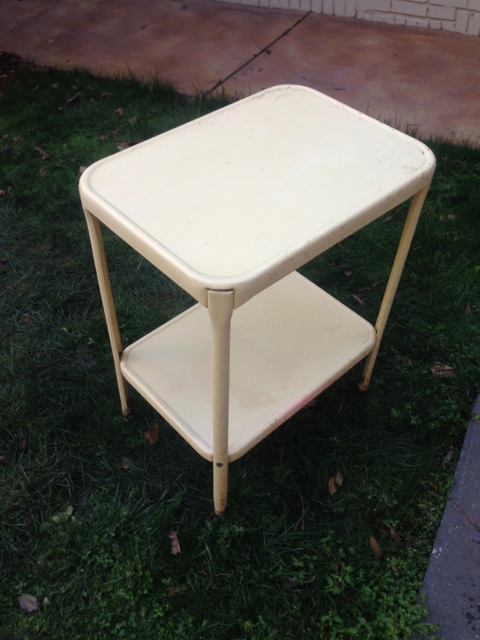 So, cart me away to the looney bin, I'm nuts about carts. So there.