The Big Crafty arts festival in Asheville definitely makes my top five list of North Carolina art festivals.
The Big Crafty provides a unique experience, including many upcycled/recycled artists, and displays an array of affordable art. The event generally occurs on the second Sunday of July. How nice of them to hold it on my birthday this year. The festival features pottery, clothes, jewelry, mixed media and everything inbetween. I focused on capturing some of the inspired upcycled art.
First of all, a fabric artist who creates "ugly dolls," other textile art and paper goods.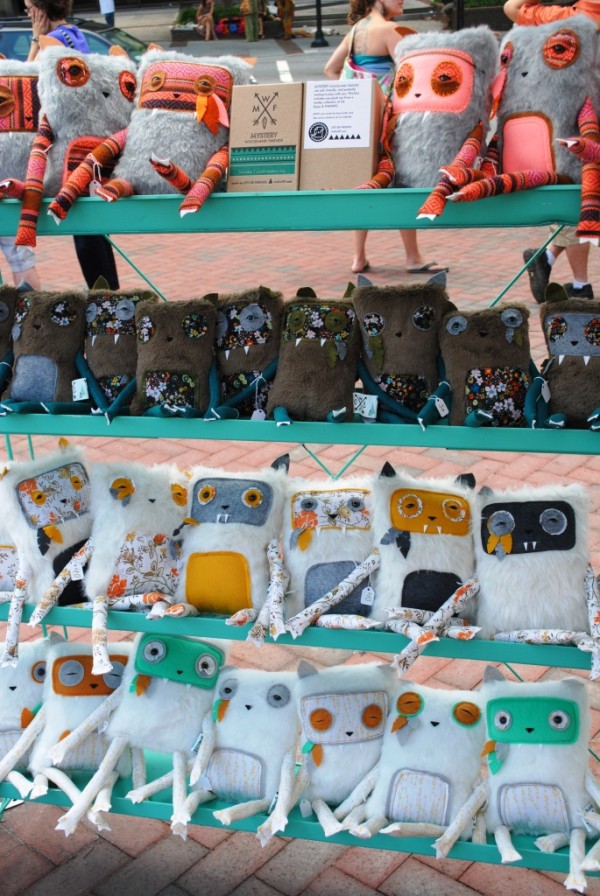 Next, an artist who repurposes maps as the background for her art.
I snagged a small one last year and added two more to create a triptych. You have to look closely to see the maps as they can be obscured. The artist signs the back with the name of the city or area that the map represents. I chose cities that represent meaning to our family.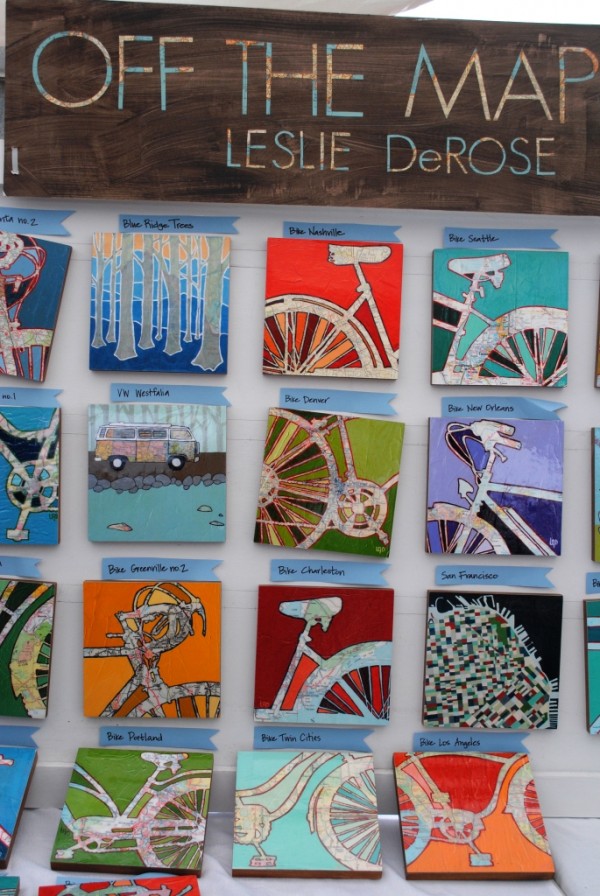 I loved the name of the next artist, The Charm School Dropout and I loved her work even more.
She collects old photos, magazine ads and creates mixed media art. Her husband fashions the frames from reclaimed wood and pieces of furniture.
More repurposing on old wood and windows.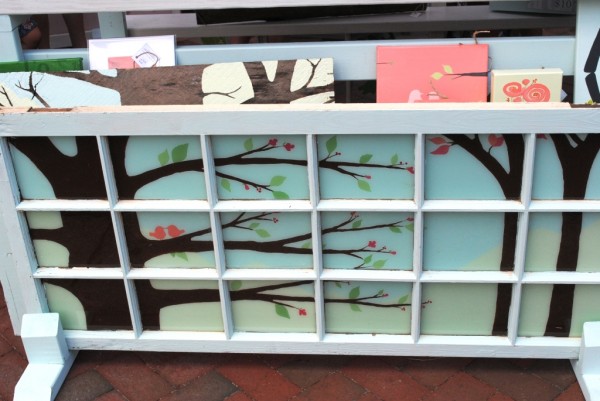 The next artist uses fallen wood to create walking sticks and sculptures.
He maintains the original shape and merely defines the faces.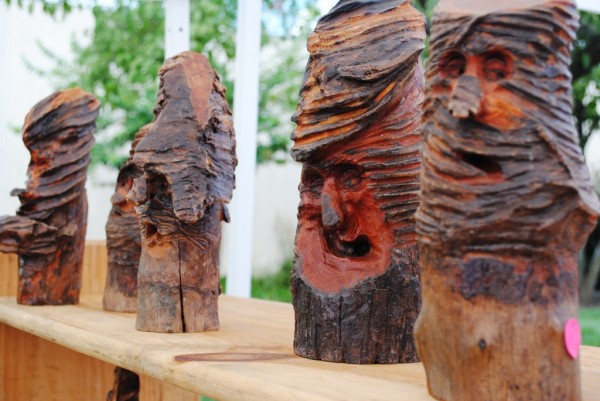 Next booth had two artists, one who repurposed old fabric and grainsacks into pillows and soft goods.
And they shared the booth with another who creates boxes, trays and other wooden art from old rulers and reclaimed wood.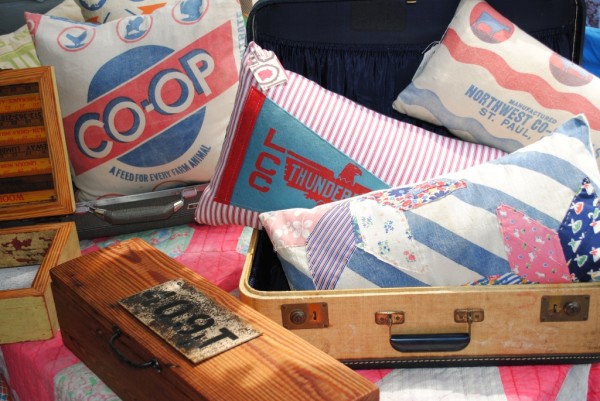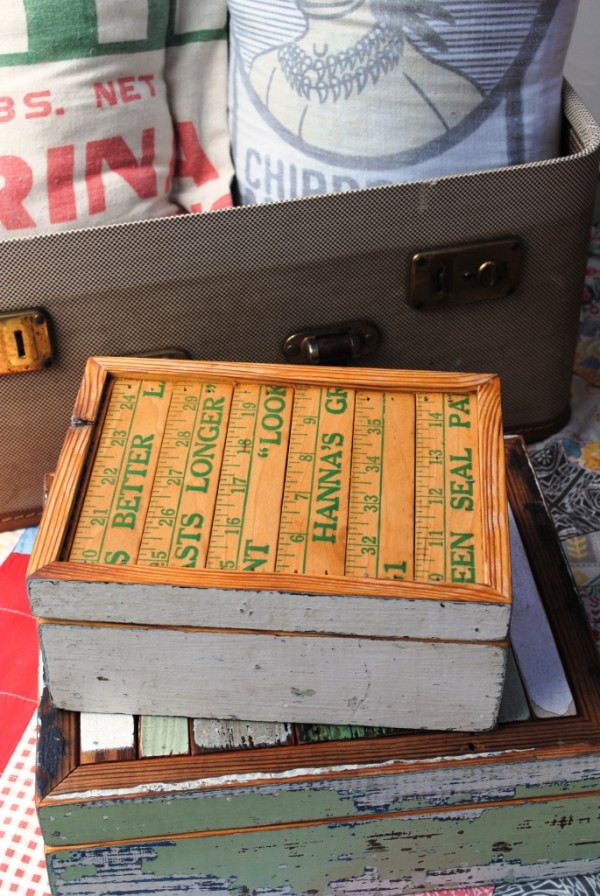 Each box comes with a handwritten note, describing the exact materials used for that box. Here's little man's description:
"The Hallmark Rule – the body of this was created from a reclaimed bedrail found in Chapel Hill, NC. The bottom of this box came from a reclaimed kitchen cabinet found in Durham, NC. The vintage advertising rulers on the top comprise many from across the United States and the vintage cabinet hinges were found in Rochester, Washington."
Now that's specific! I love that each part has been identified as having a prior life (and some close to home for us). The artist was not there but her friend, the pillow maker, explained that even the screws in the hinges are reused and don't match necessarily. I admire her ultimate dedication to reuse.
This artist creates shadowboxes with old trinkets inside. He will craft a custom commission, using something meaningful to you (think: baby shoes, grandpa's old watch, dad's airforce wings, or a multi-box display with many family mementoes)…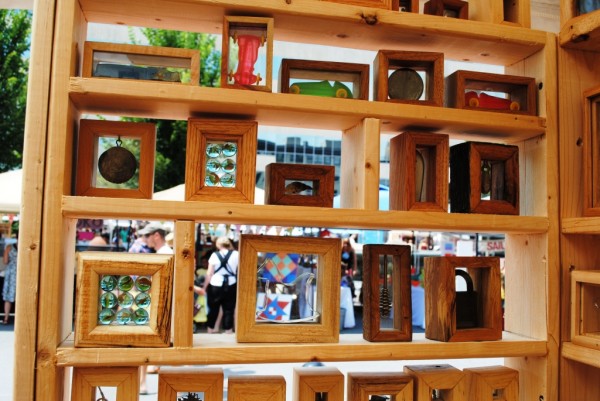 I had a wonderful lunch with two of my children, followed by the Big Crafty and topped it off with a picnic at an outdoor Shakespeare festival with friends. Can't think of better way to spend my birthday.