Finished up my daughter's bedroom makeover this past week.
Two and a half weeks comprised the total timeline, with travel for Thanksgiving in between. Not too bad for a total redo and hoping my clients don't expect the same! Told my girl I was setting up for the photo shoot and she started to change into a purple dress, ready for her DeMille moment. Had to explain that I usually just show the room, not the occupants.
Anyway, we began the process with bedding as inspiration and many purple paint samples on the wall.
And, after a little elbow grease, this is what we accomplished. We kept the same bed and art. There's an old saying about good art doesn't need to match your sofa and that is true here. Just cause you're changing decor doesn't mean the art needs to go.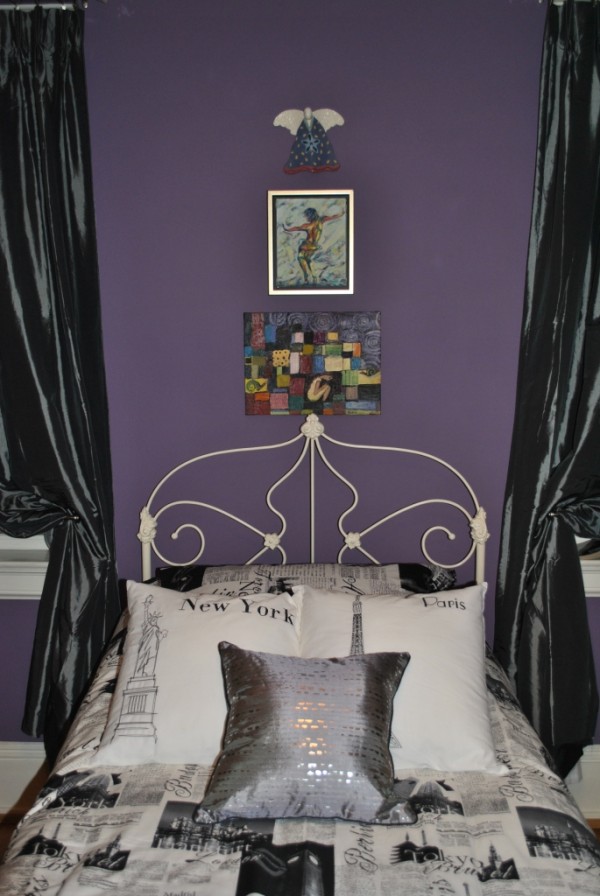 New "used" dresser purchased but it's really a serving piece which we've adapted for clothes storage.
My daughter was drawn to Hoosier cabinets and other kitcheny cupboards, thinking they would work as a dresser. I'm all about thinking outside the box but I was gently steering her in a different direction when she found this. I love the modern style and smoky glass and couldn't believe my girl actually picked this. And, repurposed with containers inside for clothes, it is the perfect addition to the glam girl bedroom.
Sometimes you can't find everything used so new purchases confession.
Ready made faux silk drapes, lamps and mirror for dresser, and rug were all purchased new. Biggest new splurge? A Fatboy bean bag. OMG, teenage girl can't get me out of her room OR this chair. It can also lie flat and serve as a mattress for overnight giggly girls.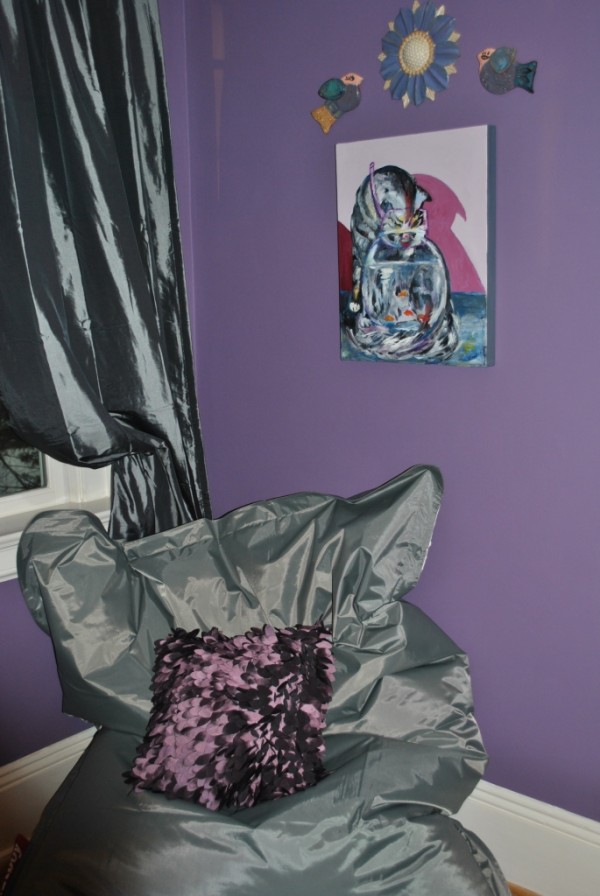 Repurposed old bookcase with new paint (Benjamin Moor color…"Silver Fox"…BUT Sherwin Williams did it for me – they can source any color on their computer and copy the formula). Bookcase was a beautiful aged pine…it's okay to paint wood, I promise. Bookcase highlights dance, an important part of my daughter's life.
Corner desk…genius invention as a space saver. The desk (chair included) was sixty bucks at an estate sale and was classic white with gold accents…a little "Silver Fox" to transform and tie into bookcase. The closet door wall orginally had a third door – a couple renovations ago (we've done A LOT to this old house) we removed the third door and configured the inside to have sideways shelves so she still has access to that part of closet. This gave the room more wall space which, at the time, allowed her to have her dresser beside her bed. And now, it is the perfect wall for her new "old" desk.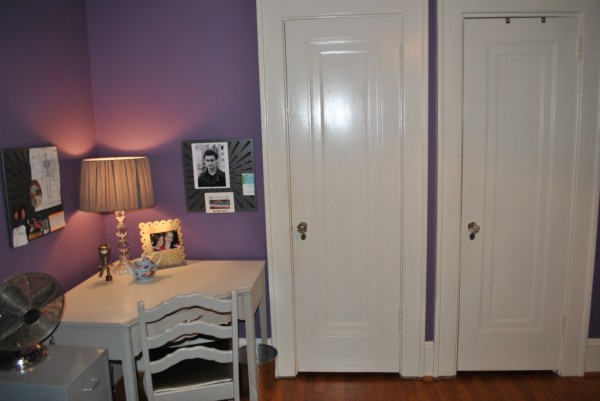 This was a challenging project at first because my daughter didn't want to trust her designer. She picked the bedding and paint color as our starting points and she needed guidance after that but couldn't see the "big picture." Ask her now? She is floating on cloud nine and soooo "room proud". I have never seen it so clean! Maybe that's an inspiration for teenage redos. Paint it, they will clean. I won't give written guarantees on that one, however.