We sometimes get gentlemen design clients who ask for comfortable bachelor pad ideas that are also attractive to women.
This is achievable by combining the right masculine touches with a nod to femininity that won't overwhelm the bachelor. Many soft good design pieces (pillows, throws, etc), for example, add comfort and beauty to a space. Other design details make a space look well thought out and not just thrown together with big box store elements. Let's explore some good ideas for bachelor pads.
1/ Drapes are an important choice as a bachelor pad idea for many reasons.
Drapes add privacy which is necessary for homes that are clustered near neighbors or on a busy street. They add instant warmth and softness to harder edges in a room and, with blackout lining, they allow for sleeping late. Drapes can also add color or a fun pattern to the design scheme. They can be tailored without frou-frou (like ruffles or excessive fringe) for a more masculine appeal. For our client below we added drapes to the living room and master bedroom, helping to carry out the color scheme. See the full portfolio for this bachelor here.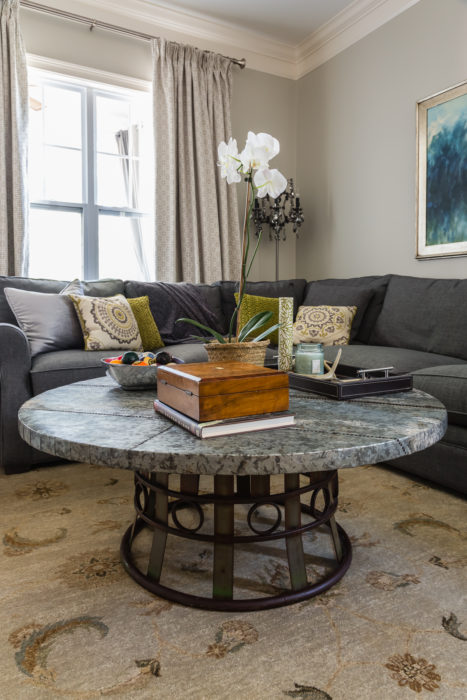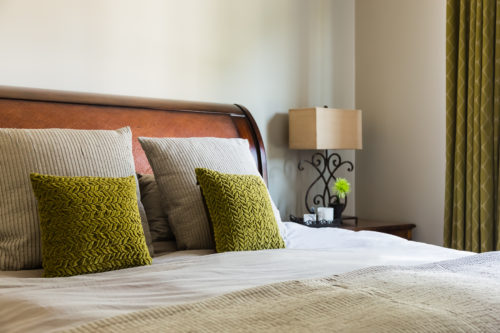 2/ Carefully chosen art adds so much personality and attractiveness to the space.
Original art, giclees, lithographs, or three dimensional art provide an alternative to "instant" art chosen to quickly finish the space. Travel is the perfect opportunity to pick out meaningful art. Art shows and festivals allow direct interaction with an artist who can provide an interesting, inspirational story about the piece. For our same bachelor above, we accompanied him on a shopping day specified for art.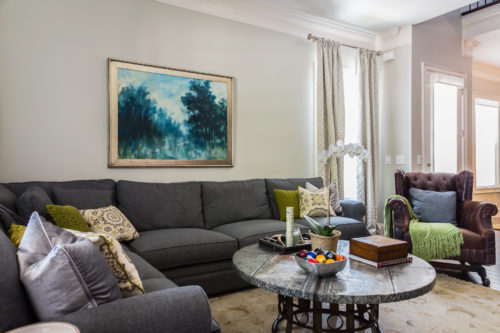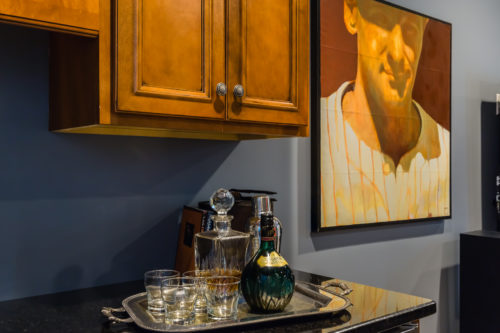 3/ A kitchen that looks like you might actually cook is a bonus.
Who wouldn't love a guy who cooks for them? Having the right tools and a super clean space are must-dos for an attractive kitchen. We chose classic cabinetry, granite and subway tiles in the design phase. For our installation day, we decluttered and rearranged the small appliances for a more zen and beautiful kitchen for our bachelor.
4/ Lighting can be task-oriented as in a kitchen or mood-inducing as in a bedroom. Good and varied lighting is key.
If you want to chop onions or do party prep, you need adequate light to do so. Recessed lighting and other overhead lighting in a kitchen is all important. Under counter lights are for tasks as well, but also provide mood lighting when overhead pendant or recessed lights are off. Lamps spread around a living room provide reading opportunities but also help with mood when overhead lights are off. The iron lamp below provides mood lighting, with the addition of a low wattage bulb, for the master bedroom.
5/ The element of surprise is fun in any house but for a bachelor pad it says something of their personality and the thought that went into the space.
We love a fun accent or surprise in a powder room. Since it is a small space it is a chance to do something bold, as it won't overwhelm like it might in a larger space. We convinced our bachelor to paint his guest bath this vivid chartreuse and, with his existing art piece, it was an instant hit!
The combination of any of these elements shows that the man who resides there cares about comfort and design. It is someone who wants his guests, and perhaps female guests in particular, to feel at home. And that might lead to "family home ideas" for someone formerly looking for "bachelor pad ideas:)"