Okay, it's that time of year when I go against my instincts and share design trends for the coming year.
Yup, it's true. Catch it now because I'm generally not a trendy gal. I believe in buying what you love and finding classic pieces instead of being a slave to design trends.
First up, a round-up of hot color trends for 2020.
Grey seems to be fading behind the all-out design trends toward blue. I say good riddance to boring, cold colors of recent years. And even Sherwin Williams is on the bandwagon with their color of the year, "Naval."
While I love the nod to cobalt in "Classic Blue," I adore the elegance and flexibility of "Naval." Naval's moody, almost neutral tone, provides a great backdrop for art and accessories. Everything pops against it. If you're looking for a new, softer neutral, check out Benjamin Moore's color of the year, "First Light." Yes, gentlemen, it's pink but hear me out. It's tranquil, casts a flattering glow and mixes well with grey. And, if used as a statement wall, it's not too girly-girl.
Textural elements add interest, especially if your room leans toward neutral.
Layering in elements like pillows, throws, and plants gives warmth and texture to your room. Especially with an all white room, texture can add so much.
And if those textural elements include animal prints, all the better.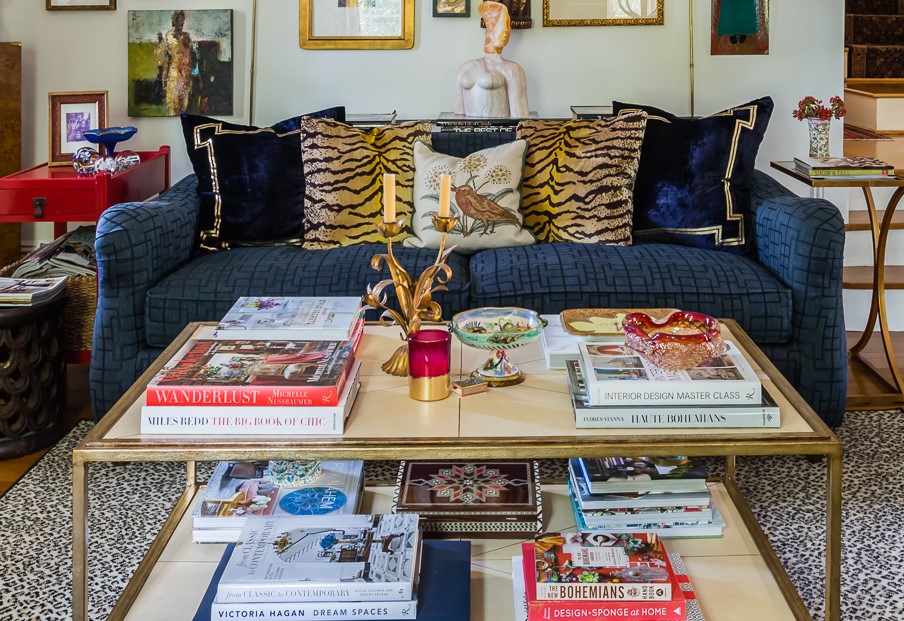 How about a tiger pillow with a leopard rug? Too much? Start with the pillows and go from there. Or maybe the rug provides the foundation of your new design plan. There's no right or wrong and it's just a matter of how much animal influence you want in your design.
Speaking of pattern, how about chintz?
Yes sirree, chintz is back. And maybe because we lost the Prince of Chintz in 2018, there's a resurgence to this classic, large floral pattern. Our client above LOVED the chintz, but perhaps you prefer a more modern interpretation that some Indian block prints offer.
Lots happenin' in the kitchen realm.
Two-toned cabinets with upper and lowers sporting different colors have become part of kitchen design trends of late. This works if the color works appears in the overall scheme and the homeowner doesn't mind serious contrast. I love the idea of not being committed to all-one color cabinets, as in the past.
There's also a trend toward "hidden" kitchens where fridge doors and other appliances are concealed behind doors. There's also a design trend toward minimalism and decluttering, so this type of kitchen appeals to those so inclined.
Finally, in the kitchen realm, there's a trend toward staying home so why not play up the bar elements? The cocktail craze has moved to the home and why not? If you have room for a dedicated bar area then plan your inaugural cocktail party. I LOVE that folks are back to entertaining. Fix a killer charcuterie plate and a house cocktail then send those personal invites for a return to 70s-style entertaining.
Speaking of the 70s, check out the return to warmer colors, fun abstract art and other nostalgic nods to my favorite era.
I am a Brady wanna-be kid and I love this era but appreciate the modern version of the 70s. Orange and brown and macrame but with the 2020 version of all that.
70s hippies would also appreciate the rallying cry for sustainable design.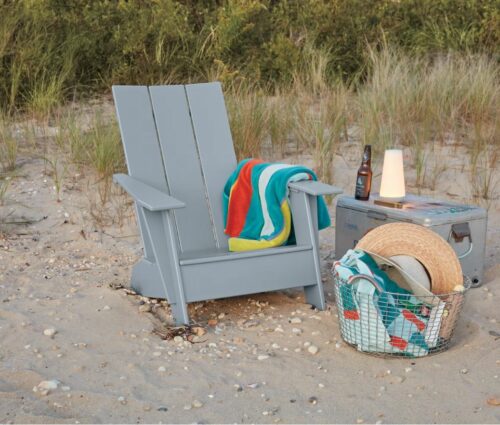 I bought the grey version of these chairs above and I love that plastic milk jugs were diverted from the landfill. Expanded offerings, both internet and local, make sustainable design decisions even easier. Does it cost more? Sometimes. What are you willing to pay to save the earth and support artists who think likewise?
Black framed windows and doors seem here to stay.
I admit to scepticism when first seeing this trend. Then I learned that this company has been at it for 170 years, so that's not really trendy, is it? With an industrial but also classic vibe, I have grown to love these black, steel windows.
Vintage terrazzo floors seemed cold and undesirable in the past but they were EVERYWHERE in Palm Springs.
I was amazed at how many homes sported these classic floors. But think about it…with 120 degree temps in the summer, what kind of floor would you want? These certainly provide a cool surface and a neutral surface for furniture and rugs.
Here's my list for last year's design trends. Remember to trust your instincts, sprinkle in some trends but always lean in to things that stand the test of time. xo