I started the retail part of my business to encourage people to think more about reuse, but also to look at shopping beyond the big box stores. In my city of Raleigh I'd like to think that no designer needs to go to High Point to decorate for their client, or that consumers can get most everything they need on their list with a shop local mentality. So I'd like to share my:
Top 10 Reasons to Shop Local
(special thanks to Shop Local Raleigh for the resources quoted here):
1/ $100 spent at a locally-owned business generates $68 that stays in the local economy as compared to only $43 if spent at a national chain.
(Source: Civic Economics study on Grand Rapids, Michigan – Sept. 2008)
I can tell you personally that I spend A LOT locally in the running of my business and for personal purchases as well.
For example, my local Ace Hardware man supplies me with lamp supplies, chain to hang light fixtures, picture hangers, paint for refurbishing furniture, and light bulbs for the store. I could go on and on. It truly is the place with the helpful hardware man, and er, woman.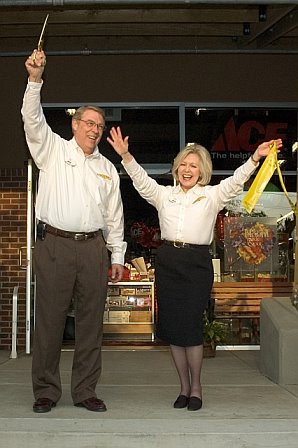 2/ Local businesses are sometimes family run with special people who care about their customers, sharing expertise and advice not typical with the big box stores.
Like the lovely women at Eclectic Furniture Garden…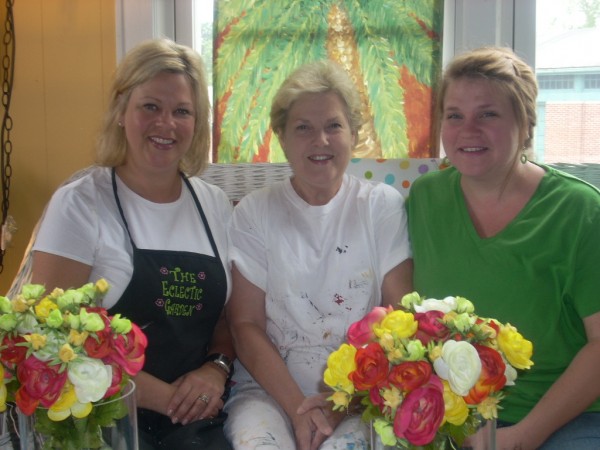 Though my business is not "officially" family run, Mr. F&F gets involved WAY more than he would care to admit and I value his 29 years of experience as a business dude! It is a wonderful and warm experience to support family businesses.
3/ Local firms procure local goods and services at more than twice the rate of chains.
(Source: Anderson Study of Retail Economics, Chicago, IL – Oct. 2004)
We can't ignore the postive environmental impact of supporting local businesses. Our carbon footprint is greatly reduced when we support local businesses who aren't transporting all goods by 18-wheelers, trains and planes.
4/ Local businesses can be "niche" businesses, providing goods and services not found elsewhere.
Take for example my neighborhood aromatherapy shop run by this sweet woman…
And where my sweet daughter has had a part-time job for two years during high school…which leads to my next reason…
5/ Local merchants spend a much larger portion of total revenue on local labor to run the enterprise and sell the merchandise.
(Source: AIBA Economic Impact case study – Dec. 2002)
Local stores provide good wages and employment for local folks.
6/ Local businesses offer unique products.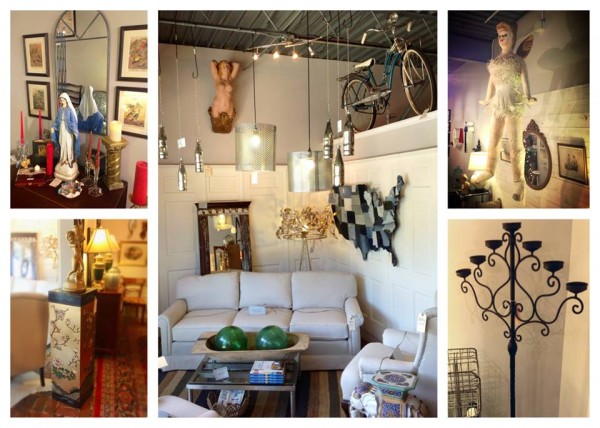 7/ And related to that, local business offer unique services which have a domino effect on providing jobs.
Take for example my friend and interior design colleague, Anne DeCocco, who now offers a custom drapery service. These are comparable to Restoration Hardware-type drapes in price, but they are custom for you and, dare I say it, better quality! The options are endless and simply stunning.
Anne has partnered with another woman to do this endeavor (add one job) plus the ladies at the local workroom who fabricate the drapes (add ? jobs) plus the local fabric stores that benefit from this business. Domino job effect indeed.
8/ Local businesses do more to support local charities and non-profits.
It is easier for these organizations to go in and ask for donations from real, local people than dealing with corporate blah, blah, blah. Nuf said.
9/ If each household simply redirected just $100 of planned holiday spending from chain stores to locally owned merchants, the local economic impact would reach approximately $10 million.
(Source: AIBA Economic Impact case study – Dec. 2002)
WHOA – please remember this around holiday time!!!
10/ And finally, if I may preach just a little…consider each purchase carefully. Can I source this with a local business? If so, then why not shop local?
Shop Local where possible and you will feel a difference in your community, I guarantee it!