I don't know about you but I am weary of the big box store interiors, devoid of color.
Or the Gospel according to RH (that's Restoration Hardware), as I like to call it. These in-store vignettes imply that Belgian linen, grey and books unnaturally wrapped in all-white covers are the only ways to find your decorating zen. Not to say that you can't have certain rooms that are quieter in color. Even then it's okay to inject a little color for visual interest and still have a calm oasis.
To say I like color would be an understatement.
I LOVE color and my house is chock-full of colorful fabrics, art and accessory selections. So I opted to have an escape and maintain a calmer, color palette for my master bath.
But soothing environments don't have to be entirely devoid of color.
There can be color in certain elements in the room while still maintaining a serene atmosphere. For clients who want a calm retreat, we keep the paint color and material choices neutral but find other opportunities to inject color. We chose Sherwin Williams Mountain Air throughout the open floorplan below (one choice in my arsenal to nudge a client away from beige).
Mountain Air has color but is light enough to provide a calm backdrop for their rockstar art collection.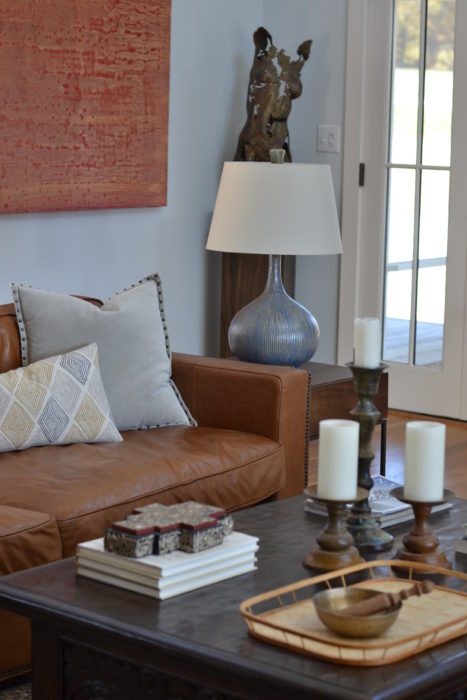 And similarly, in this relaxed master bath, one piece of art stands out amongst the calmer colors.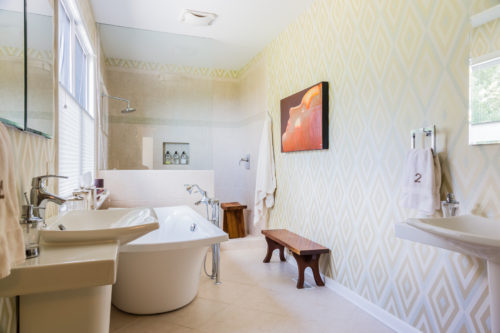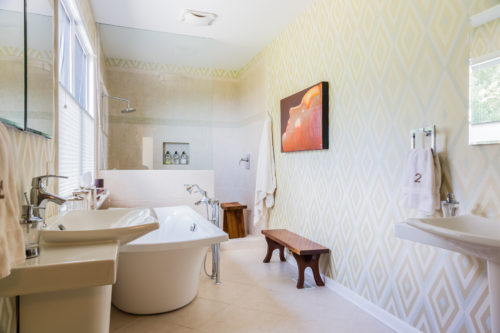 In the adjacent bedroom, colorful art and "birdie" bedding are both nods to the nature-inspired setting outside the windows.
Beige but not boring. And very serene. See more here about this master retreat.
We salvage as much of our client's existing decor as possible but give it a facelift so they feel like it's new. Sometimes it just needs a simple fix, not an overdone celebrity facelift.
For this client, adding chartreuse to existing chairseats transformed this very traditional dining room set.
The color is set within a clutter-free environment and soft background, providing a wonderful backdrop for peaceful dining.
These next clients are busy doctors with two young boys who rule the house. They needed a child-friendly family room, but one that was relaxing and adult-friendly as well.
The tan sofa, linen drapes and grey walls are ultimately calming, but the pops of blue and geometric patterns keep it interesting.
At the end of the day, we all like to come home to our refuge, our castle, and feel like we've escaped our busy lives. But it doesn't need to be a taupe, boring museum. That would make me climb the walls which, afterall, is not the point of relaxation, is it?