With a few spring cleaning tips and some light, summer decorating ideas, you can look forward to an easy, breezy summer ahead.
Invest in a little work now, then kick back in a cleaner, lighter and brighter environment for summertime enjoyment and relaxation. I don't always have Martha-time to implement all these summer decorating ideas each and every spring, but just picking one or two can go a long way toward summer-izing your home.
1/ Open the windows!

Yes, you heard me. The house has been closed up for winter and before you crank the air conditioning, please let the poor house breathe. There is something motivating about a breeze to kick start your cleaning. Right now the delicious smell of flowering bushes are wafting in as I write this. While the windows are open, this is also a good time to consider cleaning them post nasty pollen season.
2/ Declutter
Clean under furniture and cushions (and discover some loose coins and other treasures, perhaps). Get rid of magazines (hospitals and waiting rooms may enjoy these donations). Cash small books in at a used bookstore (or get store credit, as I have done, and put toward large coffee table design books). Re-examine all your tchotchkes and keep only the most meaningful or put heavier items away for the season. Look at this de-cluttered mudroom below and imagine it full of boots and winter gear and school necessities. And now…summer ready and sparkling clean.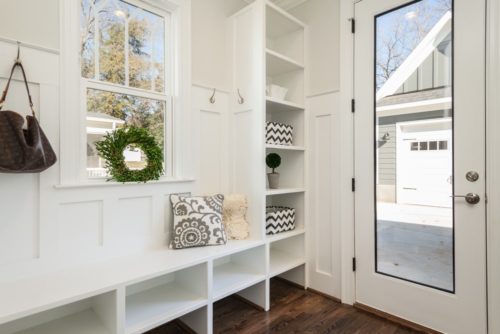 3/ Remove the rugs
Maybe you will want to keep a few like the doormats, hallway runners or bedside rugs. Nothing says summer more than gleaming wood floors. In winter, rugs are cozy, add warmth and prevent dirt from tracking all through the house. In the summer, it feels lighter to remove some larger, heavier rugs. If you opt to replace them with a flat weave or kilim, go for it. But maybe spring is a time to send rugs to be cleaned and leave the floors bare. Who wouldn't want to admire this gorgeous herringbone pattern as a welcome change?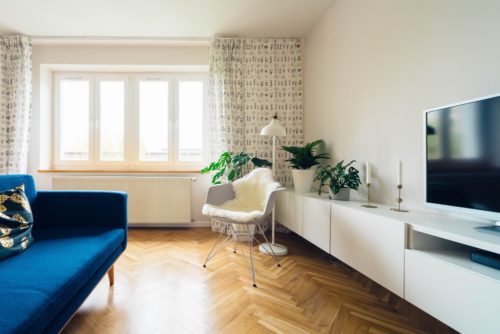 Or enjoy the expanse of a mostly uncovered floor?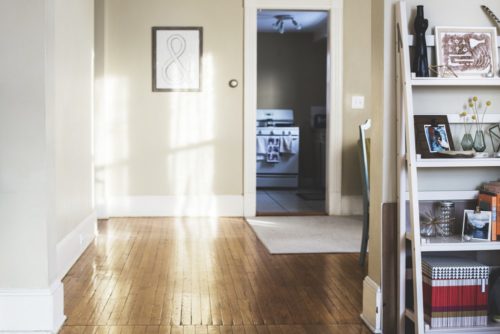 4/ Lighten it up
Lighter pillows both in color and texture. Or lighter throws or no throws. Perhaps lighter drapes swapped out or an easier option of no drapes. Definitely lighter bedding, says this menopausal woman.
Or perhaps, more serious considerations such as painting a lighter color in certain rooms (or whole house as I discuss here).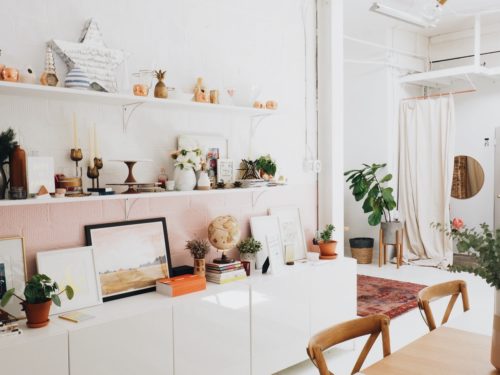 The white color pops, lets accessories be the star and lightens the whole look for summer and beyond.
5/ Bring on the plants and flowers and greenery
Fresh flowers always brighten the mood and a little posy makes washing dishes a little sweeter or waking up a little easier.
And while some folks put their houseplants back outside on the deck during summer, it's wonderful to keep some inside as well. Not to mention that those who live in apartments, without balconies or decks, need a visual reminder of nature.
6/ Move your art around
This is something we LOVE to do for our clients, imagining their art in new places. It's a great tool, in your arsenal of summer decorating ideas, to envision lighter things grouped together or fewer pieces of art. Add a mirror or two in the mix to reflect even more light. Who wouldn't want to spend time in this sunny, summery room?
I love these plates paired with a singular piece of art. Maybe your grandmas's china or a collection from thrifting at flea markets? This says summer to me…a dinner party of mismatched plates and a mismatched dining set on a covered patio.
7/ The perfect summer decorating idea, however, is sitting back after all the hard work is done and enjoying this summer classic…though I prefer mine with vodka and lime, thank you very much…
Cheers! Enjoy your summer, indoors and out, and with as much family and friend time as possible!