Alright folks, we're going back in time today to the 1970s, 1978 to be exact, and a peek at decorating with dark walls.
We recently came across an Architectural Digest book called American Interiors published in 1978 that profiles the 70s decade of residential interior design. We especially loved the articles that highlighted decorating with dark walls. And we loved the rich, dark cover of this vintage find…we were totally judging this book by its beautiful cover.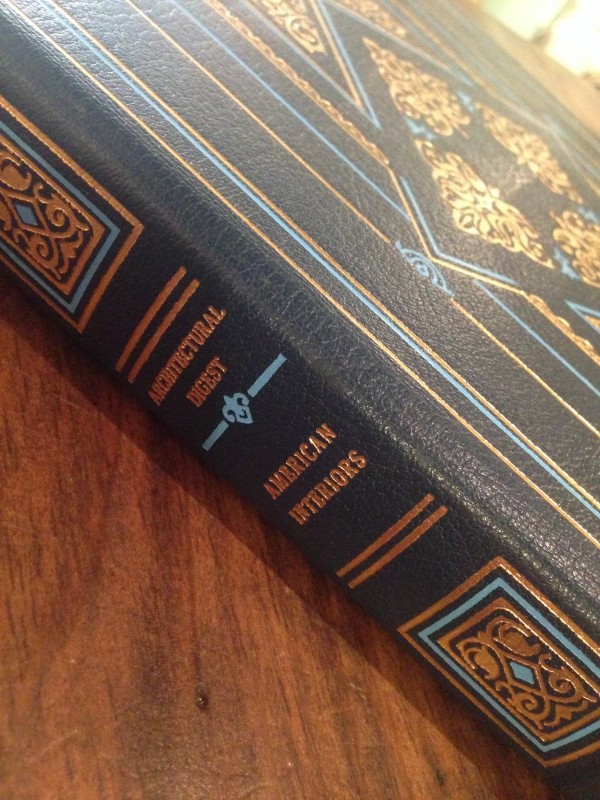 Even though this book is over 30 years old, most of the homes depicted within are still relevant and beautiful in today's design world. Proof that classically designed and decorated interiors will always stand the test of time. For example, today we'll look at the current trend of dark, moody walls. Think this is a new trend? Think again. This book is full of dark-walled beauties. Let's take a peek…
Dark charcoal walls in the room above, rich earthy tones in the furnishings, and bright white shutters make for a well-balanced room not overwhelmed by darkness.This living room above has a distinct brown and white scheme with various textures and patterns to keep things interesting.
Fun fact – the walls are actually a moire-patterned wallpaper. This is a great way to add depth to decorating with dark walls that might otherwise read flat or oppressive.
Dark walls can be modern too.
This modern foyer above is gorgeous in its simplicity and clean lines. A pop of color in the artwork and shiny, vinyl wallcovering make for a timeless entryway.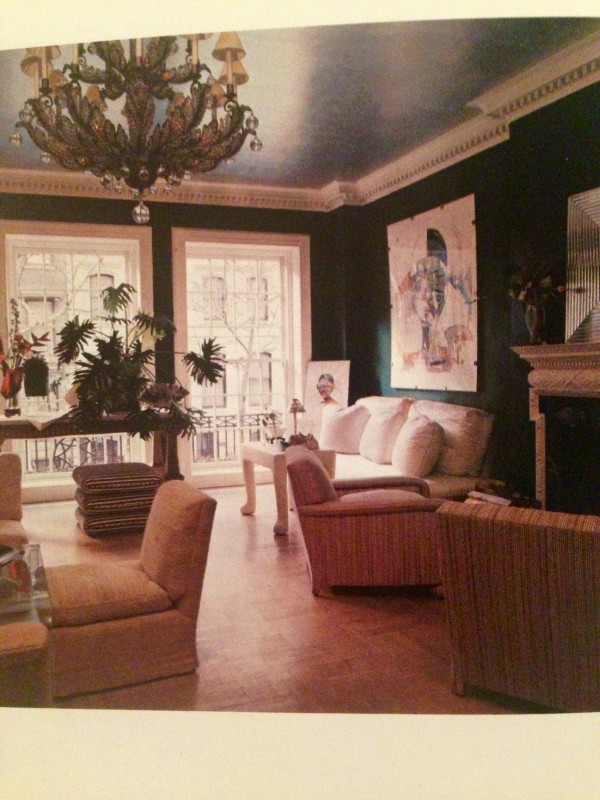 How about the dark green in the room above? Jewel tones are very au courant.
The rich walls, light flooring, neutral upholstery, and unique foil-covered ceiling create the perfect balance of light and dark.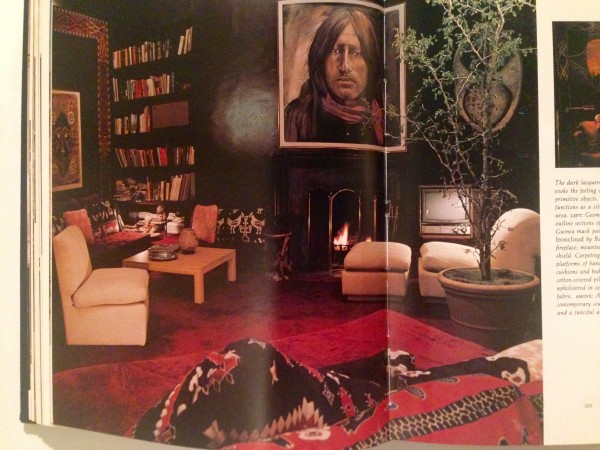 This cozy bedroom/sitting room above features aubergine-lacquered walls, understated furniture, and an abundance of primitive pieces to create a moody, comfortable, and functional space.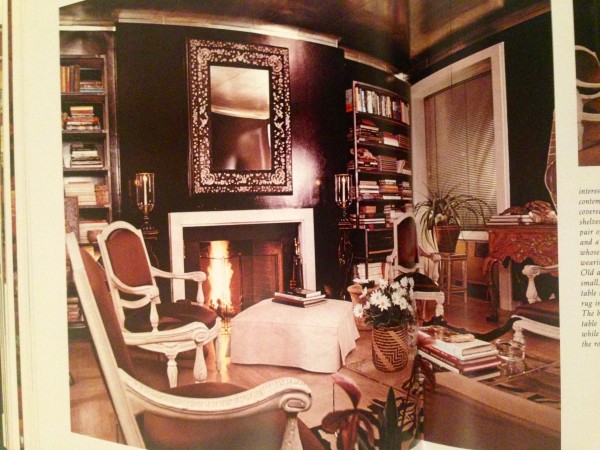 Light and dark create strong contrast in this collected-over-time living room.
Special accents like a Chinese tea-papered ceiling and incredible recessed cornices that are mirrored (so cool!) give the room a bit of glamour. Also, check out those killer iron etageres on either side of the fireplace…still in style today.
A view of the other side of the room. These dark walls provide the base for a well-curated collection of different styles: modern lucite coffee table, 18th c. Italian side chairs, relaxed linen sofa.
All of you Hollywood regency fans might like this room above.
Chinoiserie figures and a glamorous Venetian mirror take center stage in this room thanks to the dark walls. A lacquer chest and fun printed fabrics make for a cozy room accented with Asian elements.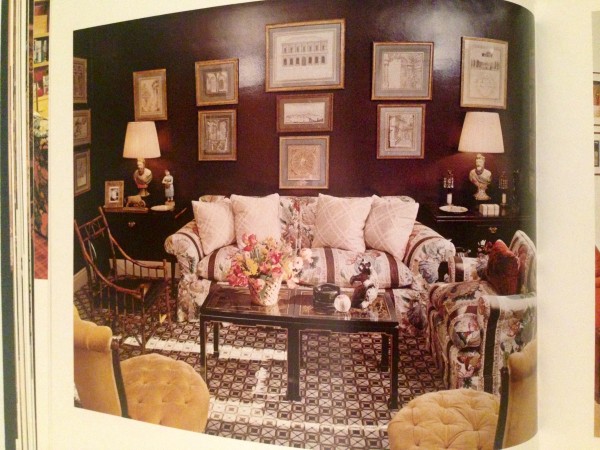 This gallery wall full of architectural drawings really stands out against the dark lacquered walls in the setting above.
Figural lamps, a ming-footed coffee table, bamboo accent chair, and tufted golden side chairs could also lend themselves to the Hollywood Regency style of decorating.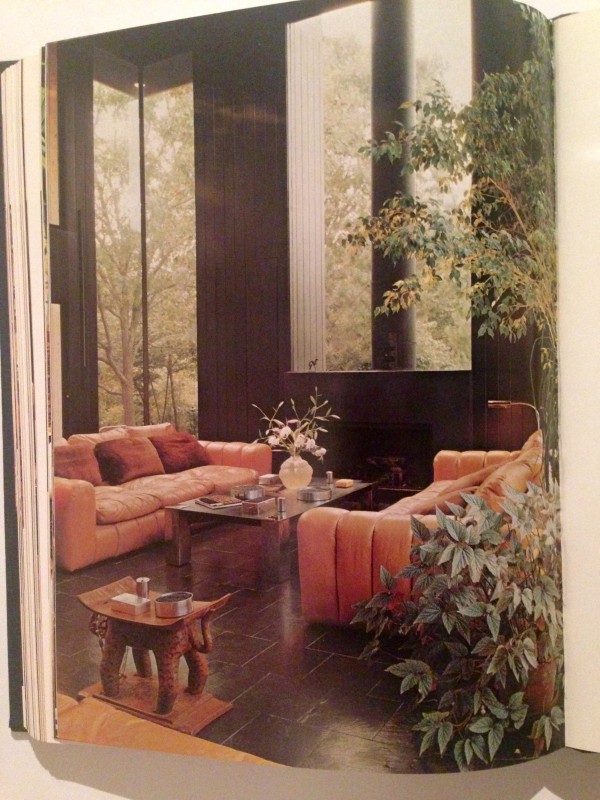 Here are dark walls accented by a variety of natural materials for a more modern, earthy vibe.
Slate floors, wood walls, oversized leather sofas, and a metal coffee table make for a clean but interesting aesthetic.

And, finally, we have this simple yet stylish bedroom. Black-lacquered walls, light art, and streamlined furniture create the perfect modern escape.
See? I bet you forgot these rooms were from the 1970s! These carefully curated rooms stand the test of time and prove that dark walls are always in.
For further reading check out these two galleries:
Dark and Dramatic Decorating Ideas by Country Living
Deep-Toned Walls by Better Homes and Gardens
And if you prefer to lighten things up, check out our guide to decorating with white walls.