About a month ago, we took you back in time to the 1960s and 70s with a blog post that highlighted the dark painted walls of that era.
Well, we're throwing it back again…this time to take a look at decorating with white walls. As any of you who subscribe to home magazines will know, white walls are all the rage at the moment. They make for the perfect blank canvas to show off colorful art, furniture, and decor, and are a popular choice for many folks. Let's take a look…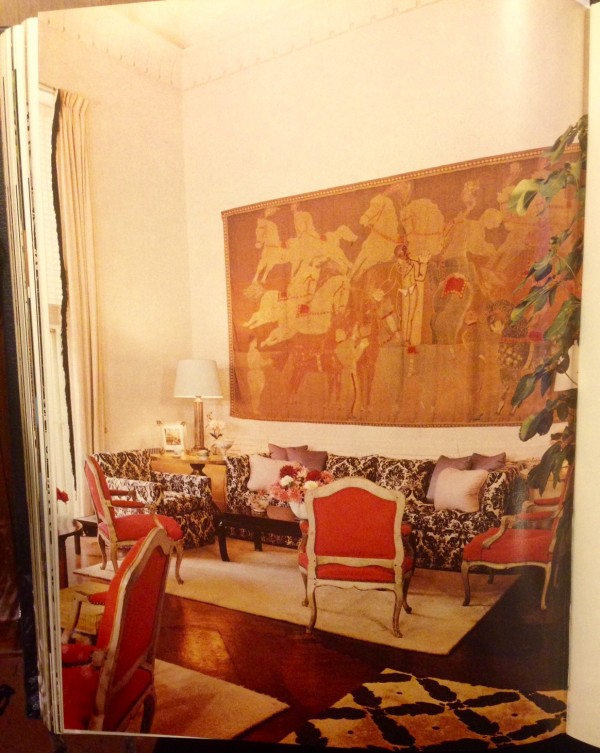 Opponents of decorating with white walls often say that white walls are cold and/or boring.
I think we can all agree that this room above is anything but! The carefully chosen color palette of white, dark brown, and burnt orange beautifully complements the large tapestry on the wall. It also manages to blend fun and sophistication into one colorful, functional room.
Another view of this great room shows a long fruit wood table that serves as the perfect foundation for a grouping of art. Note the leaning art on the table, a rather casual look in comparison to the formal furnishings. This contrast keeps things interesting and many designers still utilize this tactic for art display today.
A closeup of the pretty vignette.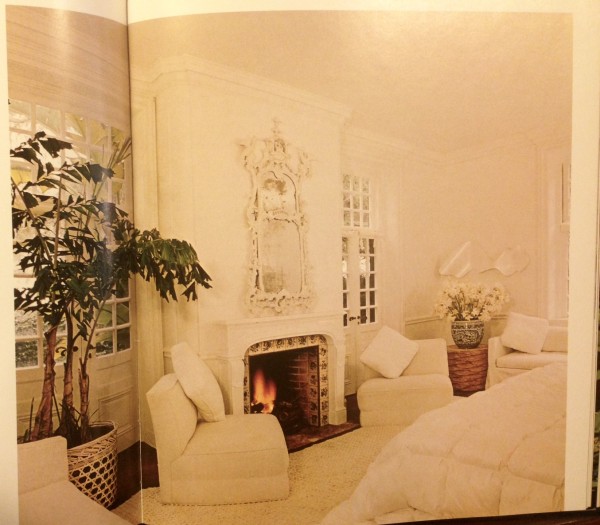 On the flip side of things, we have this white on white bedroom above. The texture and attention to detail prevent this room from feeling like a chilly Arctic abode.
Intricate scroll work on the Chippendale mirror, the raised texture of the bouclé rug, and the natural coloring and texture of the palm-stump table create the perfect mix of materials. Still, some color is always welcome. The Delft tile surround on the fireplace and the round planter in the corner add a dose of cobalt blue to the room.
Further proof that white rooms accommodate all styles, this open living room above leans to the light, airy, and rustic style.
Different natural materials throughout the space like oak flooring and beams, hickory chairs with weighty canvas upholstery, and an incredible table made from a pine tree stump and travertine slab create an earthy, grounded vibe.
From light and airy to dark and masculine, this sitting area above mixes rustic wood flooring and beams with cowhide-covered Louis XV side chairs.
In this case, the white walls are needed to balance the darkness of the floor and ceiling. This room is all about contrast!
Now time for some pretty vignettes…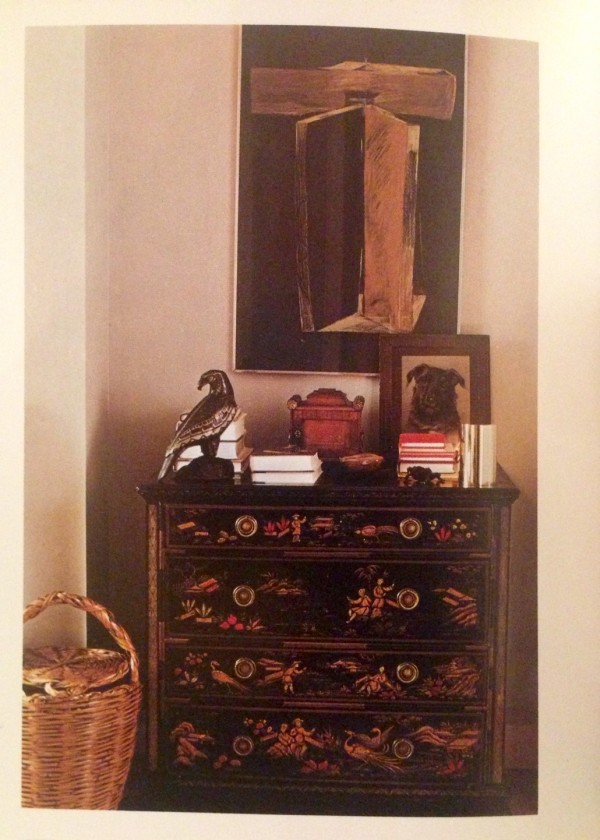 A black-lacquered chest really makes a statement against the white walls in this bedroom. Little trinkets and books join an old portrait of a dog to create the perfectly curated dresser vignette.
The same bedroom features this wooden chest, some rather "zen" items on top, and plenty of plants and art to complete the inviting mix of shapes and textures.

See? These never go out of style! Even in the 1960s staircase gallery walls were popular! This collection of art appears to include only very neutral pieces with simple frames in order to create one unified look. (Check out our blog post from a few months back for tips on how to create the perfect gallery wall.)